For today's bulletin, we take a look at auto maker Tesla $TSLA. We also provide a link to download a FREE STOCK REPORT on the company.
VALUATION WATCH: Overvalued stocks now make up 59.66% of our stocks assigned a valuation and 26.8% of those equities are calculated to be overvalued by 20% or more. Thirteen sectors are calculated to be overvalued.
To subscribe to our bulletins and receive content whenever it is published, subscribe at our blog HERE
Tesla Inc. (TSLA) designs, develops, manufactures, and sells electric vehicles and stationary energy storage products. It operates primarily in the United States, China, Norway and internationally. Tesla Inc., formerly known as Tesla Motors Inc., is headquartered in Palo Alto, California.
Tesla has been a favorite of investors seeking transformative technological possibilities for a long time now. However, the company seems unable to put together–so far–the sort of winning record that provides confidence for the future.
Bad news at the car maker makes it tough to justify the inflated share prices. From our Valuation Model's perspective, Tesla is one of the most over-valued equities in our database. In fact, as you can see from the table below, 99% of the stocks to which we can assign a valuation figure are less over valued.
We have heard lots of news of the company and its eclectic founder lately, but much of this news seems to concern little more than "vapor ware" at this point. Articles about hyper-loop digging permissions and self-driving car tests may support the stock price, but we still wonder about capitalization figures which indicate that the company is more valuable than GM.
The company has suffered a decline in share price for most of October due to bad news about Model 3 production figures. The Model 3, which is designed to be the cheaper electric alternative, is badly missing production benchmarks. Tesla reported earlier in October that it produced just 260 of the new model in September–Tesla's earlier production schedule claimed that by December of this year they would be making 20,000 Model 3's per month.
This is doubly problematic because even at 20,000 cars per month the high share prices seem unjustified to some analysts. For this reason, analysts are warning of another quarterly loss for the company when they report Q3 numbers. Consensus analyst estimates are calling for an EPS loss of $2.28 on $2.94 billion in revenue. They also warn investors that those with positions in Tesla should expect volatility moving forward.
For now, ValuEngine continues its HOLD recommendation on Tesla Inc. for 2017-10-30. Based on the information we have gathered and our resulting research, we feel that Tesla Inc. has the probability to ROUGHLY MATCH average market performance for the next year. The company exhibits ATTRACTIVE Company Size but UNATTRACTIVE Book Market Ratio.
You can download a free copy of detailed report on Tesla Inc. (TSLA) from the link below.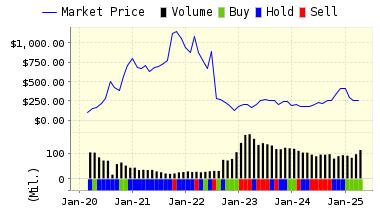 ValuEngine Forecast
Target
Price*
Expected
Return
1-Month
319.43
-0.20%
3-Month
325.74
1.77%
6-Month
340.55
6.39%
1-Year
312.24
-2.45%
2-Year
359.90
12.44%
3-Year
339.23
5.98%
Valuation & Rankings
Valuation
143.63% overvalued
Valuation Rank(?)
1
1-M Forecast Return
-0.20%
1-M Forecast Return Rank
36
12-M Return
61.88%
Momentum Rank(?)
89
Sharpe Ratio
0.97
Sharpe Ratio Rank(?)
90
5-Y Avg Annual Return
49.11%
5-Y Avg Annual Rtn Rank
98
Volatility
50.37%
Volatility Rank(?)
33
Expected EPS Growth
110.15%
EPS Growth Rank(?)
87
Market Cap (billions)
40.13
Size Rank
97
Trailing P/E Ratio
n/a
Trailing P/E Rank(?)
25
Forward P/E Ratio
377.68
Forward P/E Ratio Rank
1
PEG Ratio
0.35
PEG Ratio Rank
68
Price/Sales
3.99
Price/Sales Rank(?)
28
Market/Book
6.93
Market/Book Rank(?)
21
Beta
0.93
Beta Rank
44
Alpha
0.37
Alpha Rank
91
DOWNLOAD A FREE SAMPLE OF OUR TESLA (TSLA) REPORT BY CLICKING HERE
ValuEngine.com is an Independent Research Provider (IRP), producing buy/hold/sell recommendations, target price, and valuations on over 5,000 US and Canadian equities every trading day.
Contact ValuEngine at (800) 381-5576 or support@valuengine.com  
Visit www.ValuEngine.com for more information
ValuEngine Capital Management LLC is a Registered Investment Advisory (RIA) firm that trades client accounts using ValuEngine's award-winning stock research.
Contact ValuEngine Capital at info@valuenginecapital.com
Visit www.ValuEngineCapital.com for more information