For today's bulletin, we take a look at Delta Airlines $DAL. We also provide a link to download a FREE STOCK REPORT on the company.
VALUATION WATCH: Overvalued stocks now make up 59.65% of our stocks assigned a valuation and 23.83% of those equities are calculated to be overvalued by 20% or more. Because overvaluation has declined below 60%, we have rescinded our latest Valuation Watch. Thirteen sectors are calculated to be overvalued.
EDITOR'S NOTE: We will be publishing on an adjusted schedule for the 2017 holidays–T,TH,F, and then resume our regular M,W,F publication schedule beginning January 8, 2018
Today, we take yet another look at an airline which is top-rated by our models. This pick is driven by the chaos this weekend due to a loss of power at Atlanta's Hartsfield-Jackson International Airport, the main hub for Delta Airlines (DAL).
Delta Air Lines, Inc. is a major American airline with its headquarters on the northern boundary of Hartsfield-Jackson Atlanta International Airport, within the city limits of Atlanta. Delta started operation by crop dusting and flying mail and then introduced passenger service. Delta's business is focused on making global connections, flying people and cargo throughout the United States and around the world. Delta Air Lines offers customers service to more destinations than any global airline with Delta and Delta Connection carrier service. Delta Air Lines and the Delta Connection carriers offer service to nearly 370 destinations on six continents. Delta has added more international capacity than all other U.S. airlines combined and is the leader across the Atlantic.
Airlines will probably take a small, albeit temporary hit to the bottom line thanks to this weekend's power outage in Atlanta. A fire burned out the main and backup power feeds at Hartsfield-Jackson International Airport, and "hijinx" ensued for stranded traveler's left without flights, food, and, perhaps most important–open bars.
While some assumed the worst–eg terrorism–the cause of this mess seems, as of this writing, to have been poor planning. Yes, the airport had redundant power cabling. Unfortunately, someone decided that the best place for the back up cables was @6 inches next to the primary power cables. So, the fire this weekend burned both the primary AND the back up cabling and the airport was plunged into darkness and chaos.
This, of course, is not the airline tenants' fault. This is a failure at a different level. Once again we see that there are real issues with critical infrastructure within the US. What makes this even more concerning is that one would assume that major airports would be the most hardened facilities when it comes to potential terrorist attacks. Surely, cutting the power to an airport would be of concern in such a scenario.
It will take a while to see if this few days' disruption in Atlanta will harm Delta's earnings in any meaningful way. Meanwhile, our models remain enamored with the fundamentals for Delta–and many other airlines.
ValuEngine continues its STRONG BUY recommendation on Delta Airlines for 2017-12-18. Based on the information we have gathered and our resulting research, we feel that Delta Airlines has the probability to OUTPERFORM average market performance for the next year. The company exhibits ATTRACTIVE Company Size and Sharpe Ratio.
You can download a free copy of detailed report onDelta Airlines (DAL) from the link below.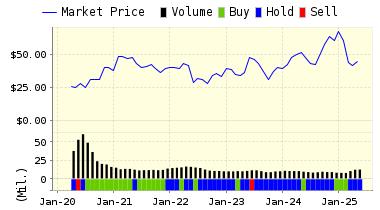 ValuEngine Forecast
Target
Price*
Expected
Return
1-Month
56.74
1.20%
3-Month
57.92
3.29%
6-Month
58.98
5.20%
1-Year
64.13
14.37%
2-Year
73.19
30.53%
3-Year
81.86
46.00%
Valuation & Rankings
Valuation
23.48% overvalued
Valuation Rank(?)
20
1-M Forecast Return
1.20%
1-M Forecast Return Rank
100
12-M Return
11.21%
Momentum Rank(?)
52
Sharpe Ratio
1.17
Sharpe Ratio Rank(?)
93
5-Y Avg Annual Return
33.32%
5-Y Avg Annual Rtn Rank
95
Volatility
28.44%
Volatility Rank(?)
54
Expected EPS Growth
7.87%
EPS Growth Rank(?)
32
Market Cap (billions)
46.93
Size Rank
98
Trailing P/E Ratio
11.41
Trailing P/E Rank(?)
90
Forward P/E Ratio
10.58
Forward P/E Ratio Rank
82
PEG Ratio
1.45
PEG Ratio Rank
35
Price/Sales
1.16
Price/Sales Rank(?)
66
Market/Book
3.35
Market/Book Rank(?)
38
Beta
1.26
Beta Rank
27
Alpha
-0.14
Alpha Rank
31
DOWNLOAD A FREE SAMPLE OF OUR DELTA AIRLINES (DAL) REPORT BY CLICKING HERE
ValuEngine.com is an Independent Research Provider (IRP), producing buy/hold/sell recommendations, target price, and valuations on over 5,000 US and Canadian equities every trading day.
Contact ValuEngine at (800) 381-5576 or support@valuengine.com  
Visit www.ValuEngine.com for more information
ValuEngine Capital Management LLC is a Registered Investment Advisory (RIA) firm that trades client accounts using ValuEngine's award-winning stock research.
Contact ValuEngine Capital at info@valuenginecapital.com
Visit www.ValuEngineCapital.com for more information