For today's bulletin, we take a look at Dick's Sporting Goods $DKS. We also provide a link to download a FREE STOCK REPORT on the company.
VALUATION WATCH: Overvalued stocks now make up 55.27% of our stocks assigned a valuation and 22.3% of those equities are calculated to be overvalued by 20% or more. Fourteen sectors are calculated to be overvalued.
DICK'S Sporting Goods, Inc. (DKS) is a leading omni-channel sporting goods retailer offering an extensive assortment of authentic, high-quality sports equipment, apparel, footwear and accessories. The Company serving and inspiring athletes and outdoor enthusiasts to achieve their personal best through a blend of dedicated associates, in-store services and unique specialty shop-in-shops dedicated to Team Sports, Athletic Apparel, Golf, Lodge/Outdoor, Fitness and Footwear. DICK'S also owns and operates Golf Galaxy and Field & Stream specialty stores, as well as DICK'S Team Sports HQ, an all-in-one youth sports digital platform offering free league management services, mobile apps for scheduling, communications and live scorekeeping, custom uniforms and FanWear and access to donations and sponsorships. DICK'S offers its products through a content-rich eCommerce platform that is integrated with its store network and provides customers with the convenience and expertise of a 24-hour storefront.
We have seen numerous school shootings and mass attacks with guns in the US over the years, but the latest massacre in Broward County, Florida seems to be having some effect on the gun control debate despite the inaction–so far– at the government level.
However, numerous corporations have severed ties–and incentive programs–with the NRA gun-lobby group in the aftermath of the Parkland school shooting.
We saw a major move on that corporate front today from the CEO of Dick's Sporting Goods, Ed Stack.Stack announced this morning that the Pittsburgh, PA-based sporting goods company will no longer sell "assault-style" weapons and high-capacity magazines in its stores. These weapons and accessories have been the weapon of choice for the most horrific massacres in recent years.
Stack noted that "to think about the loss and the grief that those kids and those parents had, we said, 'We need to do something.' And we're taking these guns out of all of our stores permanently."
Stack also announced that the company will no longer sell long guns to customers under the age of 21.
Of course, it remains to be seen how much of a sacrifice or hit this will be for the firm since they removed these sorts of weapons from their flagship Dicks stores years ago and limited their sales to their Field and Stream chain. That action occured in the aftermath of the massacre of 20 first-grade students and six of their teachers at Sandy Hook elementary school.
Dicks may also be thankful to be able to take this action without greater negative publicity given the fact that the shooter in Florida was in possession of a shotgun purchased at one of their stores.
Of course, few issues in the US spark more controversy than gun control. While the firm may be on solid ground with city and suburban customers with this decision, rural customers may decide to no longer shop there. How this effects the bottom line will be interesting to examine over the next few quarters.
The initital reaction has been positive. But, with past massacres the NRA has typically laid low and worked behind the scenes to ensure tha no action is taken in Congress while they also take steps to reward candidates who toe their line. The NRA may have less clout with big retail chains whose sales are not totally tied to rural consumers.
We are pleased to announce that some of our services have been included in a New Affordable and Professional Investing Membership by our new partner, Value Stocks Pro.
Check out the Video Tour of this amazing membership >>>HERE<<<
ValuEngine continues its HOLD recommendation on DICKS Sporting Goods for 2018-02-27. Based on the information we have gathered and our resulting research, we feel that DICKS Sporting Goods has the probability to ROUGHLY MATCH average market performance for the next year. The company exhibits ATTRACTIVE P/E Ratio but UNATTRACTIVE Momentum.
You can download a free copy of detailed report on DICKS Sporting Goods (DKS) from the link below.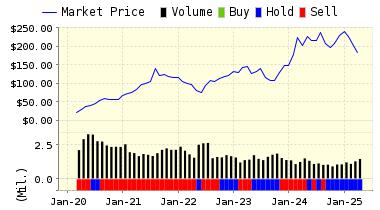 ValuEngine Forecast
Target
Price*
Expected
Return
1-Month
31.83
0.10%
3-Month
31.77
-0.10%
6-Month
30.56
-3.91%
1-Year
32.19
1.24%
2-Year
31.37
-1.37%
3-Year
33.27
4.63%
Valuation & Rankings
Valuation
20.16% undervalued
Valuation Rank(?)
82
1-M Forecast Return
0.10%
1-M Forecast Return Rank
59
12-M Return
-35.78%
Momentum Rank(?)
8
Sharpe Ratio
-0.27
Sharpe Ratio Rank(?)
27
5-Y Avg Annual Return
-8.28%
5-Y Avg Annual Rtn Rank
30
Volatility
31.22%
Volatility Rank(?)
50
Expected EPS Growth
-5.67%
EPS Growth Rank(?)
13
Market Cap (billions)
3.80
Size Rank
78
Trailing P/E Ratio
10.60
Trailing P/E Rank(?)
91
Forward P/E Ratio
11.24
Forward P/E Ratio Rank
77
PEG Ratio
n/a
PEG Ratio Rank
n/a
Price/Sales
0.45
Price/Sales Rank(?)
86
Market/Book
2.57
Market/Book Rank(?)
46
Beta
0.61
Beta Rank
57
Alpha
-0.63
Alpha Rank
9
DOWNLOAD A FREE SAMPLE OF OUR DICK'S SPORTING GOODS (DKS) REPORT BY CLICKING HERE
ValuEngine.com is an Independent Research Provider (IRP), producing buy/hold/sell recommendations, target price, and valuations on over 5,000 US and Canadian equities every trading day.
Contact ValuEngine at (800) 381-5576 or support@valuengine.com  
Visit www.ValuEngine.com for more information
ValuEngine Capital Management LLC is a Registered Investment Advisory (RIA) firm that trades client accounts using ValuEngine's award-winning stock research.
Contact ValuEngine Capital at info@valuenginecapital.com
Visit www.ValuEngineCapital.com for more information