For today's bulletin, we take a look at Live Nation Entertainment $LYV and provide a link to download a copy of our latest stock report on the concert and ticket company.
VALUATION WATCH: Overvalued stocks now make up 39.2% of our stocks assigned a valuation and 15.32% of those equities are calculated to be overvalued by 20% or more. Six sectors are calculated to be overvalued.
Live Nation Entertainment, Inc. (LYV) is the world's premier live entertainment company, consisting of Live Nation, Ticketmaster and Front Line Management Group. The Company engages in producing, marketing, and selling live concerts for artists via its concert pipe. Live Nation owns and operates many venues, including House of Blues music venues and locations, such as The Fillmore in San Francisco, Nikon at Jones Beach Theatre in New York and London's Wembley Arena. In addition, it also produces, promotes or hosts theatrical, specialized motor sports and other live entertainment events. The Company is driving major innovations in ticketing technology, marketing and service. It offers ticket sales, ticket resale services, and marketing and distribution through ticketmaster.com, an e-commerce site on the Internet. Live Nation Entertainment, Inc. was formerly known as Live Nation, Inc. and is based in Beverly Hills, California.
Want to learn more about ValuEngine? Our methods? Our history?
Check out our video presentation HERE.
Live Nation appears to have had no issues weathering recent bad news related to ticket scalping at their Ticketmaster subsidiary. Revelations that the firm worked with ticket scalpers to ensure that they would get their cut of profits served to further inflame concert goers, but did little to arrest the rising share price over the past months.
They also continue to shrug off complaints of monopoly behaviour at concert venues, building or buying additional venues in many areas as well as finding new ways to make more money off of concert attendees once they are in those venues.
As far as good news goes, the firm is about to open a wildly-anticipated venue known as "the Met" in Philadelphia and their latest foray into film with the remake of "A Star is Born" starring Bradley Cooper and Lady Gaga is expected to garner numerous Oscar nominations.
In addition, the latest earnings results were impressive. Q3 results were the best ever for the company, with revenue up more than 10%. All divisions of the firm–concerts, sponsorships, and ticketing–were similarly strong. The company expects to sell more than 90 million concert tickets for the year, and that will also be a record.
VALUENGINE RECOMMENDATION: ValuEngine continues its STRONG BUY recommendation on LIVE NATION ENT for 2018-11-30. Based on the information we have gathered and our resulting research, we feel that LIVE NATION ENT has the probability to OUTPERFORM average market performance for the next year. The company exhibits ATTRACTIVE Sharpe Ratio and Earnings Growth Rate.
You can download a free copy of our Live Nation Entertainment, Inc. (LYV) report from the link below.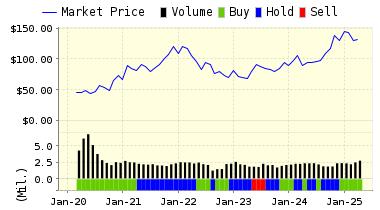 ValuEngine Forecast
Target
Price*
Expected
Return
1-Month
56.35
1.20%
3-Month
57.53
3.33%
6-Month
59.51
6.87%
1-Year
63.69
14.38%
2-Year
67.75
21.67%
3-Year
67.74
21.66%
Valuation & Rankings
Valuation
81.48% overvalued
Valuation Rank(?)
3
1-M Forecast Return
1.20%
1-M Forecast Return Rank
99
12-M Return
22.70%
Momentum Rank(?)
88
Sharpe Ratio
0.89
Sharpe Ratio Rank(?)
95
5-Y Avg Annual Return
19.79%
5-Y Avg Annual Rtn Rank
93
Volatility
22.26%
Volatility Rank(?)
64
Expected EPS Growth
159.78%
EPS Growth Rank(?)
92
Market Cap (billions)
11.17
Size Rank
90
Trailing P/E Ratio
n/a
Trailing P/E Rank(?)
29
Forward P/E Ratio
303.71
Forward P/E Ratio Rank
1
PEG Ratio
1.14
PEG Ratio Rank
37
Price/Sales
1.04
Price/Sales Rank(?)
65
Market/Book
7.20
Market/Book Rank(?)
19
Beta
0.98
Beta Rank
40
Alpha
0.13
Alpha Rank
83
DOWNLOAD A FREE SAMPLE OF OUR LIVE NATION ENTERTAINMENT (LYV) REPORT BY CLICKING HERE
ValuEngine.com is an Independent Research Provider (IRP), producing buy/hold/sell recommendations, target price, and valuations on over 5,000 US and Canadian equities every trading day.
Contact ValuEngine at (321) 325-0519 or support@valuengine.com  
Visit www.ValuEngine.com for more information
ValuEngine Capital Management LLC is a Registered Investment Advisory (RIA) firm that trades client accounts using ValuEngine's award-winning stock research.
Contact ValuEngine Capital at info@valuenginecapital.com
Visit www.ValuEngineCapital.com for more information
Steve Hach
Senior Editor
ValuEngine.Com