For today's bulletin, we take a look at on of our top stocks, STRONG BUY Freshpet Inc $FRPT and provide a link to download a FREE STOCK REPORT on the company.
VALUATION WATCH: Overvalued stocks now make up 52.14% of our stocks assigned a valuation and 23.06% of those equities are calculated to be overvalued by 20% or more. Thirteen sectors are calculated to be overvalued.

Freshpet Inc. (FRPT) is a pet food company. The company manufactures and markets natural fresh foods, refrigerated meals, and treats for dogs and cats in the United States and Canada. Freshpet provides meats- based recipes, such as chicken, beef, lamb and salmon; fruits and vegetables, such as carrots, peas and leafy green vegetables, and high-fiber grains, such as brown rice, oats and barley. It sells its products under the Freshpet, Dognation, and Dog Joy brand names. Freshpet Inc. is headquartered in Secaucus, New Jersey.
Want to learn more about ValuEngine? Our methods? Our history?
Check out our video presentation HERE
We have seen an explosion in pet ownership for key demographics groups. Millennials, often delaying marriage and families with children, have focused instead on their own "children" of the canine and feline variety. As people lavish attention and money on their pets, Freshpet has been on a decent run for much of 2018.
This comes despite the Q2 August earnings where they missed estimates. At that time, net sales increased 23.0% to $47.6 million, compared to $38.7 million for the second quarter of 2017. The Company's core fresh refrigerated product offering grew 24.2% as compared to the same period in the prior year. Sales were up, but their net loss increased to $3.5 million vs a net loss of $2.7 million the prior year.
Despite the loss, the chart shows a company that has powered up @100% in 2018.
VALUENGINE RECOMMENDATION: ValuEngine continues its STRONG BUY recommendation on FRESHPET INC for 2018-09-25. Based on the information we have gathered and our resulting research, we feel that FRESHPET INC has the probability to OUTPERFORM average market performance for the next year. The company exhibits ATTRACTIVE Momentum and Earnings Growth Rate.
You can download a free copy of detailed report on the Freshpet Inc. (FRPT) from the link below.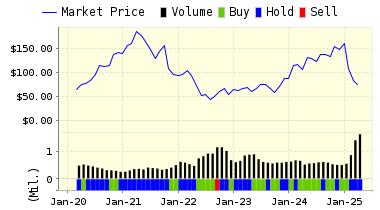 ValuEngine Forecast
Target
Price*
Expected
Return
1-Month
37.15
1.23%
3-Month
37.81
3.03%
6-Month
39.18
6.75%
1-Year
42.11
14.75%
2-Year
44.60
21.52%
3-Year
43.33
18.06%
Valuation & Rankings
Valuation
210.59% overvalued
Valuation Rank(?)
2
1-M Forecast Return
1.23%
1-M Forecast Return Rank
100
12-M Return
147.97%
Momentum Rank(?)
98
Sharpe Ratio
0.45
Sharpe Ratio Rank(?)
74
5-Y Avg Annual Return
21.31%
5-Y Avg Annual Rtn Rank
90
Volatility
47.22%
Volatility Rank(?)
34
Expected EPS Growth
213.95%
EPS Growth Rank(?)
94
Market Cap (billions)
1.23
Size Rank
63
Trailing P/E Ratio
n/a
Trailing P/E Rank(?)
28
Forward P/E Ratio
224.69
Forward P/E Ratio Rank
2
PEG Ratio
1.20
PEG Ratio Rank
35
Price/Sales
7.11
Price/Sales Rank(?)
16
Market/Book
10.87
Market/Book Rank(?)
14
Beta
1.98
Beta Rank
10
Alpha
0.53
Alpha Rank
94
DOWNLOAD A FREE SAMPLE OF OUR FRESHPET (FRPT) REPORT BY CLICKING HERE
ValuEngine.com is an Independent Research Provider (IRP), producing buy/hold/sell recommendations, target price, and valuations on over 5,000 US and Canadian equities every trading day.
Contact ValuEngine at (321) 325-0519 or support@valuengine.com  
Visit www.ValuEngine.com for more information
ValuEngine Capital Management LLC is a Registered Investment Advisory (RIA) firm that trades client accounts using ValuEngine's award-winning stock research.
Contact ValuEngine Capital at info@valuenginecapital.com
Visit www.ValuEngineCapital.com for more information
Steve Hach
Senior Editor
ValuEngine.Com