For today's bulletin, we take a look at General Motors $GM and provide a link to download a copy of our latest stock report on the auto maker.
VALUATION WATCH: Overvalued stocks now make up 35.37% of our stocks assigned a valuation and 13.27% of those equities are calculated to be overvalued by 20% or more. Five sectors are calculated to be overvalued.

General Motors Company (GM) is engaged in the designing, manufacturing and retailing of vehicles globally including passenger cars, crossover vehicles, and light trucks, sport utility vehicles, vans and other vehicles. Its business is organized into three geographically-based segments- General Motors North America (GMNA), General Motors International Operations (GMIO) and General Motors Europe (GME). General Motors Company is headquartered in Detroit, Michigan, the United States of America.
Want to learn more about ValuEngine? Our methods? Our history?
Check out our video presentation HERE.
Bad news for the auto industry today as General Motors announced a massive series of layoffs and plant closures. GM plans to layoff @14,000 of their 180,000 member work force and close five plants. These layoffs and closures will largely effect plants and workers in the car segment, rather than the more popular trucks and SUVs.
This is a key bit of info here as the auto maker is denying that trade wars and tariffs are the cause of these layoffs. GM plans to follow the lead of other manufacturers and will make far fewer cars in the coming years.They claim that the restructuring is designed to occur while the company is strong, rather than waiting for another downturn.
Also of note, GM and other manufacturers have received massive levels of taxpayer support over the past few years. They were "bailed out" by the Obama Adminstration during the Bush Recession and they also received @$500 million in tax breaks under the recent Trump tax cut plan–seems like they did not feel much gratitude!
Investors–as they so often do–reacted positively to the layoff news and GM shares jumped up in afternoon trading. However, one has to wonder if this strategy will payoff longer term. As climate change and its negative effects becomes more apparent, one would think that a product line focused almost exclusively on large trucks and SUVs would not be sustainable indefinitely.
VALUENGINE RECOMMENDATION: ValuEngine continues its HOLD recommendation on GENERAL MOTORS for 2018-11-23. Based on the information we have gathered and our resulting research, we feel that GENERAL MOTORS has the probability to ROUGHLY MATCH average market performance for the next year. The company exhibits ATTRACTIVE Company Size but UNATTRACTIVE Earnings Growth Rate.
You can download a free copy of our summary report on General Motors Company (GM) from the link below.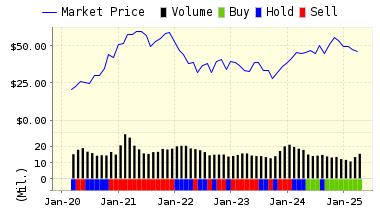 ValuEngine Forecast
Target
Price*
Expected
Return
1-Month
35.79
-0.39%
3-Month
36.39
1.29%
6-Month
36.54
1.71%
1-Year
34.27
-4.62%
2-Year
46.87
30.45%
3-Year
54.96
52.96%
Valuation & Rankings
Valuation
4.69% overvalued
Valuation Rank(?)
29
1-M Forecast Return
-0.39%
1-M Forecast Return Rank
22
12-M Return
-18.88%
Momentum Rank(?)
25
Sharpe Ratio
-0.01
Sharpe Ratio Rank(?)
52
5-Y Avg Annual Return
-0.20%
5-Y Avg Annual Rtn Rank
52
Volatility
22.52%
Volatility Rank(?)
63
Expected EPS Growth
-12.10%
EPS Growth Rank(?)
13
Market Cap (billions)
57.73
Size Rank
99
Trailing P/E Ratio
5.43
Trailing P/E Rank(?)
97
Forward P/E Ratio
6.18
Forward P/E Ratio Rank
92
PEG Ratio
n/a
PEG Ratio Rank
n/a
Price/Sales
0.41
Price/Sales Rank(?)
85
Market/Book
1.64
Market/Book Rank(?)
57
Beta
1.26
Beta Rank
26
Alpha
-0.23
Alpha Rank
28
DOWNLOAD A FREE SAMPLE OF OUR GENERAL MOTORS (GM) REPORT BY CLICKING HERE
ValuEngine.com is an Independent Research Provider (IRP), producing buy/hold/sell recommendations, target price, and valuations on over 5,000 US and Canadian equities every trading day.
Contact ValuEngine at (321) 325-0519 or support@valuengine.com  
Visit www.ValuEngine.com for more information
ValuEngine Capital Management LLC is a Registered Investment Advisory (RIA) firm that trades client accounts using ValuEngine's award-winning stock research.
Contact ValuEngine Capital at info@valuenginecapital.com
Visit www.ValuEngineCapital.com for more information
Steve Hach
Senior Editor
ValuEngine.Com