For today's bulletin, we take a look at M/I Homes $MHO. We also provide a link to download a FREE STOCK REPORT on the company. Because overvaluation has declined below 60%, we have rescinded our Valuation Watch.
EDITOR'S NOTE: We will be publishing on an adjusted schedule for the 2017 holidays–T,TH,F, and then resume our regular M,W,F publication schedule beginning January 8, 2018
VALUATION WATCH: Overvalued stocks now make up 58.29% of our stocks assigned a valuation and 23.73% of those equities are calculated to be overvalued by 20% or more. Because overvaluation has declined below 60%, we have rescinded our latest Valuation Watch. Fourteen sectors are calculated to be overvalued.
For today's bulletin, the first of 2018–HAPPY NEW YEAR TO ALL OF OUR READERS–we take a look at one of our STRONG BUY stocks that is yet another big home builder. Like Pulte Homes–which we covered a few weeks ago, MI Homes (MHO) has recovered nicely from teh housing crisis and the Bush economic b low up of 2007-2008.
PM/I Homes is one of nation's leading builders of single family homes. M/I Homes have established an exemplary reputation based on a strong commitment to superior customer service, innovative design, quality construction and premium locations. M/I Homes serve a broad segment of the housing market including first-time, move-up, luxury and empty nester buyers. M/I Homes design, market, construct and sell single-family homes and attached townhomes to first-time, moveup, empty-nester and luxury buyers. The company have homebuilding operations in Columbus and Cincinnati, Ohio; Indianapolis, Indiana; Tampa, Orlando and Palm Beach County, Florida; Charlotte and Raleigh, North Carolina; Virginia and Maryland. .
ValuEngine continues its STRONG BUY recommendation on MI Homes for 2017-12-29. Based on the information we have gathered and our resulting research, we feel that MI Homes INC has the probability to OUTPERFORM average market performance for the next year. The company exhibits ATTRACTIVE P/E Ratio and Price Sales Ratio.
You can download a free copy of detailed report on MI Homes (MHO) from the link below.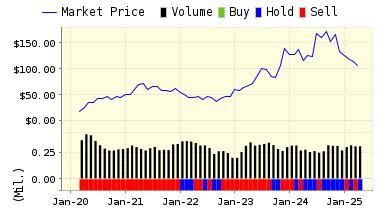 ValuEngine Forecast
Target
Price*
Expected
Return
1-Month
34.80
1.17%
3-Month
35.18
2.26%
6-Month
36.19
5.19%
1-Year
39.23
14.06%
2-Year
43.50
26.44%
3-Year
47.04
36.73%
Valuation & Rankings
Valuation
22.18% overvalued
Valuation Rank(?)
21
1-M Forecast Return
1.17%
1-M Forecast Return Rank
99
12-M Return
34.48%
Momentum Rank(?)
79
Sharpe Ratio
0.33
Sharpe Ratio Rank(?)
65
5-Y Avg Annual Return
9.96%
5-Y Avg Annual Rtn Rank
67
Volatility
30.37%
Volatility Rank(?)
51
Expected EPS Growth
18.81%
EPS Growth Rank(?)
53
Market Cap (billions)
0.84
Size Rank
59
Trailing P/E Ratio
11.83
Trailing P/E Rank(?)
89
Forward P/E Ratio
9.96
Forward P/E Ratio Rank
86
PEG Ratio
0.63
PEG Ratio Rank
57
Price/Sales
0.45
Price/Sales Rank(?)
87
Market/Book
1.16
Market/Book Rank(?)
76
Beta
1.34
Beta Rank
24
Alpha
0.19
Alpha Rank
82
DOWNLOAD A FREE SAMPLE OF OUR MI HOMES (MHO) REPORT BY CLICKING HERE
ValuEngine.com is an Independent Research Provider (IRP), producing buy/hold/sell recommendations, target price, and valuations on over 5,000 US and Canadian equities every trading day.
Contact ValuEngine at (800) 381-5576 or support@valuengine.com  
Visit www.ValuEngine.com for more information
ValuEngine Capital Management LLC is a Registered Investment Advisory (RIA) firm that trades client accounts using ValuEngine's award-winning stock research.
Contact ValuEngine Capital at info@valuenginecapital.com
Visit www.ValuEngineCapital.com for more information