For today's bulletin, we take a look at Starbucks $SBUX. We also provide a link to download a FREE STOCK REPORT on the company.
VALUATION WATCH: Overvalued stocks now make up 48.44% of our stocks assigned a valuation and 19.29% of those equities are calculated to be overvalued by 20% or more. Ten sectors are calculated to be overvalued.
Starbucks Corporation (SBUX) purchases and roasts high-quality whole bean coffees and sells them along with fresh, rich-brewed, Italian style espresso beverages, a variety of pastries and confections, and coffee-related equipments primarily through its company-operated retail stores. In addition to sales through its company-operated retail stores, Starbucks sells whole bean coffees through a specialty sales group and supermarkets. Additionally, Starbucks produces and sells bottled Frappuccino coffee drink and a line of premium ice creams through its joint venture partnerships and offers a line of innovative premium teas produced by its wholly owned subsidiary, Tazo Tea Company. The company's objective is to establish Starbucks as the most recognized and respected brand in the world.
Want to learn more about ValuEngine? Our methods? Our history?
Check out our video presentation HERE
A new consultant report calls for Starbucks to check staff diversity, improve training, and work with local police to reduce racial bias against some customers. The consultants were hired after an infamous racial incident in Philadelphia, where two black entrepreneurs who arrived early for a meeting with the real estate broker were arrested by local police after a manager requested assistance with the two black "trespassers" because they refused to buy an item while they waited.
This incident sparked widespread outrage, as it was widely acknowledged that Starbucks seemed to have one policy for white customers vis-a-vis using facilities without purchases and those of color. They company shut down all stores recently for a day or racial sensitivity training, but the latest consultant report recommends even more policy and training changes moving forward.
A key change suggested by the consultant report is for Starbucks to ""make clear in company policy that law enforcement should only be called to address criminal activity or threats to public safety."
VALUENGINE RECOMMENDATION: ValuEngine continues its SELL recommendation on STARBUCKS CORP for 2018-06-29. Based on the information we have gathered and our resulting research, we feel that STARBUCKS CORP has the probability to UNDERPERFORM average market performance for the next year. The company exhibits UNATTRACTIVE Momentum and Book Market Ratio.
You can download a free copy of detailed report on Starbucks Corporation (SBUX) from the link below.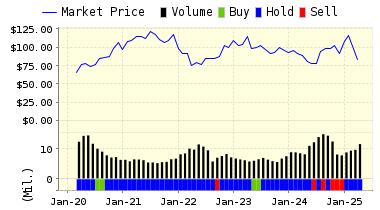 ValuEngine Forecast
Target
Price*
Expected
Return
1-Month
48.37
-0.98%
3-Month
48.12
-1.50%
6-Month
46.58
-4.64%
1-Year
43.09
-11.79%
2-Year
42.75
-12.48%
3-Year
42.35
-13.30%
Valuation & Rankings
Valuation
17.65% undervalued
Valuation Rank(?)
79
1-M Forecast Return
-0.98%
1-M Forecast Return Rank
6
12-M Return
-16.30%
Momentum Rank(?)
15
Sharpe Ratio
0.76
Sharpe Ratio Rank(?)
86
5-Y Avg Annual Return
11.70%
5-Y Avg Annual Rtn Rank
77
Volatility
15.44%
Volatility Rank(?)
78
Expected EPS Growth
9.37%
EPS Growth Rank(?)
33
Market Cap (billions)
36.64
Size Rank
97
Trailing P/E Ratio
21.12
Trailing P/E Rank(?)
58
Forward P/E Ratio
19.31
Forward P/E Ratio Rank
34
PEG Ratio
2.25
PEG Ratio Rank
15
Price/Sales
1.56
Price/Sales Rank(?)
57
Market/Book
7.77
Market/Book Rank(?)
19
Beta
0.60
Beta Rank
58
Alpha
-0.18
Alpha Rank
25
DOWNLOAD A FREE SAMPLE OF OUR STARBUCKS (SBUX) REPORT BY CLICKING HERE
ValuEngine.com is an Independent Research Provider (IRP), producing buy/hold/sell recommendations, target price, and valuations on over 5,000 US and Canadian equities every trading day.
Contact ValuEngine at (321) 325-0519 or support@valuengine.com  
Visit www.ValuEngine.com for more information
ValuEngine Capital Management LLC is a Registered Investment Advisory (RIA) firm that trades client accounts using ValuEngine's award-winning stock research.
Contact ValuEngine Capital at info@valuenginecapital.com
Visit www.ValuEngineCapital.com for more information
Steve Hach
Senior Editor
ValuEngine.Com