EDITOR'S NOTE: We will be on a limited publication schedule later this month. Bulletins will be reduced the weeks of August 20-24 (we will publish M-W) and September 3-7 (we will publish W-F). There will be no bulletins the week of August 27-31. We will return to our normal publication schedule the week of September 10th.
For today's bulletin, we take a look at Estee Lauder $EL and provide a link to download a FREE STOCK REPORT on the company.
VALUATION WATCH: Overvalued stocks now make up 50.82% of our stocks assigned a valuation and 20.9% of those equities are calculated to be overvalued by 20% or more. Twelve sectors are calculated to be overvalued.

The Estee Lauder Companies Inc. (EL) is one of the world's leading manufacturers and marketers of quality skin care, makeup, fragrance and hair care products. The Company's products are sold in over 150 countries and territories under brand names including: Est?e Lauder, Aramis, Clinique, Prescriptives, Lab Series, Origins, Tommy Hilfiger, M?A?C, Kiton, La Mer, Bobbi Brown, Donna Karan New York, DKNY, Aveda, Jo Malone London, Bumble and bumble, Michael Kors, Darphin, Tom Ford, Smashbox, Ermenegildo Zegna, AERIN, Tory Burch, RODIN olio lusso, Le Labo, Editions de Parfums Fr?d?ric Malle, GLAMGLOW, By Kilian, BECCA, and Too Faced.
Want to learn more about ValuEngine? Our methods? Our history?
Check out our video presentation HERE
Cosmetics giant Estee Lauder posted decent Q4 2018 earnings today and investors were pleased. The Company reported fiscal year 2018 diluted net earnings per common share of $2.95 compared with $ 3.35 reported in the prior year . Excluding restructuring and other charges and adjustments, adjusted diluted net earnings per common share increased 30% to $4.51, and in constant currency rose 24%.
Estee Lauder reported net sales of $3.30 billion, a 14% increase compared with $ 2.89 billion in the prior -year period . They posted net sales growth in most brands and across -the -board gains in all geographic regions and product categories.
Net earnings for the quarter were $186 million, compared with $229 million last year, and diluted net earnings per common share was $.49, compared with $.61 reported in the prior -year period.
While numbers were down, sales were strong and that seems to be what the street has focused on. We have had a BUY rating on this stock for much of 2018.
VALUENGINE RECOMMENDATION: ValuEngine continues its BUY recommendation on ESTEE LAUDER for 2018-08-17. Based on the information we have gathered and our resulting research, we feel that ESTEE LAUDER has the probability to OUTPERFORM average market performance for the next year. The company exhibits ATTRACTIVE Company Size and Sharpe Ratio.
You can download a free copy of detailed report on Estee Lauder (EL) from the link below.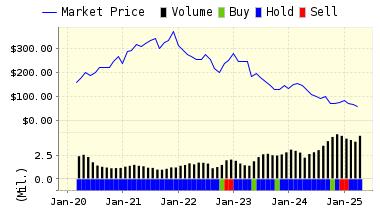 ValuEngine Forecast
Target
Price*
Expected
Return
1-Month
136.70
0.56%
3-Month
136.38
0.33%
6-Month
139.06
2.29%
1-Year
145.03
6.69%
2-Year
137.74
1.33%
3-Year
133.32
-1.93%
Valuation & Rankings
Valuation
6.03% overvalued
Valuation Rank(?)
40
1-M Forecast Return
0.56%
1-M Forecast Return Rank
87
12-M Return
38.26%
Momentum Rank(?)
84
Sharpe Ratio
0.83
Sharpe Ratio Rank(?)
89
5-Y Avg Annual Return
14.41%
5-Y Avg Annual Rtn Rank
83
Volatility
17.45%
Volatility Rank(?)
73
Expected EPS Growth
12.36%
EPS Growth Rank(?)
42
Market Cap (billions)
51.50
Size Rank
98
Trailing P/E Ratio
30.23
Trailing P/E Rank(?)
44
Forward P/E Ratio
26.91
Forward P/E Ratio Rank
18
PEG Ratio
2.45
PEG Ratio Rank
16
Price/Sales
3.88
Price/Sales Rank(?)
28
Market/Book
34.04
Market/Book Rank(?)
5
Beta
0.61
Beta Rank
55
Alpha
0.23
Alpha Rank
86
DOWNLOAD A FREE SAMPLE OF OUR ESTEE LAUDER (EL) REPORT BY CLICKING HERE
ValuEngine.com is an Independent Research Provider (IRP), producing buy/hold/sell recommendations, target price, and valuations on over 5,000 US and Canadian equities every trading day.
Contact ValuEngine at (321) 325-0519 or support@valuengine.com  
Visit www.ValuEngine.com for more information
ValuEngine Capital Management LLC is a Registered Investment Advisory (RIA) firm that trades client accounts using ValuEngine's award-winning stock research.
Contact ValuEngine Capital at info@valuenginecapital.com
Visit www.ValuEngineCapital.com for more information
Steve Hach
Senior Editor
ValuEngine.Com