For today's bulletin, we take a look at Vestas Wind Energy $VWDRY. We also provide a link to download a FREE STOCK REPORT on the company.
VALUATION WATCH: Because overvalued stocks now make up 63.36% of our stocks assigned a valuation and 28.99% of those equities are calculated to be overvalued by 20% or more, we have once again re-insitituted a Valuation Watch. Fifteen sectors are calculated to be overvalued.
Vestas Wind Systems A/S (VWDRY) is engaged in development, manufacture, sale, and maintenance of wind technology that uses the energy of the wind to generate electricity. It provides wind turbines and wind power systems. The company engages in wind project planning, procurement, construction, operation, power plant optimization and maintenance services. Vestas Wind Systems A/S is headquartered in Randers, Denmark.
Vestas is a good pick in the alt-energy/wind power industry because unlike many other companies–such as GE–it offers a pure wind-energy play. They are the world leader in wind turbines by sales and have been profitable over the past few years as the global economy has recovered from the economic crisis.
Wind has been a stronger player in the alt energy space than solar, and in the US there are more wind farms providing more power than their daylight-only competitors. Vestas is a player in major projects all over the world-including Elon Musk's battery/solar/wind project in Australia.
We have long supported the move to clean and green alternative energy sources here at ValuEngine, and Vestas represents one of the best companies in the industry. As you can see from the chart below, our models have also agreed with our assessment. We have had a buy on the company for most of 2016-2017.
ValuEngine continues its STRONG BUY recommendation on VESTAS WIND SYS for 2018-01-19. Based on the information we have gathered and our resulting research, we feel that VESTAS WIND SYS has the probability to OUTPERFORM average market performance for the next year. The company exhibits ATTRACTIVE P/E Ratio and Company Size.
You can download a free copy of detailed report on Vestas Wind Systems A/S (VWDRY) from the link below.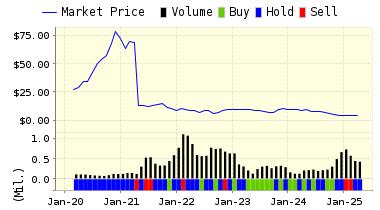 ValuEngine Forecast
Target
Price*
Expected
Return
1-Month
24.35
1.01%
3-Month
24.63
2.17%
6-Month
24.61
2.08%
1-Year
27.03
12.09%
2-Year
28.75
19.23%
3-Year
31.96
32.57%
Valuation & Rankings
Valuation
n/a
Valuation Rank(?)
n/a
1-M Forecast Return
1.01%
1-M Forecast Return Rank
98
12-M Return
6.25%
Momentum Rank(?)
35
Sharpe Ratio
1.16
Sharpe Ratio Rank(?)
92
5-Y Avg Annual Return
50.10%
5-Y Avg Annual Rtn Rank
98
Volatility
43.30%
Volatility Rank(?)
38
Expected EPS Growth
-52.25%
EPS Growth Rank(?)
4
Market Cap (billions)
16.00
Size Rank
92
Trailing P/E Ratio
9.97
Trailing P/E Rank(?)
94
Forward P/E Ratio
20.88
Forward P/E Ratio Rank
34
PEG Ratio
n/a
PEG Ratio Rank
n/a
Price/Sales
1.42
Price/Sales Rank(?)
62
Market/Book
6.33
Market/Book Rank(?)
24
Beta
1.07
Beta Rank
35
Alpha
-0.13
Alpha Rank
33
DOWNLOAD A FREE SAMPLE OF OUR VESTAS WIND SYSTEMS (VWDRY) REPORT BY CLICKING HERE
ValuEngine.com is an Independent Research Provider (IRP), producing buy/hold/sell recommendations, target price, and valuations on over 5,000 US and Canadian equities every trading day.
Contact ValuEngine at (800) 381-5576 or support@valuengine.com  
Visit www.ValuEngine.com for more information
ValuEngine Capital Management LLC is a Registered Investment Advisory (RIA) firm that trades client accounts using ValuEngine's award-winning stock research.
Contact ValuEngine Capital at info@valuenginecapital.com
Visit www.ValuEngineCapital.com for more information