For today's bulletin, we take a look at Wells Fargo $WFC and provide a link to download a copy of our latest stock report on the banking giant.
VALUATION WATCH: Overvalued stocks now make up 22.58% of our stocks assigned a valuation and 8.24% of those equities are calculated to be overvalued by 20% or more. There are no sectors calculated to be overvalued.

Wells Fargo & Company (WFC) is a diversified, community-based financial services company with $1.9 trillion in assets. Wells Fargo's vision is to satisfy our customers' financial needs and help them succeed financially. Headquartered in San Francisco, Wells Fargo provides banking, insurance, investments, mortgage, and consumer and commercial finance through more than 8,400 locations, 13,000 ATMs, the internet (wellsfargo.com) and mobile banking, and has offices in 42 countries and territories to support customers who conduct business in the global economy. With approximately 268,000 team members, Wells Fargo serves one in three households in the United States.
Want to learn more about ValuEngine? Our methods? Our history?
Check out our video presentation HERE.
You may have missed it over the holidays, but there was some big news in the Wells Fargo sales scandal. The company finally reached a settlement with all 50 states regarding its shady business practices. This scandal revealed that the banking giant had been opening millions of accounts for customers who did NOT ask for them, in an effort to make sales goals and boost commissions for certain employees.
The latest settlement means that Wells Fargo will pay @ $575 million to settle cases in all 50 states. That allows the company to move forward with less uncertainty about potential penalties and to focus on repairing their severely- damaged reputation.
The hefty outlay required to make these cases go away follows the more than $2 billion the company paid to the US DOJ to settle cases related to the 2008 financial crisis, $1 billion paid to the UYS Consumer Financial Protection Bureau related to mortgages and auto lending, $142 million to wronged customers in Northern California, and $480 million to shareholders harmed by the bank latest scandal.
Of course, all of these payouts can't help but effect the bottom line here, and investors have responded by beating down shares in the bank. For 2018, the trend was not good, and the bank shed tons of value. The bank continues to operate under asset restrictions set by the US Federal Reserve central bank.
VALUENGINE RECOMMENDATION: ValuEngine continues its HOLD recommendation on Wells Fargo & Company for 2019-01-04. Based on the information we have gathered and our resulting research, we feel that Wells Fargo & Company has the probability to ROUGHLY MATCH average market performance for the next year. The company exhibits ATTRACTIVE Company Size but UNATTRACTIVE Momentum.
You can download a free copy of our summary report on Wells Fargo & Company (WFC) from the link below.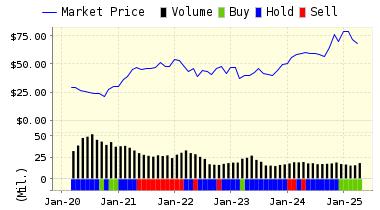 ValuEngine Forecast
Target
Price*
Expected
Return
1-Month
47.78
-0.35%
3-Month
47.97
0.04%
6-Month
47.56
-0.81%
1-Year
45.95
-4.17%
2-Year
52.28
9.04%
3-Year
56.39
17.61%
Valuation & Rankings
Valuation
15.43% undervalued
Valuation Rank(?)
49
1-M Forecast Return
-0.35%
1-M Forecast Return Rank
24
12-M Return
-23.07%
Momentum Rank(?)
29
Sharpe Ratio
0.01
Sharpe Ratio Rank(?)
64
5-Y Avg Annual Return
0.30%
5-Y Avg Annual Rtn Rank
65
Volatility
19.86%
Volatility Rank(?)
70
Expected EPS Growth
12.17%
EPS Growth Rank(?)
45
Market Cap (billions)
248.75
Size Rank
100
Trailing P/E Ratio
10.61
Trailing P/E Rank(?)
82
Forward P/E Ratio
9.46
Forward P/E Ratio Rank
71
PEG Ratio
0.87
PEG Ratio Rank
42
Price/Sales
2.47
Price/Sales Rank(?)
37
Market/Book
1.60
Market/Book Rank(?)
56
Beta
1.10
Beta Rank
33
Alpha
-0.20
Alpha Rank
30
DOWNLOAD A FREE SAMPLE OF OUR WELLS FARGO (WFC) REPORT BY CLICKING HERE
ValuEngine.com is an Independent Research Provider (IRP), producing buy/hold/sell recommendations, target price, and valuations on over 5,000 US and Canadian equities every trading day.
Contact ValuEngine at (321) 325-0519 or support@valuengine.com  
Visit www.ValuEngine.com for more information
ValuEngine Capital Management LLC is a Registered Investment Advisory (RIA) firm that trades client accounts using ValuEngine's award-winning stock research.
Contact ValuEngine Capital at info@valuenginecapital.com
Visit www.ValuEngineCapital.com for more information
Steve Hach
Senior Editor
ValuEngine.Com