For today's bulletin, we take a look at the latest results from retail department store giant Macy's. We also provide a link to download a FREE STOCK REPORT on the company.
VALUATION WATCH: Overvalued stocks now make up 56.03% of our stocks assigned a valuation and 22.03% of those equities are calculated to be overvalued by 20% or more. Twelve sectors are calculated to be overvalued.
Macy's (M) is one of the nation's premier retailers, operating about 885 stores in 45 states, the District of Columbia, Guam and Puerto Rico, under the names of Macy's, Bloomingdale's, Bloomingdale's Outlet and Bluemercury, as well as the macys.com, bloomingdales.com and bluemercury.com websites. Prior to June 1, 2007, Macy's was known as Federated Department Stores.
We have some more clues for the retail sector today as we head into the all-important holiday shopping season. Macy's the former Federated Department Stores, reported third quarter 2017 earnings per diluted share of 12 cents, or 23 cents per share excluding restructuring and other costs and non-cash retirement plan settlement charges. This compares with 5 cents per share in the third quarter of 2016, or 17 cents excluding non-cash retirement plan settlement charges. The company also reaffirmed its sales and earnings guidance for full-year 2017.
Sales in the third quarter of 2017 totaled $5.281 billion, a decrease of 6.1 percent, compared with sales of $5.626 billion in the third quarter of 2016. The year-over-year decline in total sales reflects, in part, the closure of stores previously announced by the company. Comparable sales on an owned basis were down 4.0 percent in the third quarter and down 3.6 percent on an owned plus licensed basis.
Jeff Gennette, Macy's, Inc. chief executive officer, had this to say about the results:
Overall, we're pleased with the results for the third quarter and we remain on track to meet our full-year sales and earnings guidance for 2017. Importantly, we also saw better gross margin performance primarily due to our tightly controlled inventory position. A highlight of the third quarter was the launch of the new Star Rewards loyalty program – our best customers are responding positively. We also saw continued double-digit growth in digital and are encouraged by the potential of Backstage in Macy's stores.
We are excited about our plans for holiday, which is when Macy's truly shines as a gifting destination. The loyalty program, special in-store experiences and a strong mobile and online presence will help drive holiday sales. We are bringing our fashion authority to bear on holiday trends and have a strong product assortment. Our best customer will also find the convenience she expects and the holiday experiences she loves. Macy's remains intensely focused on executing all aspects of our North Star Strategy. We expect continued improvement in our trends in the fourth quarter, including a solid lift from loyalty and digital, and intend to head into 2018 with momentum.
Those are fine words, but they do little to address the overall threat to these brick-and-mortar retailers. Macy's–just like Sears, JCPenney, and so many others–faces an existential threat from online sellers such as Amazon.com. Fewer shoppers go to malls these days. Macy's has to provide coupons, steep discounts, etc. just to drive store traffic. And, if customers actually show up, they are just as likely to check out the goods in person–perhaps even try them on, and then bust out their smart phones to order them online at the cheapest price.
Macy's has closed many stores over the past few years, yet the bleeding continues. The chain was also challenged by the impact of hurricanes in the south as well as an ongoing decline in foreign tourism driven by foreign distaste for the the current occupant of the White House. Sales are down quarter after quarter. Profits were up–more than double from the year-over-year numbers–but still, the overall picture does not look good.
We remain quite concerned about retail for these "old line" stores. We cannot recall the last time we actually set foot in a mall. We cannot recall the last time we did any business at Macy's–with the exception of some online purchases made at a steep discount. We think Macy's is in trouble like some due to their more upscale reputation, but clearly they do not have an answer for the Amazon online juggernaut.
ValuEngine continues its HOLD recommendation on Macy's for 2017-11-08. Based on the information we have gathered and our resulting research, we feel that Macy's has the probability to ROUGHLY MATCH average market performance for the next year. The company exhibits ATTRACTIVE P/E Ratio but UNATTRACTIVE Momentum.
You can download a free copy of detailed report on Macy's (M) from the link below.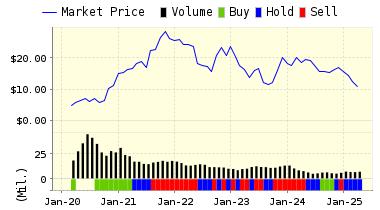 ValuEngine Forecast
Target
Price*
Expected
Return
1-Month
17.58
0.06%
3-Month
17.48
-0.52%
6-Month
16.76
-4.60%
1-Year
17.69
0.68%
2-Year
17.50
-0.40%
3-Year
19.14
8.91%
Valuation & Rankings
Valuation
38.53% undervalued
Valuation Rank(?)
89
1-M Forecast Return
0.06%
1-M Forecast Return Rank
55
12-M Return
-53.60%
Momentum Rank(?)
7
Sharpe Ratio
-0.45
Sharpe Ratio Rank(?)
18
5-Y Avg Annual Return
-14.15%
5-Y Avg Annual Rtn Rank
25
Volatility
31.24%
Volatility Rank(?)
50
Expected EPS Growth
8.87%
EPS Growth Rank(?)
35
Market Cap (billions)
5.98
Size Rank
84
Trailing P/E Ratio
6.00
Trailing P/E Rank(?)
99
Forward P/E Ratio
5.51
Forward P/E Ratio Rank
97
PEG Ratio
0.68
PEG Ratio Rank
55
Price/Sales
0.24
Price/Sales Rank(?)
93
Market/Book
1.37
Market/Book Rank(?)
70
Beta
0.90
Beta Rank
45
Alpha
-0.84
Alpha Rank
5
DOWNLOAD A FREE SAMPLE OF OUR MACY'S (M) REPORT BY CLICKING HERE
ValuEngine.com is an Independent Research Provider (IRP), producing buy/hold/sell recommendations, target price, and valuations on over 5,000 US and Canadian equities every trading day.
Contact ValuEngine at (800) 381-5576 or support@valuengine.com  
Visit www.ValuEngine.com for more information
ValuEngine Capital Management LLC is a Registered Investment Advisory (RIA) firm that trades client accounts using ValuEngine's award-winning stock research.
Contact ValuEngine Capital at info@valuenginecapital.com
Visit www.ValuEngineCapital.com for more information