For today's bulletin, we take a look at Amzon.com $AMZN. We also provide a link to download a FREE STOCK REPORT on the company.
NASDAQ:AMZN
VALUATION WATCH: Overvalued stocks now make up 43.71% of our stocks assigned a valuation and 15.08% of those equities are calculated to be overvalued by 20% or more. Five sectors are calculated to be overvalued.

Amazon.com, Inc. (AMZN) engages in the retail sale of consumer products and subscriptions in North America and internationally. It operates through the North America, International, and Amazon Web Services (AWS) segments. The company sells merchandise and content purchased for resale from vendors, as well as those offered by third-party sellers through retail Websites, such as amazon.com, amazon.ca, amazon.com.mx, amazon.com.au, amazon.com.br, amazon.cn, amazon.fr, amazon.de, amazon.in, amazon.it, amazon.co.jp, amazon.nl, amazon.es, and amazon.co.uk. It also manufactures and sells electronic devices, including kindle e-readers, fire tablets, fire TVs, and echo; and provides Kindle Direct Publishing, an online service that allows independent authors and publishers to make their books available in the Kindle Store.
Want to learn more about ValuEngine? Our methods? Our history?
Check out our video presentation HERE
We spent some discussing Facebook and their troubles over the past week. We also discussed how the scandals rocking that company were of their own making. Today, we provide our data on another tech firm in trouble, Amazon.com. However, in this case we note that Amazon has done little-to-nothing to inflict harm on their business, this scandal derives from Washington.
Amazon has been under sustained attack for a few days now, but claims that the company does not pay taxes, takes advantage of the US post office for underpriced delivery services, and other attacks emanating from the same source do not hold up under any sort of scrutiny.
Of course, the firm has caused carnage throughout the retail sector. We have detailed those issues numerous times in the past few months almost every time we report on a retail stock. The sector is breaking down into the firms that have an answer vs those brick and mortar old line retail companies who do not.
We definitely have some sympathy for the mom and pop retailers who have been negatively impacted and are unable to compete with the giant. But we don't believe for a second that the current round of attacks on Amazon have anything to do with Main Street USA. We think the real animus against the firm is a result of its founder, Jeff Bezos, also controlling the Washington Post. The Post's coverage of current events in DC seems to have spilled over to Amazon's business operations where some critics are concerned.
In any case, we like the stock more now thanks to the recent price declines. We believe it is a strong operation with a strong future. We think that those inclined to buy stocks like these on the dips may see an opportunity here. We also note that since 2016, big firms attacked in similar fashion have actually gained value over time and that while the initial drop in share price may cause concern, the quality has–so far–rebounded no matter what bombs are lobbed from Washington.
ValuEngine continues its BUY recommendation on Amazon.com for 2018-04-03. Based on the information we have gathered and our resulting research, we feel that Amazon.com has the probability to OUTPERFORM average market performance for the next year. The company exhibits ATTRACTIVE Company Size and Sharpe Ratio.
You can download a free copy of detailed report on Amazon.com, Inc. (AMZN) from the link below.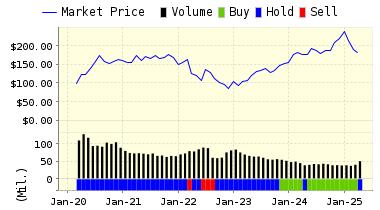 ValuEngine Forecast
Target
Price*
Expected
Return
1-Month
1,382.49
0.77%
3-Month
1,397.35
1.85%
6-Month
1,449.66
5.66%
1-Year
1,497.96
9.18%
2-Year
1,540.38
12.27%
3-Year
1,518.56
10.68%
Valuation & Rankings
Valuation
27.26% overvalued
Valuation Rank(?)
10
1-M Forecast Return
0.77%
1-M Forecast Return Rank
92
12-M Return
56.15%
Momentum Rank(?)
92
Sharpe Ratio
1.25
Sharpe Ratio Rank(?)
96
5-Y Avg Annual Return
33.84%
5-Y Avg Annual Rtn Rank
96
Volatility
27.10%
Volatility Rank(?)
56
Expected EPS Growth
141.69%
EPS Growth Rank(?)
90
Market Cap (billions)
644.53
Size Rank
100
Trailing P/E Ratio
326.01
Trailing P/E Rank(?)
30
Forward P/E Ratio
134.89
Forward P/E Ratio Rank
3
PEG Ratio
2.30
PEG Ratio Rank
13
Price/Sales
3.62
Price/Sales Rank(?)
30
Market/Book
44.89
Market/Book Rank(?)
4
Beta
1.55
Beta Rank
17
Alpha
0.32
Alpha Rank
89
DOWNLOAD A FREE SAMPLE OF OUR AMAZON (AMZN) REPORT BY CLICKING HERE
ValuEngine.com is an Independent Research Provider (IRP), producing buy/hold/sell recommendations, target price, and valuations on over 5,000 US and Canadian equities every trading day.
Contact ValuEngine at (800) 381-5576 or support@valuengine.com  
Visit www.ValuEngine.com for more information
ValuEngine Capital Management LLC is a Registered Investment Advisory (RIA) firm that trades client accounts using ValuEngine's award-winning stock research.
Contact ValuEngine Capital at info@valuenginecapital.com
Visit www.ValuEngineCapital.com for more information