For today's bulletin, we take a look at our latest STRONG BUY and BUY upgrades and focus on one of our top upgrades for the day, American Eagle Outfitters $AEO. We also provide a link to download a FREE STOCK REPORT on the company.
VALUATION WATCH: Overvalued stocks now make up 50.61% of our stocks assigned a valuation and 18.43% of those equities are calculated to be overvalued by 20% or more. Eleven sectors are calculated to be overvalued.
For today's edition of our upgrade list, we used our website's advanced screening functions to search for UPGRADES to BUY or STRONG BUY with complete forecast and valuation data. They are presented by one-month forecast return. Triple-S, American Eagle, Domtar, and DXC Tech are STRONG BUY stocks. Ani Pharma is rated BUY.
| | | | | | | | | |
| --- | --- | --- | --- | --- | --- | --- | --- | --- |
| Ticker | Company Name | Market Price | Valuation | Last 12-M Return | 1-M Forecast Return | 1-Yr Forecast Return | P/E Ratio | Sector Name |
| GTS | TRIPLE-S MGMT-B | 26 | 17.64% | 39.19% | 1.35% | 16.30% | 11.85 | Medical |
| AEO | AMER EAGLE OUTF | 20.27 | 26.00% | 34.59% | 1.09% | 13.11% | 17.32 | Retail-Wholesale |
| UFS | DOMTAR CORP | 45.38 | 22.22% | 18.58% | 1.08% | 13.02% | 15.90 | Basic Materials |
| DXC | DXC TECHNOLOGY | 101.1 | 8.55% | 44.37% | 1.08% | 13.02% | 13.44 | Computer and Technology |
| ANIP | ANI PHARMACEUT | 62.69 | 4.98% | 19.30% | 0.66% | 7.90% | 16.48 | Medical |
For today's bulletin, we take a look at American Eagle Outfitters, Inc.(AEO). American Eagle Outfitters, Inc. is a leading global specialty retailer offering high-quality, on-trend clothing, accessories and personal care products at affordable prices under its American Eagle Outfitters and Aerie brands. The company sources, designs, and markets a versatile line of timeless and relaxed clothing classics like jeans, khakis, and T-shirts under its American Eagle Outfitters and AE brand names for exclusive sale in its stores. The company is focused on several core brand and merchandising strategies to differentiate the company from competition, improve profitability and increase sales.
We see recovery for some retailers lately, and once again we note that many of the big sector names have recently been updated by our models. For today, we see that mall staple American Eagle is ranked among our top-five upgrades.
The company had a good holiday season, which included reports of decent comparable store sales growth. In addition, the company has been doing a decent job with on-line sales. As we note constantly whenever we discuss retailers, the digital market is key. Failure to keep up in this critical arena is wreaking havoc with the share prices of those who cannot handle it.
American Eagle is due to report its next quarterly results this Thursday. Analysts are expecting Q4 EPS to come in around $0.42-0.44/share. If they can make that number, it will represent an improvement of @13% year-over-year. Of course, the company does have a record of surprises, and often improves on the consensus number by just a bit. Analysts are expecting a decent boost in revenue year-over-year as well.
Below is our latest data for American Eagle Outfitters, one of our top STRONG BUY upgrade for the day.
ValuEngine updated its recommendation from BUY to STRONG BUY for American Eagle Outfitters on 2018-03-02. Based on the information we have gathered and our resulting research, we feel that American Eagle Outfitters has the probability to OUTPERFORM average market performance for the next year. The company exhibits ATTRACTIVE Momentum and Company Size.
You can download a free copy of detailed report on American Eagle Outfitters, Inc.(AEO) from the link below.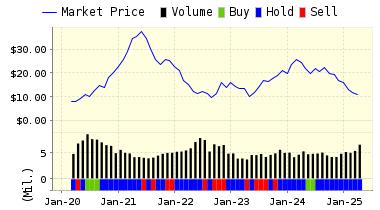 ValuEngine Forecast
Target
Price*
Expected
Return
1-Month
20.49
1.09%
3-Month
20.77
2.47%
6-Month
21.47
5.90%
1-Year
22.93
13.11%
2-Year
25.49
25.78%
3-Year
26.67
31.58%
Valuation & Rankings
Valuation
26.00% overvalued
Valuation Rank(?)
14
1-M Forecast Return
1.09%
1-M Forecast Return Rank
99
12-M Return
34.60%
Momentum Rank(?)
83
Sharpe Ratio
-0.04
Sharpe Ratio Rank(?)
42
5-Y Avg Annual Return
-1.46%
5-Y Avg Annual Rtn Rank
41
Volatility
34.60%
Volatility Rank(?)
46
Expected EPS Growth
19.04%
EPS Growth Rank(?)
47
Market Cap (billions)
3.94
Size Rank
79
Trailing P/E Ratio
17.32
Trailing P/E Rank(?)
70
Forward P/E Ratio
14.55
Forward P/E Ratio Rank
56
PEG Ratio
0.91
PEG Ratio Rank
40
Price/Sales
1.08
Price/Sales Rank(?)
68
Market/Book
3.58
Market/Book Rank(?)
37
Beta
1.03
Beta Rank
37
Alpha
0.04
Alpha Rank
68
DOWNLOAD A FREE SAMPLE OF OUR AMERICAN EAGLE OUTFITTERS (AEO) REPORT BY CLICKING HERE
ValuEngine.com is an Independent Research Provider (IRP), producing buy/hold/sell recommendations, target price, and valuations on over 5,000 US and Canadian equities every trading day.
Contact ValuEngine at (800) 381-5576 or support@valuengine.com  
Visit www.ValuEngine.com for more information
ValuEngine Capital Management LLC is a Registered Investment Advisory (RIA) firm that trades client accounts using ValuEngine's award-winning stock research.
Contact ValuEngine Capital at info@valuenginecapital.com
Visit www.ValuEngineCapital.com for more information