For today's bulletin, we take a look at Bank of America $BAC. We also provide a link to download a FREE STOCK REPORT on the company.
VALUATION WATCH: Overvalued stocks now make up 49.72% of our stocks assigned a valuation and 19.25% of those equities are calculated to be overvalued by 20% or more. Ten sectors are calculated to be overvalued.

Bank of America is one of the world's leading financial institutions, serving individual consumers, small and middle-market businesses and large corporations with a full range of banking, investing, asset management and other financial and risk management products and services. The company provides unmatched convenience in the United States, serving approximately 47 million consumer and small business relationships with approximately 4,500 retail financial centers, approximately 16,000 ATMs, and award-winning digital banking with approximately 34 million active users, including approximately 24 million mobile users. Bank of America is a global leader in wealth management, corporate and investment banking and trading across a broad range of asset classes, serving corporations, governments, institutions and individuals around the world. Bank of America offers industry-leading support to approximately 3 million small business owners through a suite of innovative, easy-to-use online products and services.
Want to learn more about ValuEngine? Our methods? Our history?
Check out our video presentation HERE
We've come a long way from the Great Recession of GW Bush and the financial and housing crisis. Today, we take a look at the latest results from one of the infamous "too big to fail' financial institutions, Bank of America. The company reported Q2 2018 results today and the street is impressed.
Net income for BAC was up 33% to $6.8 billion, diluted earnings per share up 43% to $0.63, and net interest income (NII) increased $664 million–or 6%, to $11.7 billion.
CEO Brian Moynihan noted the following about the results:
Solid operating leverage and client activity drove earnings higher this quarter. Responsible growth continued to deliver as a driver for every area of the company. We grew consumer and commercial loans; we grew deposits; we grew assets within our Merrill Edge business; we generated more net new households in Merrill Lynch; and we supported more institutional client activity — all of this while we continued to invest in our businesses and began an additional $500 million technology investment, which we intend to spend over the next several quarters, due to the benefits we received from tax reform. Even while making investments in people, technology, new markets and real estate, we managed to lower expenses again this period.
These results show a decent environment for banks as the Fed has raised rates AND they benefit from the massive tax cuts and other benefits provided by the Trump Administration and Congress. Banks like Bank of America are charging more for loans but have not provided depositors with higher rates of interest to match the Fed increases.
While we currently rate the company a HOLD, that may change as analysts change their EPS estimates in the wake of today's results.
VALUENGINE RECOMMENDATION: ValuEngine continues its HOLD recommendation on BANK OF AMER CP for 2018-07-13. Based on the information we have gathered and our resulting research, we feel that BANK OF AMER CP has the probability to ROUGHLY MATCH average market performance for the next year. The company exhibits ATTRACTIVE Company Size but UNATTRACTIVE Price Sales Ratio.
You can download a free copy of detailed report on Bank of America (BAC) from the link below.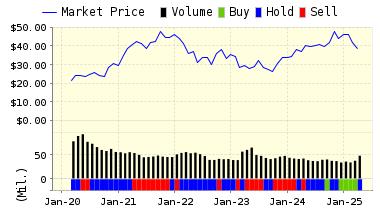 ValuEngine Forecast
Target
Price*
Expected
Return
1-Month
28.47
-0.26%
3-Month
27.70
-2.99%
6-Month
27.33
-4.27%
1-Year
27.65
-3.15%
2-Year
26.40
-7.51%
3-Year
26.51
-7.14%
Valuation & Rankings
Valuation
13.51% undervalued
Valuation Rank(?)
75
1-M Forecast Return
-0.26%
1-M Forecast Return Rank
31
12-M Return
15.96%
Momentum Rank(?)
67
Sharpe Ratio
0.63
Sharpe Ratio Rank(?)
82
5-Y Avg Annual Return
15.70%
5-Y Avg Annual Rtn Rank
84
Volatility
25.05%
Volatility Rank(?)
58
Expected EPS Growth
23.18%
EPS Growth Rank(?)
56
Market Cap (billions)
300.25
Size Rank
100
Trailing P/E Ratio
12.98
Trailing P/E Rank(?)
83
Forward P/E Ratio
10.54
Forward P/E Ratio Rank
77
PEG Ratio
0.56
PEG Ratio Rank
55
Price/Sales
2.93
Price/Sales Rank(?)
38
Market/Book
1.52
Market/Book Rank(?)
66
Beta
1.34
Beta Rank
22
Alpha
-0.00
Alpha Rank
56
DOWNLOAD A FREE SAMPLE OF OUR BANK OF AMERICA (BAC) REPORT BY CLICKING HERE
ValuEngine.com is an Independent Research Provider (IRP), producing buy/hold/sell recommendations, target price, and valuations on over 5,000 US and Canadian equities every trading day.
Contact ValuEngine at (321) 325-0519 or support@valuengine.com  
Visit www.ValuEngine.com for more information
ValuEngine Capital Management LLC is a Registered Investment Advisory (RIA) firm that trades client accounts using ValuEngine's award-winning stock research.
Contact ValuEngine Capital at info@valuenginecapital.com
Visit www.ValuEngineCapital.com for more information
Steve Hach
Senior Editor
ValuEngine.Com