For today's bulletin, we take a look at Morgan Stanley $MS. We also provide a link to download a FREE STOCK REPORT on the company.
VALUATION WATCH: Overvalued stocks now make up 50.47% of our stocks assigned a valuation and 19.86% of those equities are calculated to be overvalued by 20% or more. Ten sectors are calculated to be overvalued.

Morgan Stanley (MS) is a preeminent global financial services firm that maintains leading market positions in each of its three primary businesses: securities; asset management; and credit services. The company combines global strength in investment banking and institutional sales and trading with strength in providing full-service and on-line brokerage services, investment and global asset management services and, primarily through its Discover Card brand, quality consumer credit products.
Want to learn more about ValuEngine? Our methods? Our history?
Check out our video presentation HERE
Earnings season for the big, "too big to fail" banks continues, and the latest TBTF institution to report, Morgan Stanley, has also posted good results for the latest quarter. Today, Morgan Stanley reported net revenues of $10.6 billion for the second quarter ended June 30, 2018 compared with $9.5 billion a year ago. For the current quarter, net income applicable to Morgan Stanley was $2.4 billion, or $1.30 per diluted share, compared with net income of $1.8 billion, or $0.87 per diluted share, for the same period a year ago.
James P. Gorman , Chairman and Chief Executive Officer, said,
We reported robust revenue and earnings growth this quarter with strength across all businesses and geographies. The second quarter performance reflected active markets and healthy client engagement. Our strong global franchise positions us well to continue to grow organically across each of our businesses and to deliver operating leverage.
Great numbers for Morgan Stanley–and for the other big banks, show that– for now, there is little impact from the Trump Administration's trade policies on this sector. Of course, one might also be cautioned by the fact that the last time Morgan Stanley posted results like this for two consecutive quarters, it was 2007–just before the housing crisis and financial crash.
Our models however, are not as sanguine about this stock. We currently rate it a SELL. This may change if analysts adjust their estimates of the earnings potential and our forecast figures change accordingly.
VALUENGINE RECOMMENDATION: ValuEngine continues its SELL recommendation on MORGAN STANLEY for 2018-07-17. Based on the information we have gathered and our resulting research, we feel that MORGAN STANLEY has the probability to UNDERPERFORM average market performance for the next year. The company exhibits UNATTRACTIVE Earnings Growth Rate and Price Sales Ratio.
You can download a free copy of detailed report on Morgan Stanley (MS) from the link below.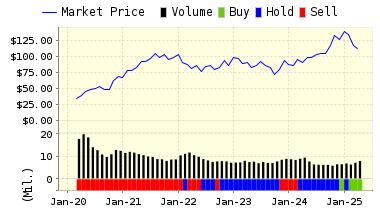 ValuEngine Forecast
Target
Price*
Expected
Return
1-Month
49.00
-0.37%
3-Month
47.97
-2.46%
6-Month
47.26
-3.90%
1-Year
47.02
-4.39%
2-Year
47.81
-2.78%
3-Year
49.31
0.26%
Valuation & Rankings
Valuation
11.29% undervalued
Valuation Rank(?)
72
1-M Forecast Return
-0.37%
1-M Forecast Return Rank
23
12-M Return
8.49%
Momentum Rank(?)
56
Sharpe Ratio
0.58
Sharpe Ratio Rank(?)
80
5-Y Avg Annual Return
13.26%
5-Y Avg Annual Rtn Rank
80
Volatility
22.94%
Volatility Rank(?)
62
Expected EPS Growth
11.63%
EPS Growth Rank(?)
37
Market Cap (billions)
96.26
Size Rank
99
Trailing P/E Ratio
11.44
Trailing P/E Rank(?)
87
Forward P/E Ratio
10.25
Forward P/E Ratio Rank
79
PEG Ratio
0.98
PEG Ratio Rank
38
Price/Sales
2.45
Price/Sales Rank(?)
44
Market/Book
1.37
Market/Book Rank(?)
69
Beta
1.52
Beta Rank
17
Alpha
-0.11
Alpha Rank
34
DOWNLOAD A FREE SAMPLE OF OUR MORGAN STANLEY (MS) REPORT BY CLICKING HERE
ValuEngine.com is an Independent Research Provider (IRP), producing buy/hold/sell recommendations, target price, and valuations on over 5,000 US and Canadian equities every trading day.
Contact ValuEngine at (321) 325-0519 or support@valuengine.com  
Visit www.ValuEngine.com for more information
ValuEngine Capital Management LLC is a Registered Investment Advisory (RIA) firm that trades client accounts using ValuEngine's award-winning stock research.
Contact ValuEngine Capital at info@valuenginecapital.com
Visit www.ValuEngineCapital.com for more information
Steve Hach
Senior Editor
ValuEngine.Com