For today's bulletin, we take a look at Boeing $BA. We also provide a link to download a FREE STOCK REPORT on the company.
NYSE:BA
VALUATION WATCH: Overvalued stocks now make up 45.70% of our stocks assigned a valuation and 17.13% of those equities are calculated to be overvalued by 20% or more. Nine sectors are calculated to be overvalued.
Please enter your email on the right to receive our blogs/bulletins on stocks in the news and other financial topics several times a week.
The Boeing Company (BA) is the world's largest aerospace company and leading manufacturer of commercial jetliners and defense, space and security systems. A top U.S. exporter, the company supports airlines and U.S. and allied government customers. Boeing products and tailored services include commercial and military aircraft, satellites, weapons, electronic and defense systems, launch systems, advanced information and communication systems, and performance-based logistics and training. Boeing has a long tradition of aerospace leadership and innovation. The company continues to expand its product line and services to meet emerging customer needs. Its broad range of capabilities includes creating new, more efficient members of its commercial airplane family; designing, building and integrating military platforms and defense systems; creating advanced technology solutions; and arranging innovative financing and service options for customers.
Want to learn more about ValuEngine? Our methods? Our history?
Check out our video presentation HERE
It will be an interesting week for investors as the markets have a lot to digest when it comes to the possibility of a US-China trade war. While some proclaim trade wars "easy," it certainly will not be a cakewalk for some industries if things escalate and China decides to retaliate against key US companies.
One example of a vulnerable firm is Boeing. The aerospace giant is just the sort of company that could be knocked off its game if a trade war really takes hold. The Chinese would most certainly try to maximize pain for maximal gain and Boeing presents a juicy target for such a scenario.
The firm is not a commodity producer. Its products are high value and high dollar. It takes a lot of cheap textiles and steel to match the cost of just one Boeing aircraft. The firm's workers are skilled and high-salaried. The jobs the company provides are the sort that elected officials break out every tax incentive and benefit in order to lure them to their states.
For now, we retain a BUY on the company. As always, we remind readers that our quant-based systems run on fundamental financial data, they cannot read the headlines. So, make sure you do your research if you intend to buy this stock "on the dip." We find nothing wrong financially with the company, and we believe it remains a high-quality component for just about any portfolio. However, if China and the US continue down the current path, we could see some damage to this venerable firm.
ValuEngine continues its BUY recommendation on Boeing for 2018-03-23. Based on the information we have gathered and our resulting research, we feel that Boeing has the probability to OUTPERFORM average market performance for the next year. The company exhibits ATTRACTIVE Company Size and Sharpe Ratio.
You can download a free copy of detailed report on Boeing (BA) HERE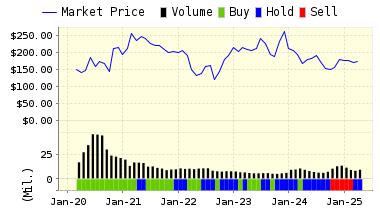 ValuEngine Forecast
Target
Price*
Expected
Return
1-Month
323.34
0.73%
3-Month
326.20
1.62%
6-Month
339.43
5.74%
1-Year
349.04
8.74%
2-Year
376.39
17.26%
3-Year
376.86
17.40%
Valuation & Rankings
Valuation
28.60% overvalued
Valuation Rank
12
1-M Forecast Return
0.73%
1-M Forecast Return Rank
93
12-M Return
81.09%
Momentum Rank
95
Sharpe Ratio
1.38
Sharpe Ratio Rank
96
5-Y Avg Annual Return
31.13%
5-Y Avg Annual Rtn Rank
94
Volatility
22.53%
Volatility Rank
65
Expected EPS Growth
18.44%
EPS Growth Rank
46
Market Cap (billions)
228.85
Size Rank
100
Trailing P/E Ratio
25.82
Trailing P/E Rank
49
Forward P/E Ratio
21.80
Forward P/E Ratio Rank
26
PEG Ratio
1.40
PEG Ratio Rank
24
Price/Sales
2.45
Price/Sales Rank
43
Market/Book
555.46
Market/Book Rank
1
Beta
1.39
Beta Rank
22
Alpha
0.50
Alpha Rank
94
ValuEngine.com is an Independent Research Provider (IRP), producing buy/hold/sell recommendations, target price, and valuations on over 5,000 US and Canadian equities every trading day.
Contact ValuEngine at (800) 381-5576 or support@valuengine.com
Visit www.ValuEngine.com for more information
ValuEngine Capital Management LLC is a Registered Investment Advisory (RIA) firm that trades client accounts using ValuEngine's award-winning stock research.
Contact ValuEngine Capital at info@valuenginecapital.com
Visit www.ValuEngineCapital.com for more information