For today's bulletin, we take a look at the Boston Beer Company $SAM and provide a link to download a FREE STOCK REPORT on the company.
VALUATION WATCH: Overvalued stocks now make up 51.28% of our stocks assigned a valuation and 21.62% of those equities are calculated to be overvalued by 20% or more. Thirteen sectors are calculated to be overvalued.
The Boston Beer Company (SAM) is America's leading brewer of world-class beer. The Company has won more than 500 international awards for its better-tasting beers. Samuel Adams Boston Lager(R) is the Company's flagship brand, celebrated worldwide for its high-quality ingredients and traditional brewing techniques. The result is a beer renowned by drinkers for its full flavor, balance, complexity, and consistent quality. The company sells approximately 60 beers under the Samuel Adams and the Sam Adams brands; 20 hard cider beverages under the Angry Orchard brand; 13 flavored malt beverages under the Twisted Tea brand; and 4 hard seltzer beverages under the Truly Spiked & Sparkling brand name, as well as approximately 40 beers under A&S Brewing trade name. It markets and sells its products to a network of approximately 350 wholesalers, who in turn sell to retailers, such as pubs, restaurants, grocery stores, convenience stores, package stores, stadiums, and other retail outlets in various countries. ValuEngine Smart Ratings.
Want to learn more about ValuEngine? Our methods? Our history?
Check out our video presentation HERE
We have heard a lot from beverage industry analysts over the past few years vis-a-vis craft beer. Much of this analysis has been of the sort that warns of an impending shake out of the market–even as the segment continued to enjoy growth rates of 10% or more.
However, we often wonder whether this sort of argument represents little more than wishful thinking on the part of macro brewers such as the giants AB-InBev or SABMiller. We definitely think that craft beer is far more competitive than it used to be, but we also don't see drinkers switching back to Bud or Miller anytime soon.
Of course, the grand daddy of the craft beer "movement"–whether they get the credit or are even remembered as such–is the Boston Beer Company. Makers of what was once pretty much the only craft beer one could find at a grocery or bar, Samuel Adams Boston Lager, Boston Beer rarely gets credit and–unfortunately for them, many drinkers late to the game assume Sam Adams is not a craft beer.
But, Boston Beer is still held in high regard by older craft aficionados, and throughout their history they have taken significant steps to assist and reward their loyal customers. "Back in the day," the company was one of the first to skip the Wall St insider game of IPOs and provided their customers with an opportunity to buy shares at a fair price when they first went public. They have also innovated in other areas, branching off into ciders and other flavored malt beverages–which is also an unknown fact for many consumers despite the Angry Orchard or Twisted Tea in their hands.
The company has had a notable 2018 so far, despite claims that craft beer was dead, Boston Beer was on the decline, etc. The share price has been up– at times more than 65%. Despite the fact that their flagship brand no longer holds the cache it used to among craft beer drinkers, the other innovative products have room to grow significantly, and they are popular among younger drinkers who may not favor the more radical offerings like sours and IPAs from "hard-core" craft breweries.
VALUENGINE RECOMMENDATION: ValuEngine continues its BUY recommendation on BOSTON BEER INC for 2018-09-14. Based on the information we have gathered and our resulting research, we feel that BOSTON BEER INC has the probability to OUTPERFORM average market performance for the next year. The company exhibits ATTRACTIVE Momentum and Company Size.
You can download a free copy of detailed report on the Boston Beer Company (SAM) from the link below.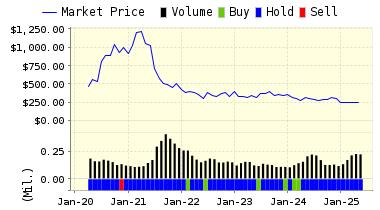 ValuEngine Forecast
Target
Price*
Expected
Return
1-Month
322.47
1.02%
3-Month
326.31
2.23%
6-Month
336.40
5.39%
1-Year
358.43
12.29%
2-Year
366.84
14.93%
3-Year
357.50
12.00%
Valuation & Rankings
Valuation
34.23% overvalued
Valuation Rank(?)
13
1-M Forecast Return
1.02%
1-M Forecast Return Rank
98
12-M Return
107.95%
Momentum Rank(?)
97
Sharpe Ratio
0.23
Sharpe Ratio Rank(?)
63
5-Y Avg Annual Return
7.17%
5-Y Avg Annual Rtn Rank
66
Volatility
31.85%
Volatility Rank(?)
48
Expected EPS Growth
38.42%
EPS Growth Rank(?)
70
Market Cap (billions)
4.17
Size Rank
79
Trailing P/E Ratio
49.85
Trailing P/E Rank(?)
36
Forward P/E Ratio
36.01
Forward P/E Ratio Rank
12
PEG Ratio
1.30
PEG Ratio Rank
32
Price/Sales
4.55
Price/Sales Rank(?)
24
Market/Book
9.50
Market/Book Rank(?)
16
Beta
0.76
Beta Rank
48
Alpha
0.59
Alpha Rank
95
DOWNLOAD A FREE SAMPLE OF OUR BOSTON BEER COMPANY (SAM) REPORT BY CLICKING HERE
ValuEngine.com is an Independent Research Provider (IRP), producing buy/hold/sell recommendations, target price, and valuations on over 5,000 US and Canadian equities every trading day.
Contact ValuEngine at (321) 325-0519 or support@valuengine.com  
Visit www.ValuEngine.com for more information
ValuEngine Capital Management LLC is a Registered Investment Advisory (RIA) firm that trades client accounts using ValuEngine's award-winning stock research.
Contact ValuEngine Capital at info@valuenginecapital.com
Visit www.ValuEngineCapital.com for more information
Steve Hach
Senior Editor
ValuEngine.Com