For today's bulletin, we take a look at credit-reporting giant Equifax $EFX, which was hacked and has been battered by a firestorm of bad news. We also provide a link to download a FREE STOCK REPORT on the company
VALUATION: Overvalued stocks now make up 57.94% of our stocks assigned a valuation and 22.45% of those equities are calculated to be overvalued by 20% or more. Thirteen sectors are calculated to be overvalued.
To subscribe to our bulletins and receive content whenever it is published, subscribe at our blog HERE
Equifax (EFX) is one of the leaders in facilitating and securing commerce by bringing buyers and sellers together world-wide through information, transaction processing and Internet businesses. Global operations include consumer and commercial credit information services, credit card marketing and processing services, check guarantee and authorization, software, modeling, database management, marketing solutions, analytics, direct to consumer services, and Internet identity verification and digital certificate services.
We have seen a variety of data breach scandals over the past few years at retail giants such as Target and Home Depot. But now we have a breach of such potentially damaging consequences that the irony is too thick to be funny. Equifax, one of the main credit reporting agencies, was hacked and almost 50% of its database (which means @143 million people) was exposed.
This is the worst sort of breach, because the firm holds complete dossiers on millions of people. A hacker's dream, this data contains much more than just an email address or a credit card number. This data includes names, dates of birth, social security numbers, past addresses, etc. This sort of information is not easily changed. It will be a valid means for identity theft for years to come.
To make matters worse, the firm has committed a comedy of errors as it has attempted to address the breach. First, it was revealed that at least three company executives dumped stock BEFORE the breach became widely known. Then, the company's initial efforts to reassure customers by providing credit monitoring services included legal language that would preclude victims' ability to seek legal recourse–but, outrage among consumers and the increasing scrutiny of regulators and Congress caused the firm to dial back on its self-serving "solutions"' just a bit.
However, over the past few days it has been revealed that the firm continues to participate in a comedy of errors. As part of their damage control, Equifax set up a website where consumers could check if their data was stolen in the breach. However, the company's twitter team tweeted out an incorrect domain that itself was a scam site designed to gather customer data and expose the company's shoddy security practices.
To make matters even MORE worse, this was not the first time Equifax tweeted out the fake/phishing site address via their social media. They sent consumers to the fake site three additional times dating back to September 9th.
And that's not all. Other computer security experts have pointed out that the credit freeze service that another giant in the field –Experian–has offered to clients is itself quite vulnerable, because one can reset a PIN for site access by using the exact same data which was stolen in the breach from Equifax.
All that would be needed to remove the credit freeze would be the Equifax data, and answers to those common security questions–"Select a city in which you have previously lived," "What car did you lease in 2017," etc. –which these days are fairly simple to guess via social media and other internet search tools.
This breach has shown that the credit bureaus are woefully unregulated and have poor security. Their first reaction when suffering a serious attack was to sell stock AND try to cover their own legal liability via shady terms of service e agreements and legal fine print.
Equifax's share price has been battered as this scandal has unfolded. One would expect that they will face massive lawsuits and revenue losses. But it is hard to judge how that will shake out in the future. The company will not be providing free monitoring and other services indefinitely, and at some point one can imagine that they even pad their bottom line as consumers sign up for "protection": from the very same company that allowed their data to be stolen via their careless business practices in the first place.
For now, ValuEngine continues its HOLD recommendation on Equifax for 2017-09-20. Based on the information we have gathered and our resulting research, we feel that Equifax has the probability to ROUGHLY MATCH average market performance for the next year. The company exhibits ATTRACTIVE Sharpe Ratio but UNATTRACTIVE Momentum.
You can download a free copy of detailed report on Equifax (EFX) from the link below.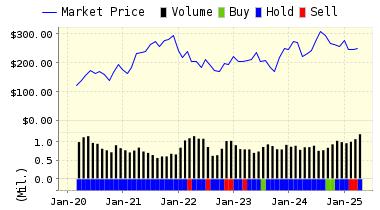 ValuEngine Forecast
Target
Price*
Expected
Return
1-Month
95.86
-0.15%
3-Month
95.41
-0.61%
6-Month
92.11
-4.05%
1-Year
94.33
-1.74%
2-Year
90.75
-5.47%
3-Year
94.16
-1.92%
Valuation & Rankings
Valuation
25.42% undervalued
Valuation Rank(?)
85
1-M Forecast Return
-0.15%
1-M Forecast Return Rank
39
12-M Return
-27.19%
Momentum Rank(?)
16
Sharpe Ratio
1.49
Sharpe Ratio Rank(?)
97
5-Y Avg Annual Return
22.71%
5-Y Avg Annual Rtn Rank
90
Volatility
15.28%
Volatility Rank(?)
79
Expected EPS Growth
5.94%
EPS Growth Rank(?)
31
Market Cap (billions)
11.58
Size Rank
90
Trailing P/E Ratio
16.14
Trailing P/E Rank(?)
76
Forward P/E Ratio
15.24
Forward P/E Ratio Rank
59
PEG Ratio
2.72
PEG Ratio Rank
16
Price/Sales
3.51
Price/Sales Rank(?)
31
Market/Book
3.76
Market/Book Rank(?)
35
Beta
0.92
Beta Rank
45
Alpha
-0.04
Alpha Rank
42
DOWNLOAD A FREE SAMPLE OF OUR EQUIFAX (EFX) REPORT BY CLICKING HERE
ValuEngine.com is an Independent Research Provider (IRP), producing buy/hold/sell recommendations, target price, and valuations on over 5,000 US and Canadian equities every trading day.
Contact ValuEngine at (800) 381-5576 or support@valuengine.com  
Visit www.ValuEngine.com for more information
ValuEngine Capital Management LLC is a Registered Investment Advisory (RIA) firm that trades client accounts using ValuEngine's award-winning stock research.
Contact ValuEngine Capital at info@valuenginecapital.com
Visit www.ValuEngineCapital.com for more information