For today's bulletin, we take a look at Five Below $FIVE and provide a link to download a copy of our latest stock report on the banking giant.
VALUATION WATCH: Overvalued stocks now make up 41.42% of our stocks assigned a valuation and 16.82% of those equities are calculated to be overvalued by 20% or more. Six sectors are calculated to be overvalued.

Five Below, Inc. (FIVE) is a specialty value retailer offering merchandise for teen and pre-teen customers in the United States. The Company offers products all priced at $5 and below, including select brands and licensed merchandise across a range of categories, which it refers to as worlds: Style, Room, Sports, Media, Crafts, Party, Candy and Seasonal. It offers a wide variety of merchandise that includes everything from sporting goods, games, fashion accessories and jewelry, to hobbies and collectibles, bath and body, candy and snacks, room d�cor and storage, stationery and school supplies, video game accessories, books, DVDs, iPhone accessories, novelty and seasonal items. Five Below, Inc. is headquartered in Philadelphia, Pennsylvania.
Want to learn more about ValuEngine? Our methods? Our history?
Check out our video presentation HERE.
We have spent a lot of time discussing retailers in trouble. We all know the story, "brick and mortar" stores decimated by the Amazon.com juggernaut, layoffs, store closures, etc. But today, we focus on a retailer than some have called "Amazon-proof," Five Below.
Five Below has thrived over the past few years despite the Amazon menace and the carnage elsewhere in the sector. They are on track to have 750 stores by the end of 2018, and despite their building frenzy and the increased locations, they show no signs of slowing down or cannibalizing their existing locations.
Key here is the very concept for Five Below, unique items that cost $5 or less. That in itself helps defend against Amazon since consumers are fairly reticent to order times online which are cheaper than the shipping costs levied to receive those items.
The store also focuses on toys and other items which appeal to kids and teens. In this sense they are well-positioned to fill the toy niche recently vacated by Toys R Us.
VALUENGINE RECOMMENDATION: ValuEngine continues its STRONG BUY recommendation on FIVE BELOW INC for 2018-11-09. Based on the information we have gathered and our resulting research, we feel that FIVE BELOW INC has the probability to OUTPERFORM average market performance for the next year. The company exhibits ATTRACTIVE Momentum and Company Size.
You can download a free copy of our summary report on Five Below, Inc. (FIVE) from the link below.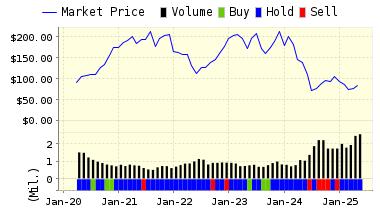 ValuEngine Forecast
Target
Price*
Expected
Return
1-Month
123.08
1.14%
3-Month
125.23
2.90%
6-Month
129.43
6.36%
1-Year
138.34
13.67%
2-Year
144.94
19.10%
3-Year
146.28
20.19%
Valuation & Rankings
Valuation
58.09% overvalued
Valuation Rank(?)
5
1-M Forecast Return
1.14%
1-M Forecast Return Rank
99
12-M Return
112.06%
Momentum Rank(?)
98
Sharpe Ratio
0.47
Sharpe Ratio Rank(?)
83
5-Y Avg Annual Return
17.16%
5-Y Avg Annual Rtn Rank
91
Volatility
36.90%
Volatility Rank(?)
43
Expected EPS Growth
26.17%
EPS Growth Rank(?)
63
Market Cap (billions)
6.61
Size Rank
85
Trailing P/E Ratio
56.87
Trailing P/E Rank(?)
35
Forward P/E Ratio
45.07
Forward P/E Ratio Rank
8
PEG Ratio
2.17
PEG Ratio Rank
20
Price/Sales
4.70
Price/Sales Rank(?)
22
Market/Book
13.01
Market/Book Rank(?)
11
Beta
0.63
Beta Rank
58
Alpha
0.69
Alpha Rank
97
DOWNLOAD A FREE SAMPLE OF OUR FIVE BELOW (FIVE) REPORT BY CLICKING HERE
ValuEngine.com is an Independent Research Provider (IRP), producing buy/hold/sell recommendations, target price, and valuations on over 5,000 US and Canadian equities every trading day.
Contact ValuEngine at (321) 325-0519 or support@valuengine.com  
Visit www.ValuEngine.com for more information
ValuEngine Capital Management LLC is a Registered Investment Advisory (RIA) firm that trades client accounts using ValuEngine's award-winning stock research.
Contact ValuEngine Capital at info@valuenginecapital.com
Visit www.ValuEngineCapital.com for more information
Steve Hach
Senior Editor
ValuEngine.Com