For today's bulletin, we take a look at Macy's $M recent earnings report and provide a link to download a copy of our current stock report on the banking giant.
VALUATION WATCH: Overvalued stocks now make up 38.65% of our stocks assigned a valuation and 14.88% of those equities are calculated to be overvalued by 20% or more. Six sectors are calculated to be overvalued.

Macy's (M) is one of the nation's premier retailers, operating about 885 stores in 45 states, the District of Columbia, Guam and Puerto Rico, under the names of Macy's, Bloomingdale's, Bloomingdale's Outlet and Bluemercury, as well as the macys.com, bloomingdales.com and bluemercury.com websites. Prior to June 1, 2007, Macy's was known as Federated Department Stores.
Want to learn more about ValuEngine? Our methods? Our history?
Check out our video presentation HERE.
Earnings season continues and we again focus on retail with a look at the latest earnings from one of the sole survivors in the department-store realm, Macy's.
The company posted Q3 2018 results today, and their numbers were decent. Adjusted earnings for Q3 came in at $0.27/share–a 17% increase from the same period last year. That beat analyst estimates– which were set at $0.14/share. Revenues declined to $5.4 billion, but that was no surprise and met forecast estimates.
Macy's CEO Jeff Gennette had the following to say about the results
We are pleased with Macy's, Inc. performance in the third quarter, marking our fourth consecutive quarter of comparable sales growth. Macy's, Bloomingdale's and Bluemercury all performed well. Our strategic initiatives are gaining momentum and delivering results. Another double-digit quarter from our digital business and a strong stores performance combined to help us exceed expectations. We continue to see an improved trend in brick and mortar across the fleet with particularly strong results from our Growth50 stores. The holiday season is when Macy's truly shines. We have the right merchandise, the right marketing and the right customer experiences in place to deliver a strong fourth quarter.
How did Macy's do it? They have been closing non-performing locations, improving good locations–which they call "magnet stores," and they have improved their e-commerce options. They seem to be doing a better job where so many other retailers cannot, using both brick and mortar locations AND online sales to bolster their bottom line and retain customers.
Macy's updated its guidance for the year, and said it now forecasts full-year sales to rise between 0.3% and 0.7%. In addition, they increased EPS estimates for the year by 15 cents and now predict a year-end figure of $4.15-$4.30/ share.
However, as you can see from our recommendation below, our models remain unimpressed with Macy's. We have a SELL on the company due to its poor one-year forecast target price. We will see if that changes mobing forward due to the latest results.
VALUENGINE RECOMMENDATION: ValuEngine continues its SELL recommendation on MACYS INC for 2018-11-13. Based on the information we have gathered and our resulting research, we feel that MACYS INC has the probability to UNDERPERFORM average market performance for the next year. The company exhibits UNATTRACTIVE Book Market Ratio and Earnings Growth Rate.
You can download a free copy of our summary report on Macy's (M) from the link below.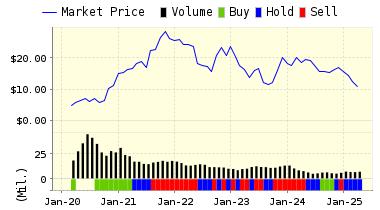 ValuEngine Forecast
Target
Price*
Expected
Return
1-Month
35.57
-0.62%
3-Month
34.26
-4.29%
6-Month
33.49
-6.42%
1-Year
33.10
-7.50%
2-Year
28.43
-20.56%
3-Year
29.74
-16.92%
Valuation & Rankings
Valuation
23.14% undervalued
Valuation Rank(?)
77
1-M Forecast Return
-0.62%
1-M Forecast Return Rank
13
12-M Return
85.15%
Momentum Rank(?)
97
Sharpe Ratio
-0.17
Sharpe Ratio Rank(?)
40
5-Y Avg Annual Return
-5.92%
5-Y Avg Annual Rtn Rank
37
Volatility
34.11%
Volatility Rank(?)
46
Expected EPS Growth
4.73%
EPS Growth Rank(?)
30
Market Cap (billions)
12.19
Size Rank
91
Trailing P/E Ratio
8.90
Trailing P/E Rank(?)
90
Forward P/E Ratio
8.50
Forward P/E Ratio Rank
82
PEG Ratio
1.88
PEG Ratio Rank
23
Price/Sales
0.48
Price/Sales Rank(?)
82
Market/Book
8.11
Market/Book Rank(?)
17
Beta
0.63
Beta Rank
57
Alpha
0.57
Alpha Rank
96
DOWNLOAD A FREE SAMPLE OF OUR MACY'S (M) REPORT BY CLICKING HERE
ValuEngine.com is an Independent Research Provider (IRP), producing buy/hold/sell recommendations, target price, and valuations on over 5,000 US and Canadian equities every trading day.
Contact ValuEngine at (321) 325-0519 or support@valuengine.com  
Visit www.ValuEngine.com for more information
ValuEngine Capital Management LLC is a Registered Investment Advisory (RIA) firm that trades client accounts using ValuEngine's award-winning stock research.
Contact ValuEngine Capital at info@valuenginecapital.com
Visit www.ValuEngineCapital.com for more information
Steve Hach
Senior Editor
ValuEngine.Com