For today's bulletin, we take a look at Goldman Sachs. We also provide a link to download a FREE STOCK REPORT on the company.
VALUATION WATCH: Because overvalued stocks now make up 61.75% of our stocks assigned a valuation and 25.38% of those equities are calculated to be overvalued by 20% or more, we have once again re-insitituted a Valuation Watch. Fifteen sectors are calculated to be overvalued.
Goldman Sachs BDC, Inc. (GS) is a specialty finance company that has elected to be regulated as a business development company. GS BDC was formed by The Goldman Sachs Group, Inc. (Goldman Sachs) to invest primarily in middle-market companies in the United States, and is externally managed by Goldman Sachs Asset Management, L.P., an SEC-registered investment adviser and a wholly-owned subsidiary of Goldman Sachs. GS BDC seeks to generate current income and, to a lesser extent, capital appreciation primarily through direct originations of secured debt, including first lien, first lien/last-out unitranche
Goldman Sachs, like many of its competitors, had a remarkable run over the past few years. While others watched their investments crater during the Bush recession and subsequent economic fallout, big banks–especially those achieving the coveted "too big to fail" (TBTF) status–could seemingly do no wrong.
For quarter after quarter, banks such as Goldman posted remarkable records of success. So many months of few or even zero trading losses caused the conspiracy-minded to argue that the entire system was rigged. Many believed that some sort of secret agreements were in place which allowed the TBTF institutions to recapitalize themselves using Fed ZIRP funds while the average joe was left to suffer.
Well, those days seem to have come to an end. And for proof of that one needs to look no further than the latest results from one of the top-ranked TBTF banks, Goldman Sachs.
Today, Goldman posted some bad –although better than expected–numbers. This bad report was somewhat expected, because the firm was playing some tax games to take advantage of the newly "reformed" tax-code. However, what many did not expect was the dismal performance from the firm's trading operation.
Goldman posted the worst trading performance since 2008–when the bank was in the onset of the Bush recession and its fallout. In fact, Goldman's commodity and debt traders saw a 50% decline in revenue for the quarter. Losses were pretty much across the board and included poor performance in the oil and gas sectors as well as corporate debt.
Overall, the company posted its first loss since 2008. This loss included a $4.4 billion tax charge in order to get ahead of the new tax reform bill. That charge was more than enough to wipe out overall income of $2.3 billion for the bank this quarter.
Of course, as always it will take our models a few days to adjust to these numbers. Once earnings estimates and other critical metrics are adjusted by analysts, we may see a change in the overall rating., For now, ValuEngine continues its BUY recommendation on GOLDMAN SACHS for 2018-01-16. Based on the information we have gathered and our resulting research, we feel that GOLDMAN SACHS has the probability to OUTPERFORM average market performance for the next year. The company exhibits ATTRACTIVE Company Size and P/E Ratio.
You can download a free copy of detailed report on Goldman Sachs (GS) from the link below.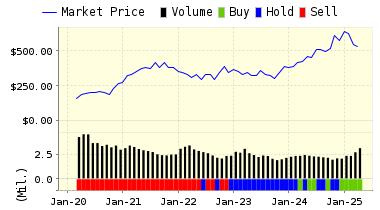 ValuEngine Forecast
Target
Price*
Expected
Return
1-Month
260.24
0.69%
3-Month
262.21
1.45%
6-Month
262.45
1.54%
1-Year
279.79
8.25%
2-Year
292.32
13.10%
3-Year
317.20
22.73%
Valuation & Rankings
Valuation
8.82% overvalued
Valuation Rank(?)
44
1-M Forecast Return
0.69%
1-M Forecast Return Rank
89
12-M Return
9.64%
Momentum Rank(?)
41
Sharpe Ratio
0.63
Sharpe Ratio Rank(?)
78
5-Y Avg Annual Return
13.83%
5-Y Avg Annual Rtn Rank
76
Volatility
22.04%
Volatility Rank(?)
66
Expected EPS Growth
11.51%
EPS Growth Rank(?)
37
Market Cap (billions)
112.57
Size Rank
100
Trailing P/E Ratio
13.59
Trailing P/E Rank(?)
86
Forward P/E Ratio
12.19
Forward P/E Ratio Rank
76
PEG Ratio
1.18
PEG Ratio Rank
37
Price/Sales
3.47
Price/Sales Rank(?)
33
Market/Book
1.30
Market/Book Rank(?)
73
Beta
1.47
Beta Rank
21
Alpha
-0.20
Alpha Rank
27
DOWNLOAD A FREE SAMPLE OF OUR GOLDMAN SACHS (GS) REPORT BY CLICKING HERE
ValuEngine.com is an Independent Research Provider (IRP), producing buy/hold/sell recommendations, target price, and valuations on over 5,000 US and Canadian equities every trading day.
Contact ValuEngine at (800) 381-5576 or support@valuengine.com  
Visit www.ValuEngine.com for more information
ValuEngine Capital Management LLC is a Registered Investment Advisory (RIA) firm that trades client accounts using ValuEngine's award-winning stock research.
Contact ValuEngine Capital at info@valuenginecapital.com
Visit www.ValuEngineCapital.com for more information