For today's bulletin, we take a look at our latest STRONG BUY and BUY upgrades and focus on one of our top upgrades for the day, Ternium SA $TX. We also provide a link to download a FREE STOCK REPORT on the company.
Because overvaluation has crept up again, we now have another Valuation Watch.
VALUATION WATCH: Overvalued stocks now make up 63.04% of our stocks assigned a valuation and 27.1% of those equities are calculated to be overvalued by 20% or more. Because overvaluation has once again increased above 60%, we have re-insitituted a Valuation Watch. Fifteen sectors are calculated to be overvalued.
For today's edition of our upgrade list, we used our website's advanced screening functions to search for UPGRADES to BUY or STRONG BUY with complete forecast and valuation data. They are presented by one-month forecast return. Ternium, Orchid Island, and Mazda are STRONG BUY stocks. Welltower and Hikma Pharma are rated BUY. There were not five upgrades with full valuation and forecast coverage so Orchid, Mazsa, and Hikma are incldued as a courtesy today.
| | | | | | | | | |
| --- | --- | --- | --- | --- | --- | --- | --- | --- |
| Ticker | Company Name | Market Price | Valuation | Last 12-M Return | 1-M Forecast Return | 1-Yr Forecast Return | P/E Ratio | Sector Name |
| TX | TERNIUM SA-ADR | 34.37 | 22.72% | 40.63% | 1.09% | 13.04% | 8.26 | Basic Materials |
| HCN | WELLTOWER INC | 59.16 | -14.66% | -11.50% | 0.51% | 6.13% | 13.95 | Finance |
| ORC | ORCHID ISLAND | 7.87 | N/A | -30.60% | 1.10% | 13.15% | 9.57 | Finance |
| MZDAY | MAZDA MOTOR CP | 7.08 | N/A | -11.48% | 1.08% | 13.00% | 8.05 | Auto-Tires-Trucks |
| HKMPF | HIKMA PHARMACEU | 14.06 | N/A | -39.34% | 0.53% | 6.37% | 15.62 | Medical |
For today's bulletin, we take a look at Ternium SA (TX). Ternium S.A. manufactures and processes various steel products in Mexico, Argentina, Bolivia, Chile, Paraguay, Uruguay, Colombia, the United States, Central America, and internationally. The company operates in two segments, Steel and Mining. The Steel segment offers steel products, such as slabs, billets and round bars, hot-rolled coils and sheets, bars and stirrups, wire rods, cold-rolled coils and sheets, tin plates, hot dipped galvanized and electrogalvanized sheets, pre-painted sheets, steel pipes and tubular products, beams, roll formed products, and other products. The Mining segment sells iron ore concentrates and pellets. The company serves various companies and small businesses operating in construction, automotive, home appliances, capital goods, container, food, and energy industries. Ternium S.A. was founded in 1961 and is headquartered in Buenos Aires, Argentina. Ternium S.A. is a subsidiary of Techint Holdings.
Steel was a good industry in 2017 as the global recovery continued on and steel benefited overall. Ternium was one of the top performers. However, the industry remains plagued by too much capacity no matter the current level of demand.
US President Donal J Trump made many promises during his 2016 campaign vis-a-vis steel–just as he did for coal. However, to date he has not done much to bolster US producers. We expect a Commerce Department report on imports and dumping any day now, but it was already delayed once back in June. It remains to be seen whether or not Trump will keep his promises to US steel workers by taking action against foreign producers found to be unfairly competing.
Ternium is a foreign producer, so it could be negatively affected by any sort of trade war if Trump decides to do more than talk about steel dumping. So far, his promises to require US-produced steel for US infrastrcuture projects have not been shown to be effective–or genuine.
Below is our latest data for Ternium SA:
ValuEngine updated its recommendation from BUY to STRONG BUY for TERNIUM SA-ADR on 2018-01-12. Based on the information we have gathered and our resulting research, we feel that TERNIUM SA-ADR has the probability to OUTPERFORM average market performance for the next year. The company exhibits ATTRACTIVE P/E Ratio and Company Size.
You can download a free copy of detailed report on Ternium SA (TX) from the link below.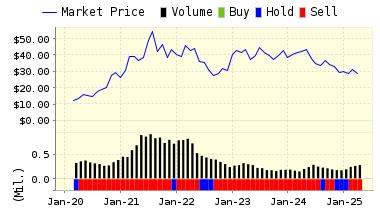 ValuEngine Forecast
Target
Price*
Expected
Return
1-Month
34.74
1.09%
3-Month
35.02
1.88%
6-Month
36.00
4.74%
1-Year
38.85
13.04%
2-Year
43.70
27.14%
3-Year
47.24
37.45%
Valuation & Rankings
Valuation
22.72% overvalued
Valuation Rank(?)
24
1-M Forecast Return
1.09%
1-M Forecast Return Rank
100
12-M Return
40.63%
Momentum Rank(?)
81
Sharpe Ratio
0.18
Sharpe Ratio Rank(?)
57
5-Y Avg Annual Return
5.87%
5-Y Avg Annual Rtn Rank
59
Volatility
32.16%
Volatility Rank(?)
49
Expected EPS Growth
-28.85%
EPS Growth Rank(?)
7
Market Cap (billions)
6.89
Size Rank
84
Trailing P/E Ratio
8.26
Trailing P/E Rank(?)
97
Forward P/E Ratio
11.61
Forward P/E Ratio Rank
79
PEG Ratio
n/a
PEG Ratio Rank
n/a
Price/Sales
0.80
Price/Sales Rank(?)
77
Market/Book
1.50
Market/Book Rank(?)
69
Beta
1.08
Beta Rank
35
Alpha
0.08
Alpha Rank
70
DOWNLOAD A FREE SAMPLE OF OUR TERNIUM SA (TX) REPORT BY CLICKING HERE
ValuEngine.com is an Independent Research Provider (IRP), producing buy/hold/sell recommendations, target price, and valuations on over 5,000 US and Canadian equities every trading day.
Contact ValuEngine at (800) 381-5576 or support@valuengine.com  
Visit www.ValuEngine.com for more information
ValuEngine Capital Management LLC is a Registered Investment Advisory (RIA) firm that trades client accounts using ValuEngine's award-winning stock research.
Contact ValuEngine Capital at info@valuenginecapital.com
Visit www.ValuEngineCapital.com for more information