For today's bulletin, we take a look at the fallout from what appears–at first glance–to be a botched effort by McDonald's to cash in on the cult-like popularity of the Cartoon Network's animated show, "Rick and Morty." We also provide a link to download a FREE STOCK REPORT on the company.
VALUATION WATCH: Overvalued stocks now make up 62.67% of our stocks assigned a valuation and 27.02% of those equities are calculated to be overvalued by 20% or more. Fourteen sectors are calculated to be overvalued. Because overvaluation is now calculated to be above 60%, we have re-instituted our valuation watch.
McDonald's Corporation (MCD) develops, operates, franchises and services a worldwide system of restaurants that prepare, assemble, package and sell a limited menu of value-priced foods. The company operates primarily in the quick-service hamburger restaurant business. All restaurants are operated by the company or, under the terms of franchise arrangements, by franchisees who are independent third parties, or by affiliates operating under joint-venture agreements between the company and local business people.
In what happens to be one of the strangest cases in recent times of a PR promotional effort going awry, this weekend saw fast food giant McDonald's botch a promotional tie-in with the animated show "Rick and Morty" from the Cartoon Network.
Or did they?
For the uninitiated, "Rick and Morty" features the sci-fi adventures of an elderly scientific genius and his sad sack of a grandson as well as the rest of his family. They two main characters resemble "Doc" and "Marty" from the movie "Back to the Future" but with far more inter-dimensional travel–and drug use.
In an episode this season, Rick was held hostage by a race of ant aliens and tortured for a piece of his knowledge. As he led his alien abuser on a wild goose chase, one detail focused on Rick's affinity for a special McDonald's McNugget sauce that featured Asian flavors. This Szechuan sauce was a real-world item, and was last manufactured in the 1990s as part of promo for the Disney film "Mulan."
Here is where things got weird(er). In an effort to take advantage of the free publicity provided by the show and its shout out for the long-lost dipping suace, McDonald's set up a special promotion this past weekend where stores would once again roll out the Szechuan sauce mentioned on "Rick and Morty." But, they did this without any clearance or coordination with the "Rick and Morty" creators, their network, or—most importantly–their lawyers.
In other words, McDonald's decided to do a thinly-velied rip-off promo. The newly produced Szechuan sauce containers featured animated characters and a font similar to the show, and the promo language used common phrases from "Rick and Morty" as well.
Things seemed to go awry, however, when McDonald's stores were besieged by lines of "RIck and Morty" fans and quickly ran out of the coveted Szechuan sauce. The company was subjected to a social media outrage wave from disgruntled fans–who are not generally known for their patience, judgement, or self-control.
However, by this afternoon the fallout had taken on a decidedly different feel as the show's creators– Dan Harmon and Justin Roilland–seemed to give the "guerilla" marketing effort by McDonald's their blessing. "I think it's hysterical," Harmon told a reporter at the New York Comic Con,"it's really funny because if you're going to get robbed, get robbed by McDonald's."
McDonald's also announced that they would continue to supply the Szechuan sauce to stores moving forward so that angry fans would be able to get some for themselves–initial reports stated that most stores had pitifully small amounts on hand for the weekend (20 packages) which quickly ran out under the onslaught of fans.
This PR effort, whether by accident or design, does demonstrate some fresh thinking from the McDonald's marketing team and a good awareness of pop-culture phenomena that may help to bolster the brand.It may also generate some return store traffic on the part of "Rick and Morty" fans looking to taste the sauce or add packages to their collections of show merchandise and ephemera. This show's audience is heavily laced with millenials, and this is the coveted demographic for many restaurants–although one suspects that the show's fan base is already well-familiar with the golden arches.
Of course, this is all in good fun– as long as nobody gets sued. And it is difficult to predict if a "pop" from the rabid fans of a cartoon can really move earnings for the company. We have had a HOLD on McDonald's for some time despite their recent share price upswing. But, if this helps the bottom line and analysts update earnings estimates and other data points, this could change.
Promo Gone Wild?
For now, ValuEngine continues its HOLD recommendation on MCDONALDS CORP for 2017-10-06. Based on the information we have gathered and our resulting research, we feel that MCDONALDS CORP has the probability to ROUGHLY MATCH average market performance for the next year. The company exhibits ATTRACTIVE Company Size but UNATTRACTIVE Price Sales Ratio.
You can download a free copy of detailed report on McDonald's (MCD) from the link below.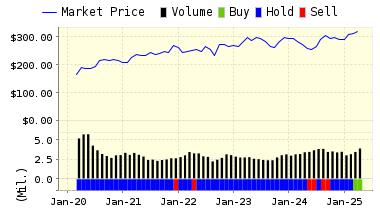 ValuEngine Forecast
Target
Price*
Expected
Return
1-Month
159.90
0.19%
3-Month
161.52
1.20%
6-Month
166.55
4.35%
1-Year
163.23
2.27%
2-Year
178.43
11.80%
3-Year
175.36
9.87%
Valuation & Rankings
Valuation
25.27% overvalued
Valuation Rank(?)
21
1-M Forecast Return
0.19%
1-M Forecast Return Rank
65
12-M Return
40.10%
Momentum Rank(?)
82
Sharpe Ratio
0.82
Sharpe Ratio Rank(?)
86
5-Y Avg Annual Return
10.70%
5-Y Avg Annual Rtn Rank
71
Volatility
13.05%
Volatility Rank(?)
83
Expected EPS Growth
5.34%
EPS Growth Rank(?)
27
Market Cap (billions)
155.32
Size Rank
100
Trailing P/E Ratio
25.05
Trailing P/E Rank(?)
53
Forward P/E Ratio
23.79
Forward P/E Ratio Rank
25
PEG Ratio
4.69
PEG Ratio Rank
8
Price/Sales
6.42
Price/Sales Rank(?)
17
Market/Book
n/a
Market/Book Rank(?)
n/a
Beta
0.66
Beta Rank
56
Alpha
0.21
Alpha Rank
83
DOWNLOAD A FREE SAMPLE OF OUR MCDONALD'S (MCD) REPORT BY CLICKING HERE
ValuEngine.com is an Independent Research Provider (IRP), producing buy/hold/sell recommendations, target price, and valuations on over 5,000 US and Canadian equities every trading day.
Contact ValuEngine at (800) 381-5576 or support@valuengine.com  
Visit www.ValuEngine.com for more information
ValuEngine Capital Management LLC is a Registered Investment Advisory (RIA) firm that trades client accounts using ValuEngine's award-winning stock research.
Contact ValuEngine Capital at info@valuenginecapital.com
Visit www.ValuEngineCapital.com for more information