For today's bulletin, we take a look at the latest news on Boeing $BA and provide a link to download a FREE STOCK REPORT on the company
VALUATION WATCH: Overvalued stocks now make up 58.54% of our stocks assigned a valuation and 22.5% of those equities are calculated to be overvalued by 20% or more. Twelve sectors are calculated to be overvalued.
To subscribe to our bulletins and receive content whenever it is published, subscribe at our blog HERE
The Boeing Company (BA) is one of the world's major aerospace firms. The company operates in three principal segments: commercial airplanes; military aircraft and missiles; and space and communications.
We continue coverage of the airline industry today with the latest news on Boeing. The Paris Air Show is now underway and as part of the big hype surrounding the event Boeing has introduced a new aircraft, the 737 Max 10.
The latest version of this venerable aircraft is designed to compete with the Airbus 321neo. The 737 Max10 can carry up to 230 passengers and Boeing has already booked orders for more than 240 of the planes.
The plane features CFM International LEAP-1B engines, Advanced Technology winglets, Boeing Sky Interior, large flight deck displays, and other improvements designed to lower seat costs and increase profits for airlines.
Bolstering this segment should be good for Boeing since it was lacking a competitor to the Airbus offering at the top of the single-aisle aircraft market.
Below is today's data on Boeing (BA):
ValuEngine continues its BUY recommendation on BOEING CO for 2017-06-16. Based on the information we have gathered and our resulting research, we feel that BOEING CO has the probability to OUTPERFORM average market performance for the next year. The company exhibits ATTRACTIVE Company Size and Sharpe Ratio.
You can download a free copy of detailed report on Boeing Company (BA) from the link below.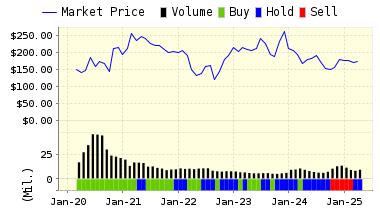 ValuEngine Forecast
Target
Price*
Expected
Return
1-Month
197.46
0.52%
3-Month
198.35
0.97%
6-Month
206.60
5.17%
1-Year
208.61
6.20%
2-Year
226.46
15.28%
3-Year
241.51
22.94%
Valuation & Rankings
Valuation
21.51% overvalued
Valuation Rank(?)
21
1-M Forecast Return
0.52%
1-M Forecast Return Rank
85
12-M Return
51.84%
Momentum Rank(?)
86
Sharpe Ratio
1.00
Sharpe Ratio Rank(?)
91
5-Y Avg Annual Return
19.83%
5-Y Avg Annual Rtn Rank
87
Volatility
19.82%
Volatility Rank(?)
71
Expected EPS Growth
4.39%
EPS Growth Rank(?)
29
Market Cap (billions)
140.05
Size Rank
100
Trailing P/E Ratio
20.85
Trailing P/E Rank(?)
62
Forward P/E Ratio
19.97
Forward P/E Ratio Rank
36
PEG Ratio
4.75
PEG Ratio Rank
9
Price/Sales
1.51
Price/Sales Rank(?)
57
Market/Book
903.53
Market/Book Rank(?)
1
Beta
1.15
Beta Rank
31
Alpha
0.24
Alpha Rank
83
DOWNLOAD A FREE SAMPLE OF OUR BOEING (BA) REPORT BY CLICKING HERE
ValuEngine.com is an Independent Research Provider (IRP), producing buy/hold/sell recommendations, target price, and valuations on over 5,000 US and Canadian equities every trading day.
Contact ValuEngine at (800) 381-5576 or support@valuengine.com  
Visit www.ValuEngine.com for more information
ValuEngine Capital Management LLC is a Registered Investment Advisory (RIA) firm that trades client accounts using ValuEngine's award-winning stock research.
Contact ValuEngine Capital at info@valuenginecapital.com
Visit www.ValuEngineCapital.com for more information