For today's bulletin, we take a look at Pulte Homes $PHM. We also provide a link to download a FREE STOCK REPORT on the company.
VALUATION WATCH: Overvalued stocks now make up 57.79% of our stocks assigned a valuation and 21.82% of those equities are calculated to be overvalued by 20% or more. Thirteen sectors are calculated to be overvalued.
We've come a long way from the Bush The Younger Great Recession and housing market blow up. For today's bulletin, we take a look at one of our STRONG BUY stocks that also happens to be a giant in the housing sector. Pulte Group (PHM). Pulte shares have recovered nicely from post-crisis lows of less than $5/share back in 2011.
PulteGroup, Inc. (PHM), through its subsidiaries, engages primarily in the homebuilding business in the United States. The company is involved in the acquisition and development of land primarily for residential purposes; and the construction of housing on such land. It offers various home designs, including single-family detached, townhouses, condominiums, and duplexes under the Centex, Pulte Homes, Del Webb, DiVosta Homes, and John Wieland Homes and Neighborhoods names. As of December 31, 2016, the company controlled 99,279 owned lots and 43,979 lots under land option agreements. It also arranges financing through the origination of mortgage loans, principally for homebuyers; sells the servicing rights for the originated loans; and provides title insurance policies, and examination and closing services to homebuyers. The company was formerly known as Pulte Homes, Inc. and changed its name to PulteGroup, Inc. in March 2010. PulteGroup, Inc. was founded in 1950 and is headquartered in Atlanta, Georgia.
ValuEngine continues its STRONG BUY recommendation on PULTE GROUP ONC for 2017-12-13. Based on the information we have gathered and our resulting research, we feel that PULTE GROUP ONC has the probability to OUTPERFORM average market performance for the next year. The company exhibits ATTRACTIVE Momentum and Company Size.
You can download a free copy of detailed report on PulteGroup, Inc. (PHM) from the link below.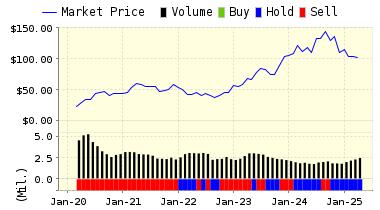 ValuEngine Forecast
Target
Price*
Expected
Return
1-Month
33.66
1.03%
3-Month
33.99
2.01%
6-Month
35.27
5.86%
1-Year
37.46
12.41%
2-Year
41.69
25.13%
3-Year
44.32
33.01%
Valuation & Rankings
Valuation
26.19% overvalued
Valuation Rank(?)
15
1-M Forecast Return
1.03%
1-M Forecast Return Rank
98
12-M Return
69.14%
Momentum Rank(?)
92
Sharpe Ratio
0.56
Sharpe Ratio Rank(?)
76
5-Y Avg Annual Return
14.16%
5-Y Avg Annual Rtn Rank
77
Volatility
25.10%
Volatility Rank(?)
60
Expected EPS Growth
26.35%
EPS Growth Rank(?)
62
Market Cap (billions)
12.35
Size Rank
90
Trailing P/E Ratio
15.40
Trailing P/E Rank(?)
80
Forward P/E Ratio
12.19
Forward P/E Ratio Rank
75
PEG Ratio
0.58
PEG Ratio Rank
59
Price/Sales
1.49
Price/Sales Rank(?)
59
Market/Book
2.94
Market/Book Rank(?)
42
Beta
1.21
Beta Rank
29
Alpha
0.37
Alpha Rank
91
DOWNLOAD A FREE SAMPLE OF OUR PULTE HOMES (PHM) REPORT BY CLICKING HERE
ValuEngine.com is an Independent Research Provider (IRP), producing buy/hold/sell recommendations, target price, and valuations on over 5,000 US and Canadian equities every trading day.
Contact ValuEngine at (800) 381-5576 or support@valuengine.com  
Visit www.ValuEngine.com for more information
ValuEngine Capital Management LLC is a Registered Investment Advisory (RIA) firm that trades client accounts using ValuEngine's award-winning stock research.
Contact ValuEngine Capital at info@valuenginecapital.com
Visit www.ValuEngineCapital.com for more information