For today's bulletin, we take a look at Starbucks $SBUX. We also provide a link to download a FREE STOCK REPORT on the company. Because overvaluation has declined below 60%, we have once again rescinded our Valuation Watch.
VALUATION WATCH: Overvalued stocks now make up 59.24% of our stocks assigned a valuation and 24.29% of those equities are calculated to be overvalued by 20% or more. Because overvaluation has declined below 60%, we have rescinded our latest Valuation Watch. Fourteen sectors are calculated to be overvalued.
EDITOR'S NOTE: We will be publishing on an adjusted schedule for the 2017 holidays–T,TH,F, and then resume our regular M,W,F publication schedule beginning January 8, 2018
Starbucks Corporation (SBUX) purchases and roasts high-quality whole bean coffees and sells them along with fresh, rich-brewed, Italian style espresso beverages, a variety of pastries and confections, and coffee-related equipments primarily through its company-operated retail stores. In addition to sales through its company-operated retail stores, Starbucks sells whole bean coffees through a specialty sales group and supermarkets. Additionally, Starbucks produces and sells bottled Frappuccino coffee drink and a line of premium ice creams through its joint venture partnerships and offers a line of innovative premium teas produced by its wholly owned subsidiary, Tazo Tea Company. The company's objective is to establish Starbucks as the most recognized and respected brand in the world.
2017 was not a banner year for Starbucks. Despite the fact that the company often seems to have location on every corner, share prices finish the year just a bit higher than they were at the start of 2017.
The company creates animosity among some by running out smaller, family-owned and/or local coffee houses. It has also lost its reputation as a purveyor of fine coffee due to competition from higher quality–albeit far smaller–competitors such as Philadelphia's La Colombe
While some analysts think the company is due for a growth spurt thanks to some recent moves–such as ditching the Tazo Tea and Tevana businesses, and the potential for alcohol sales later in the day–others are not so optimistic about future growth.
Still, anecdotally one has to note that in many places the line at the local Starbucks, or the turnpike Starbucks, or the airport Starbucks, is often so long that one walks away in frustration. But, even with so many locations, perhaps the company is unable to truly gobble up all of the premium coffee drink dollars floating around out there? Analysts who do take a postiive view expect that foreign markets will provide the lion's share of any future growth.
Our models remain unimpressed with the company. As you can see from the chart below, we have had a pretty consistent HOLD recommendation on the stock for years now.
ValuEngine continues its HOLD recommendation on Starbucks Corporation for 2017-12-27. Based on the information we have gathered and our resulting research, we feel that Starbucks Corporation has the probability to ROUGHLY MATCH average market performance for the next year. The company exhibits ATTRACTIVE Company Size but UNATTRACTIVE Book Market Ratio.
You can download a free copy of detailed report on Starbucks Corporation (SBUX) from the link below.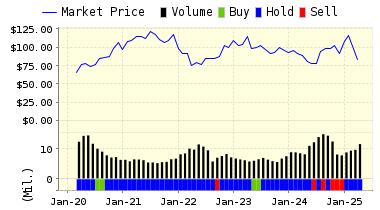 ValuEngine Forecast
Target
Price*
Expected
Return
1-Month
57.13
-0.25%
3-Month
56.74
-0.93%
6-Month
55.68
-2.77%
1-Year
55.57
-2.98%
2-Year
52.64
-8.08%
3-Year
50.93
-11.07%
Valuation & Rankings
Valuation
8.25% undervalued
Valuation Rank(?)
71
1-M Forecast Return
-0.25%
1-M Forecast Return Rank
33
12-M Return
0.72%
Momentum Rank(?)
36
Sharpe Ratio
1.02
Sharpe Ratio Rank(?)
90
5-Y Avg Annual Return
16.03%
5-Y Avg Annual Rtn Rank
80
Volatility
15.78%
Volatility Rank(?)
78
Expected EPS Growth
11.89%
EPS Growth Rank(?)
41
Market Cap (billions)
42.96
Size Rank
97
Trailing P/E Ratio
27.23
Trailing P/E Rank(?)
50
Forward P/E Ratio
24.34
Forward P/E Ratio Rank
25
PEG Ratio
2.29
PEG Ratio Rank
20
Price/Sales
1.92
Price/Sales Rank(?)
52
Market/Book
12.36
Market/Book Rank(?)
13
Beta
0.73
Beta Rank
53
Alpha
-0.14
Alpha Rank
32
DOWNLOAD A FREE SAMPLE OF OUR STARBUCKS (SBUX) REPORT BY CLICKING HERE
ValuEngine.com is an Independent Research Provider (IRP), producing buy/hold/sell recommendations, target price, and valuations on over 5,000 US and Canadian equities every trading day.
Contact ValuEngine at (800) 381-5576 or support@valuengine.com  
Visit www.ValuEngine.com for more information
ValuEngine Capital Management LLC is a Registered Investment Advisory (RIA) firm that trades client accounts using ValuEngine's award-winning stock research.
Contact ValuEngine Capital at info@valuenginecapital.com
Visit www.ValuEngineCapital.com for more information