For today's bulletin, we discuss some of the carnage in the retail sector and provide a link to download a FREE STOCK REPORT on Target $TGT
VALUATION WATCH: Overvalued stocks now make up 61.6% of our stocks assigned a valuation and 25.24% of those equities are calculated to be overvalued by 20% or more. Fourteen sectors are calculated to be overvalued.
To subscribe to our bulletins and receive content whenever it is published, subscribe at our blog HERE
We have seen a lot of ink spilled lately on the troubles in the retail sector. Brick and mortar retailers are getting beat up as online giants like Amazon, Wal Mart, and others ramp up online sales program and transform the way consumers buy goods for their every day lives.
Over the past few years major retailers have run aground in the new environment. Sears/KMart is a well-known case. Other firms have hemorrhaged workers. The sector as a whole is losing jobs at a recession-like pace. In February and March, the sector lost 60k workers. Compare that to the total coal mine employment in the US–which is only 83k workers.
Stores have been closing across the country and more are scheduled to be shut down in 2017, Some analysts predict that more than 3500 brick and mortar stores will be shuttered. Major firms have run into bankruptcy. Malls are shuttered and often depicted on the internet as "ruin porn" as they are reclaimed by the environment in their–now–empty parging lots.
While the financial media pays attention, we notice a curious lack of interest at the government level, even as policy makers and elected officials wax nostalgic about coal miners and assembly line workers and provide tax credits and other incentives for them. But, why are coal miners viewed as more worthy of assistance than retail workers? Why are assembly-line workers more worthy of government help than people whose employment is at the mall?
One giant retailer currently facing all of these challenges is Target (TGT). Target Corporation operates large-format general merchandise and food discount stores in the United States, which include Target and SuperTarget stores. They offer both everyday essentials and fashionable, differentiated merchandise at exceptional prices. Their ability to deliver a shopping experience that is preferred by their guests is supported by their strong supply chain and technology infrastructure. They operate as a single business segment. Their credit card operations represent an integral component of their core retail business. They also operate a fully integrated online business, Target.com. Although Target.com is small relative to their overall size, its sales are growing at a much more rapid pace than their in-store sales, and it provides important benefits to their stores and credit card operations.
Target has been battered by Amazon's online ecommerce business as well as the forays into that space by arch-rival Wal Mart. They have attempted to remain focused on their brick and mortar operations despite these challenges, and their plan may not be working. Investors have been turned off by the firm's own negative profit outlook. The stock is down, while Amazon and Wal-Mart soar.
However, the company does possess a lot of growth potential in the ecommerce sphere, simply because they have not really made a big move into that area. They have created new infrastructure for ecommerce, and they are making the moves necessary to expand. They are also focused on increasing store traffic and maintaining their brick and mortar business. However, only time will tell if the firm will be able to meet these challenges.
Below is today's data on Target (TGT):
VALUENGINE RECOMMENDATION: ValuEngine continues its BUY recommendation on TARGET CORP for 2017-05-12. Based on the information we have gathered and our resulting research, we feel that TARGET CORP has the probability to OUTPERFORM average market performance for the next year. The company exhibits ATTRACTIVE Company Size and P/E Ratio.
You can download a free copy of detailed report on Target (TGT) from the link below.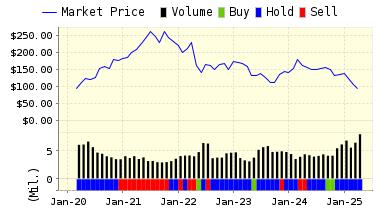 ValuEngine Forecast
Target
Price*
Expected
Return
1-Month
56.13
0.59%
3-Month
56.22
0.75%
6-Month
54.90
-1.61%
1-Year
59.74
7.07%
2-Year
56.33
0.96%
3-Year
54.06
-3.11%
Valuation & Rankings
Valuation
9.61% undervalued
Valuation Rank(?)
76
1-M Forecast Return
0.59%
1-M Forecast Return Rank
87
12-M Return
-26.19%
Momentum Rank(?)
14
Sharpe Ratio
-0.04
Sharpe Ratio Rank(?)
43
5-Y Avg Annual Return
-0.73%
5-Y Avg Annual Rtn Rank
43
Volatility
20.41%
Volatility Rank(?)
70
Expected EPS Growth
-11.17%
EPS Growth Rank(?)
12
Market Cap (billions)
35.72
Size Rank
97
Trailing P/E Ratio
12.10
Trailing P/E Rank(?)
87
Forward P/E Ratio
13.63
Forward P/E Ratio Rank
68
PEG Ratio
n/a
PEG Ratio Rank
n/a
Price/Sales
0.51
Price/Sales Rank(?)
83
Market/Book
3.26
Market/Book Rank(?)
38
Beta
0.50
Beta Rank
64
Alpha
-0.43
Alpha Rank
11
DOWNLOAD A FREE SAMPLE OF OUR TARGET (TGT) REPORT BY CLICKING HERE
ValuEngine.com is an Independent Research Provider (IRP), producing buy/hold/sell recommendations, target price, and valuations on over 5,000 US and Canadian equities every trading day.
Contact ValuEngine at (800) 381-5576 or support@valuengine.com  
Visit www.ValuEngine.com for more information
ValuEngine Capital Management LLC is a Registered Investment Advisory (RIA) firm that trades client accounts using ValuEngine's award-winning stock research.
Contact ValuEngine Capital at info@valuenginecapital.com
Visit www.ValuEngineCapital.com for more information