For today's bulletin, we take a look at Apple $AAPL. We also provide a link to download a FREE STOCK REPORT on the company.
VALUATION WATCH: Overvalued stocks now make up 50.76% of our stocks assigned a valuation and 19.79% of those equities are calculated to be overvalued by 20% or more. Eleven sectors are calculated to be overvalued.
Apple Inc. (AAPL) is engaged in designing, manufacturing and marketing mobile communication and media devices, personal computers, and portable digital music players. The Company's products and services include iPhone, iPad, Mac, iPod, Apple TV, a portfolio of consumer and professional software applications, the iOS and Mac OS X operating systems, iCloud, and a range of accessory, service and support offerings. It sells its products worldwide through its online stores, its retail stores, its direct sales force, third-party wholesalers, and resellers. Apple Inc. is headquartered in Cupertino, California.
Want to learn more about ValuEngine? Our methods? Our history?
Check out our video presentation HERE
As every good "fanboy" knows, today was the day for Apple's WorldWide Developers' Conference (WWDC). This event is special because the tech giant presents new features, apps, operating systems to the developers who work to make software for Apple hardware.
The company has made a series of announcements for new software, including iOS12 for portable devices like iPads and iPhones and macOS10.14 for the firm's computers. They also announced improvements for apps like the Siri personal assistant, better management for notification features, and improvements to the FaceTime video calling system.
It will take a few days for all of the new features, software, and apps to be analyzed by power users, developers, bloggers, and others. But, in the past it has been a bad idea to bet against this company. No matter the problems along the way, the Apple user base has shown a remarkable capacity for forgiveness and an ability to overcome a variety of problems with Apple software and hardware.
We have typically had a BUY on this company for the past few years, and today is no different. ValuEngine continues its BUY recommendation on APPLE INC for 2018-06-01. Based on the information we have gathered and our resulting research, we feel that APPLE INC has the probability to OUTPERFORM average market performance for the next year. The company exhibits ATTRACTIVE Company Size and Sharpe Ratio.
You can download a free copy of detailed report on Apple Inc. (AAPL) from the link below.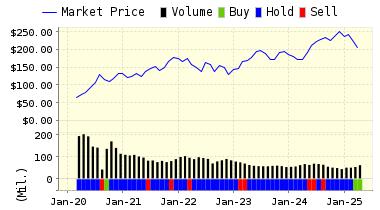 ValuEngine Forecast
Target
Price*
Expected
Return
1-Month
191.12
0.46%
3-Month
192.54
1.21%
6-Month
197.14
3.63%
1-Year
200.84
5.57%
2-Year
220.69
16.01%
3-Year
231.37
21.62%
Valuation & Rankings
Valuation
11.47% overvalued
Valuation Rank(?)
30
1-M Forecast Return
0.46%
1-M Forecast Return Rank
83
12-M Return
24.19%
Momentum Rank(?)
75
Sharpe Ratio
0.91
Sharpe Ratio Rank(?)
91
5-Y Avg Annual Return
21.35%
5-Y Avg Annual Rtn Rank
90
Volatility
23.37%
Volatility Rank(?)
62
Expected EPS Growth
16.31%
EPS Growth Rank(?)
45
Market Cap (billions)
1,108.10
Size Rank
100
Trailing P/E Ratio
17.77
Trailing P/E Rank(?)
68
Forward P/E Ratio
15.28
Forward P/E Ratio Rank
52
PEG Ratio
1.09
PEG Ratio Rank
34
Price/Sales
4.48
Price/Sales Rank(?)
25
Market/Book
8.73
Market/Book Rank(?)
17
Beta
1.27
Beta Rank
24
Alpha
0.06
Alpha Rank
68
DOWNLOAD A FREE SAMPLE OF OUR APPLE (AAPL) REPORT BY CLICKING HERE
ValuEngine.com is an Independent Research Provider (IRP), producing buy/hold/sell recommendations, target price, and valuations on over 5,000 US and Canadian equities every trading day.
Contact ValuEngine at (800) 381-5576 or support@valuengine.com  
Visit www.ValuEngine.com for more information
ValuEngine Capital Management LLC is a Registered Investment Advisory (RIA) firm that trades client accounts using ValuEngine's award-winning stock research.
Contact ValuEngine Capital at info@valuenginecapital.com
Visit www.ValuEngineCapital.com for more information
Steve Hach
Senior Editor
ValuEngine.Com