For today's bulletin, we take a look at Harley Davidson $HOG. We also provide a link to download a FREE STOCK REPORT on the company.
VALUATION WATCH: Overvalued stocks now make up 53.17% of our stocks assigned a valuation and 22.13% of those equities are calculated to be overvalued by 20% or more. Twelve sectors are calculated to be overvalued.
Harley-Davidson, Inc. is the parent company of Harley-Davidson Motor Company and Harley-Davidson Financial Services. Harley-Davidson, Inc. primarily manufactures and sells cruiser and touring motorcycles. The company has fulfilled dreams of personal freedom with custom, cruiser and touring motorcycles, riding experiences and events and a complete line of Harley-Davidson motorcycle parts, accessories, general merchandise, riding gear and apparel. Harley-Davidson, Inc. is also provides motorcycle floor planning and parts and accessories financing to its North American and European dealers. Harley-Davidson Financial Services provides wholesale and retail financing, insurance, extended service and other protection plans and credit card programs to Harley-Davidson dealers and riders in the U.S., Canada and other select international markets. Harley-Davidson, Inc. is engages its business in two segments : Motorcycles and Related Products (Motorcycles) and the Financial Services.
Want to learn more about ValuEngine? Our methods? Our history?
Check out our video presentation HERE
We have more news on the trade war front today, with the latest fallout hitting American cultural mainstay and premiere motorcycle manufacturer Harley Davidson.
The company announced that it will be shifting production capacity to the European market in direct response to the latest round of tariffs imposed by the EU. Those 31% tariffs were themselves a response to the imposition of various tariffs by the Trump Administration.
Tariffs at that level will increase the cost per motorcycle sold in Europe by more than $2000. Harley is not happy about the situation, and their spokesman noted that "expanding international production to alleviate the EU tariff burden is not our preference, but it's the only sustainable option we have to make motorcycles available and affordable to EU customers.".
The tariffs coming out of the White House have been on products such as aluminum and steel, but those effected have responded by levying their tariffs on a variety of American products produced in states critical to the Trump electorial college victory in the 2016 election. Harley is based in Wisconsin.
The company had already been seeking to locate production in areas with sales growth and cutting back on factories in areas of lagging sales. In the US, the company has seen sales declines as its riders age out of the market.
ValuEngine continues its STRONG SELL recommendation on HARLEY-DAVIDSON for 2018-06-22. Based on the information we have gathered and our resulting research, we feel that HARLEY-DAVIDSON has the probability to UNDERPERFORM average market performance for the next year. The company exhibits UNATTRACTIVE Momentum and Book Market Ratio.
You can download a free copy of detailed report on Harley Davidson (HOG) from the link below.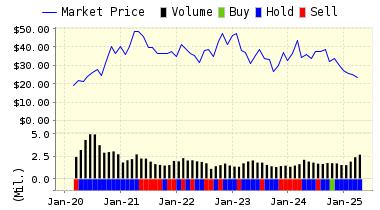 ValuEngine Forecast
Target
Price*
Expected
Return
1-Month
43.65
-1.26%
3-Month
43.33
-1.98%
6-Month
41.74
-5.59%
1-Year
37.55
-15.07%
2-Year
40.92
-7.45%
3-Year
43.33
-1.98%
Valuation & Rankings
Valuation
22.15% undervalued
Valuation Rank(?)
85
1-M Forecast Return
-1.26%
1-M Forecast Return Rank
2
12-M Return
-21.38%
Momentum Rank(?)
11
Sharpe Ratio
-0.25
Sharpe Ratio Rank(?)
29
5-Y Avg Annual Return
-5.67%
5-Y Avg Annual Rtn Rank
33
Volatility
23.12%
Volatility Rank(?)
63
Expected EPS Growth
12.92%
EPS Growth Rank(?)
39
Market Cap (billions)
9.47
Size Rank
88
Trailing P/E Ratio
12.24
Trailing P/E Rank(?)
85
Forward P/E Ratio
10.84
Forward P/E Ratio Rank
77
PEG Ratio
0.95
PEG Ratio Rank
40
Price/Sales
1.67
Price/Sales Rank(?)
56
Market/Book
4.88
Market/Book Rank(?)
29
Beta
0.88
Beta Rank
45
Alpha
-0.36
Alpha Rank
14
DOWNLOAD A FREE SAMPLE OF OUR HARLEY DAVIDSON (HOG) REPORT BY CLICKING HERE
ValuEngine.com is an Independent Research Provider (IRP), producing buy/hold/sell recommendations, target price, and valuations on over 5,000 US and Canadian equities every trading day.
Contact ValuEngine at (321) 325-0519 or support@valuengine.com  
Visit www.ValuEngine.com for more information
ValuEngine Capital Management LLC is a Registered Investment Advisory (RIA) firm that trades client accounts using ValuEngine's award-winning stock research.
Contact ValuEngine Capital at info@valuenginecapital.com
Visit www.ValuEngineCapital.com for more information
Steve Hach
Senior Editor
ValuEngine.Com