For today's bulletin, we take a look at CVS Health $CVS. We also provide a link to download a FREE STOCK REPORT on the company.
NYSE:CVS
VALUATION WATCH: Overvalued stocks now make up 47.99% of our stocks assigned a valuation and 16.93% of those equities are calculated to be overvalued by 20% or more. Ten sectors are calculated to be overvalued.

CVS Health Corporation is a pharmacy innovation company. Its offerings include pharmacy benefit management services, mail order, retail and specialty pharmacy, disease management programs, and retail clinics. The Company serves employers, insurance companies, unions, government employee groups, managed care organizations and other sponsors of health benefit plans, and individuals under the CVS Caremark Pharmacy Services, Caremark, CVS Caremark, CarePlus CVS/pharmacy, RxAmerica, Accordant, SilverScript, and Novologix names. CVS Health Corporation, formerly known as CVS Caremark Corporation, is headquartered in Woonsocket, Rhode Island.
Want to learn more about ValuEngine? Our methods? Our history?
Check out our video presentation HERE
CVS announced earnings today for Q1 2018. The drug store giant reported earnings came in at $998 million, or $0.98 per share. This compares with $952 million, or $0.92 per share, in last year's first quarter. The firm reported adjusted earnings of $1.50 billion or $1.48 per share for the period. Analysts had expected the company to earn $1.41 per share, so that was a nice beat. The company's revenue for the quarter rose 2.7% to $45.69 billion from $44.51 billion last year.
President and Chief Executive Officer Larry Merlo stated:
We generated solid results in the quarter, benefiting from higher prescription volumes within our retail pharmacy business and a lower effective income tax rate. At the same time, we continue to focus on long-term growth initiatives and to invest in process improvements and technology enhancements that will position us well to expand our reach in providing access to high-quality and more affordable care. We continue to innovate in the health care market. Recently, we introduced "Real-time Benefits," a process to share plan design in real-time at the point of prescribing with the physician. During the first quarter, we also launched an initiative, "Rx Savings Finder," to combat rising drug prices . This initiative provides improved visibility into drug costs at the pharmacy counter. These initiatives have benefitted consumers by improving transparency and lowering costs.
Shares were up in premarket trading today, but our models are not impressed. Overnight, we downgraded CVS from HOLD to SELL. We will have to see if analysts change their underlying financial calculations about the company and if any changes to earnings cause a re-evaluation of the forecast figures and a boost in status.
ValuEngine updated its recommendation from HOLD to SELL for CVS HEALTH CORP on 2018-05-01. Based on the information we have gathered and our resulting research, we feel that CVS HEALTH CORP has the probability to UNDERPERFORM average market performance for the next year. The company exhibits UNATTRACTIVE Momentum and Earnings Growth Rate.
You can download a free copy of detailed report on CVS Health (CVS) from the link below.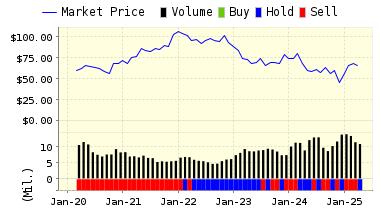 ValuEngine Forecast
Target
Price*
Expected
Return
1-Month
67.43
-0.83%
3-Month
67.12
-1.29%
6-Month
64.67
-4.89%
1-Year
61.21
-9.98%
2-Year
65.81
-3.22%
3-Year
69.77
2.61%
Valuation & Rankings
Valuation
17.44% undervalued
Valuation Rank(?)
80
1-M Forecast Return
-0.83%
1-M Forecast Return Rank
9
12-M Return
-17.03%
Momentum Rank(?)
17
Sharpe Ratio
0.17
Sharpe Ratio Rank(?)
61
5-Y Avg Annual Return
3.65%
5-Y Avg Annual Rtn Rank
59
Volatility
21.06%
Volatility Rank(?)
67
Expected EPS Growth
2.95%
EPS Growth Rank(?)
21
Market Cap (billions)
77.95
Size Rank
99
Trailing P/E Ratio
11.00
Trailing P/E Rank(?)
89
Forward P/E Ratio
10.69
Forward P/E Ratio Rank
77
PEG Ratio
3.73
PEG Ratio Rank
7
Price/Sales
0.42
Price/Sales Rank(?)
87
Market/Book
2.07
Market/Book Rank(?)
53
Beta
1.02
Beta Rank
36
Alpha
-0.27
Alpha Rank
20
DOWNLOAD A FREE SAMPLE OF OUR CVS HEALTH (CVS) REPORT BY CLICKING HERE
ValuEngine.com is an Independent Research Provider (IRP), producing buy/hold/sell recommendations, target price, and valuations on over 5,000 US and Canadian equities every trading day.
Contact ValuEngine at (800) 381-5576 or support@valuengine.com  
Visit www.ValuEngine.com for more information
ValuEngine Capital Management LLC is a Registered Investment Advisory (RIA) firm that trades client accounts using ValuEngine's award-winning stock research.
Contact ValuEngine Capital at info@valuenginecapital.com
Visit www.ValuEngineCapital.com for more information
Steve Hach
Senior Editor
ValuEngine.com