For today's bulletin, we take a look at McDonald's $MCD. We also provide a link to download a FREE STOCK REPORT on the company.
NYSE:MCD
VALUATION WATCH: Overvalued stocks now make up 51.11% of our stocks assigned a valuation and 18.97% of those equities are calculated to be overvalued by 20% or more. Eleven sectors are calculated to be overvalued.
McDonald's Corporation (MCD) is the world's leading global food service retailer. The Company operates and franchises McDonald's restaurants, which serve a locally-relevant menu of quality food and beverages sold at various price. McDonald's global system is comprised of both Company-owned and franchised restaurants. McDonald's franchised restaurants are owned and operated under one of the following structures -conventional franchise, developmental license or affiliate. The optimal ownership structure for an individual restaurant, trading area or market (country) is based on a variety of factors, including the availability of individuals with the entrepreneurial experience and financial resources, as well as the local legal and regulatory environment in critical areas such as property ownership and franchising. The business relationship between McDonald's and its independent franchisees is of fundamental importance to overall performance and to the McDonald's brand.
Want to learn more about ValuEngine? Our methods? Our history?
Check out our video presentation HERE
McDonald's shares got a boost today as investors reacted positively to the fast-food giant's latest earnings report. The company posted a beat, with earnings of $1.79 per share, adjusted, vs. $1.67 per share expected by analysts and revenue of $5.14 billion vs. $4.98 billion expected. Same store visits increased almost 3%. The company said net income rose to $1.38 billion, or $1.72 per share, up from $1.21 billion, or $1.47 per share, a year earlier.
A positive point from the latest earnings report is that gains were made via more expensive products on the McDonald's menu rather than the steeply discounted items featured by the chain over the past few years. But, those discounted items on the "dollar menu" did support gains as well, as customers purchased more of the less expensive items.
Analysts also note that McDonald's efforts to move beyond brick and mortar stores are paying off, as delivery–with UberEats–and mobile ordering programs are growing.
The company is also renovating stores to keep them "fresh" and is investing heavily in this area to make sure that customers receive a new experience when they visit the restaurants.
CEO Steve Easterbrook said that "we continued to build upon the broad-based momentum of our business, marking 11 consecutive quarters of positive comparable sales and our fifth consecutive quarter of positive guest counts. More customers are recognizing that we are becoming a better McDonald's."
ValuEngine continues its HOLD recommendation on McDonald's Corporation for 2018-04-27. Based on the information we have gathered and our resulting research, we feel that McDonald's Corporation has the probability to ROUGHLY MATCH average market performance for the next year. The company exhibits ATTRACTIVE Company Size but UNATTRACTIVE Price Sales Ratio.
You can download a free copy of detailed report on McDonald's Corporation (MCD) from the link below.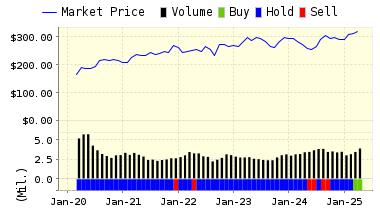 ValuEngine Forecast
Target
Price*
Expected
Return
1-Month
157.97
-0.21%
3-Month
155.66
-1.67%
6-Month
153.81
-2.84%
1-Year
154.35
-2.49%
2-Year
142.21
-10.17%
3-Year
133.23
-15.84%
Valuation & Rankings
Valuation
7.37% undervalued
Valuation Rank(?)
66
1-M Forecast Return
-0.21%
1-M Forecast Return Rank
31
12-M Return
12.37%
Momentum Rank(?)
62
Sharpe Ratio
0.68
Sharpe Ratio Rank(?)
84
5-Y Avg Annual Return
9.00%
5-Y Avg Annual Rtn Rank
71
Volatility
13.23%
Volatility Rank(?)
82
Expected EPS Growth
12.37%
EPS Growth Rank(?)
36
Market Cap (billions)
154.06
Size Rank
100
Trailing P/E Ratio
23.04
Trailing P/E Rank(?)
55
Forward P/E Ratio
20.51
Forward P/E Ratio Rank
29
PEG Ratio
1.86
PEG Ratio Rank
18
Price/Sales
6.75
Price/Sales Rank(?)
17
Market/Book
n/a
Market/Book Rank(?)
n/a
Beta
0.62
Beta Rank
57
Alpha
0.12
Alpha Rank
77
DOWNLOAD A FREE SAMPLE OF OUR MCDONALDS (MCD) REPORT BY CLICKING HERE
ValuEngine.com is an Independent Research Provider (IRP), producing buy/hold/sell recommendations, target price, and valuations on over 5,000 US and Canadian equities every trading day.
Contact ValuEngine at (800) 381-5576 or support@valuengine.com  
Visit www.ValuEngine.com for more information
ValuEngine Capital Management LLC is a Registered Investment Advisory (RIA) firm that trades client accounts using ValuEngine's award-winning stock research.
Contact ValuEngine Capital at info@valuenginecapital.com
Visit www.ValuEngineCapital.com for more information
Steve Hach
Senior Editor
ValuEngine.Com