For today's bulletin, we take a look at Lowe's Companies Inc. $LOW and provide a link to download a copy of our latest stock report on the banking giant.
VALUATION WATCH: Overvalued stocks now make up 41.36% of our stocks assigned a valuation and 15.98% of those equities are calculated to be overvalued by 20% or more. Seven sectors are calculated to be overvalued.
Lowe's Companies, Inc. (LOW) operates as a home improvement company in the United States, Canada, and Mexico. It offers a line of products for maintenance, repair, remodeling, and decorating. The company provides home improvement products in various categories, such as lumber and building materials, tools and hardware, appliances, fashion fixtures, rough plumbing and electrical, seasonal living, lawn and garden, paint, millwork, flooring, kitchens, outdoor power equipment, and home fashions. It also offers installation services through independent contractors in various product categories; extended protection plans; and in-warranty and out-of-warranty repair services. The company sells its national brand-name merchandise and private branded products to homeowners, renters, and professional customers; and retail customers comprising individual homeowners and renters.
Want to learn more about ValuEngine? Our methods? Our history?
Check out our video presentation HERE.
We have had a BUY rating on this stock for most of the year, however, investors have reacted negatively to the firm's lagging behind arch-rival Home Depot with sales. In addition, the firm faces similar pressures to many retailers thanks to the Amazon.com juggernaut.
In an effort to address these concerns, save money, and re-invigorate their business, Lowe's announced today that they will close non-performing locations. This move, which effects a total of 50 stores, will be joined by an effort to boost online sales and do a better job of keeping the remaining stores' shelves properly stocked.
Financially, the reduction in brick and mortar locations combined with the costs associated with the moves are projected to reduce Lowe's expected annual earnings by $0.28-$0.34/share–in August, Lowe's projected annual eps figures of $4.50-$4.60/share.
VALUENGINE RECOMMENDATION: ValuEngine continues its BUY recommendation on LOWES COS for 2018-11-02. Based on the information we have gathered and our resulting research, we feel that LOWES COS has the probability to OUTPERFORM average market performance for the next year. The company exhibits ATTRACTIVE Company Size and Momentum.
You can download a free copy of our summary report on Lowe's Companies, Inc. (LOW) from the link below.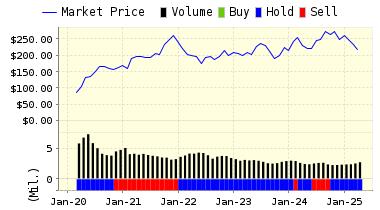 ValuEngine Forecast
Target
Price*
Expected
Return
1-Month
97.22
0.41%
3-Month
97.18
0.37%
6-Month
99.09
2.34%
1-Year
101.57
4.90%
2-Year
100.39
3.69%
3-Year
102.89
6.27%
Valuation & Rankings
Valuation
3.24% overvalued
Valuation Rank(?)
36
1-M Forecast Return
0.41%
1-M Forecast Return Rank
80
12-M Return
26.31%
Momentum Rank(?)
87
Sharpe Ratio
0.56
Sharpe Ratio Rank(?)
87
5-Y Avg Annual Return
12.97%
5-Y Avg Annual Rtn Rank
86
Volatility
23.13%
Volatility Rank(?)
62
Expected EPS Growth
16.20%
EPS Growth Rank(?)
52
Market Cap (billions)
94.20
Size Rank
99
Trailing P/E Ratio
19.36
Trailing P/E Rank(?)
57
Forward P/E Ratio
16.66
Forward P/E Ratio Rank
38
PEG Ratio
1.20
PEG Ratio Rank
35
Price/Sales
1.34
Price/Sales Rank(?)
59
Market/Book
20.89
Market/Book Rank(?)
8
Beta
1.54
Beta Rank
17
Alpha
0.10
Alpha Rank
81
DOWNLOAD A FREE SAMPLE OF OUR LOWE'S COM (LOW) REPORT BY CLICKING HERE
ValuEngine.com is an Independent Research Provider (IRP), producing buy/hold/sell recommendations, target price, and valuations on over 5,000 US and Canadian equities every trading day.
Contact ValuEngine at (321) 325-0519 or support@valuengine.com  
Visit www.ValuEngine.com for more information
ValuEngine Capital Management LLC is a Registered Investment Advisory (RIA) firm that trades client accounts using ValuEngine's award-winning stock research.
Contact ValuEngine Capital at info@valuenginecapital.com
Visit www.ValuEngineCapital.com for more information
Steve Hach
Senior Editor
ValuEngine.Com