For today's bulletin, we take a look at our latest top-five list of BUY and STRONG BUY upgrades. We also provide a link to download a FREE STOCK REPORT on Kratos Defense and Security Solutions $KTOS, one of our top upgrades for the day.
VALUATION WATCH: Overvalued stocks now make up 44.77% of our stocks assigned a valuation and 18.07% of those equities are calculated to be overvalued by 20% or more. Eight sectors are calculated to be overvalued.

For today's edition of our upgrade list, we used our website's advanced screening functions to search for UPGRADES to BUY or STRONG BUY with complete forecast and valuation data. They are presented by one-month forecast return. All of our list components for today are rated STRONG BUY.
| | | | | | | | | |
| --- | --- | --- | --- | --- | --- | --- | --- | --- |
| Ticker | Company Name | Market Price | Valuation | Last 12-M Return | 1-M Forecast Return | 1-Yr Forecast Return | P/E Ratio | Sector Name |
| KTOS | KRATOS DEFENSE | 13.19 | 44.48% | 15.30% | 1.03% | 12.36% | 106.9 | Aerospace |
| GBT | GLOBAL BLD THER | 39.64 | 44.77% | -4.94% | 0.97% | 11.65% | N/A | Medical |
| VSTM | VERASTEM INC | 5.09 | 3.35% | 43.38% | 0.91% | 10.89% | N/A | Medical |
| RTRX | RETROPHIN INC | 25.98 | 18.73% | -0.04% | 0.89% | 10.65% | N/A | Medical |
| GALT | GALECTIN THERAP | 4.65 | 14.63% | N/A | 0.82% | 9.85% | N/A | Medical |
Want to learn more about ValuEngine? Our methods? Our history?
Check out our video presentation HERE
Today, we take a look at Kratos Defense & Security Solutions, Inc. (KTOS). Kratos Defense is a specialized National Security Technology business providing mission critical products, services and solutions for United States National Security priorities. Kratos' core capabilities are sophisticated engineering, manufacturing and system integration offerings for National Security platforms and programs.
Kratos is big in the drone field and they just announced a new $15 million contract for a "High Performance Unmanned Aerial Drone, Unmanned Ground and related Unmanned System products and services." They are positioning themselves to profit from the move to unmanned drones as piloted aircraft are seen as too expensive, too critical, and too "political" to be placed at risk in the so-called "non-permissive environments" of the modern battlefield–Kratos is also a player in space systems and software, and they have also been in the news for their work with Military Satellite Communications (MILSTCOM) satellites.
All of the good news of late was bolstered by the Q3 2018 earnings, which came out earlier this week. Kratos reported Revenues of $159.4 million, Adjusted EBITDA of $16.7 million or 10.5%, Operating Income of $10.1 million, Cash Flow from Operations of $14.0 million, Free Cash Flow from Operations (defined as Cash Flow from Operations less Capital Expenditures) of $7.1 million and Free Cash Flow of $3.2 million after the final payment for acquired satellite communications technology. For the third quarter 2018, the Company reported Adjusted EPS* of $0.08, Net income of $1.7 million and GAAP EPS of $0.02.
Eric DeMarco, Kratos' President and CEO, said
Kratos' third quarter results reflected the continued progress, organic growth and financial improvement trajectory of the Company, which is expected to continue into the fourth quarter, with our Unmanned Systems Business expected to have a particularly strong finish to 2018.  Kratos has several under contract high performance target drone programs that are transitioning from increasing low rate initial production to full rate production, which are expected to be key future growth drivers for our Company.  Additionally, each of Kratos' disclosed under contract tactical unmanned combat aerial system programs, including XQ-58A Valkyrie, Gremlins and Program F are currently on schedule, on budget and continuing to make progress towards future initial production, with a large contract award expected for Kratos' tactical Mako UAS in the next few months.
ValuEngine updated its recommendation from BUY to STRONG BUY for Kratos Defense & Security Solutions on 2018-11-07. Based on the information we have gathered and our resulting research, we feel that Kratos Defense & Security Solutions has the probability to OUTPERFORM average market performance for the next year. The company exhibits ATTRACTIVE Momentum and Sharpe Ratio.
You can download a free copy of detailed report on Kratos Defense & Security Solutions, Inc. (KTOS) from the link below.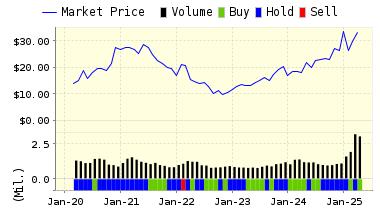 ValuEngine Forecast
Target
Price*
Expected
Return
1-Month
15.13
1.10%
3-Month
15.43
3.10%
6-Month
15.95
6.52%
1-Year
16.94
13.19%
2-Year
18.06
20.66%
3-Year
18.17
21.36%
Valuation & Rankings
Valuation
63.91% overvalued
Valuation Rank(?)
5
1-M Forecast Return
1.10%
1-M Forecast Return Rank
99
12-M Return
33.90%
Momentum Rank(?)
89
Sharpe Ratio
0.15
Sharpe Ratio Rank(?)
68
5-Y Avg Annual Return
7.81%
5-Y Avg Annual Rtn Rank
77
Volatility
51.77%
Volatility Rank(?)
31
Expected EPS Growth
29.73%
EPS Growth Rank(?)
66
Market Cap (billions)
0.87
Size Rank
60
Trailing P/E Ratio
121.38
Trailing P/E Rank(?)
32
Forward P/E Ratio
93.56
Forward P/E Ratio Rank
3
PEG Ratio
4.08
PEG Ratio Rank
9
Price/Sales
1.25
Price/Sales Rank(?)
61
Market/Book
13.96
Market/Book Rank(?)
11
Beta
2.24
Beta Rank
8
Alpha
-0.08
Alpha Rank
50
DOWNLOAD A FREE SAMPLE OF OUR KRATOS DEFENSE AND SECURITY SOLUTIONS (KTOS) REPORT BY CLICKING HERE
ValuEngine.com is an Independent Research Provider (IRP), producing buy/hold/sell recommendations, target price, and valuations on over 5,000 US and Canadian equities every trading day.
Contact ValuEngine at (321) 325-0519 or support@valuengine.com  
Visit www.ValuEngine.com for more information
ValuEngine Capital Management LLC is a Registered Investment Advisory (RIA) firm that trades client accounts using ValuEngine's award-winning stock research.
Contact ValuEngine Capital at info@valuenginecapital.com
Visit www.ValuEngineCapital.com for more information
Steve Hach
Senior Editor
ValuEngine.Com