For today's bulletin, we take a look at Twitter $TWTR. We also provide a link to download a FREE STOCK REPORT on the company.
VALUATION WATCH: Overvalued stocks now make up 55.22% of our stocks assigned a valuation and 22.49% of those equities are calculated to be overvalued by 20% or more. Thirteen sectors are calculated to be overvalued.
Twitter (TWTR) is a public, real-time, global platform where any user can create a Tweet and any user can follow other users. The platform is unique in its simplicity: Tweets are limited to 140 characters of text. This constraint makes it easy for anyone to quickly create, distribute and discover content that is consistent across our platform and optimized for mobile devices. As a result, Tweets drive a high velocity of information exchange that makes Twitter uniquely live.
Want to learn more about ValuEngine? Our methods? Our history?
Check out our video presentation HERE
For a long time we had no good news on Twitter. This social media stock was rated a SELL or STRONG SELL by our models for years at a time following its IPO. Well, that has changed now and as the stock has powered up our models have noticed. We now rate the company a STRONG BUY.
The company has made changes recently that made investors notice–280 character tweets, more video, the return of Jack Dorsey as CEO. The company also avoided the sort of privacy debacle that engulfed Facebook in the wake of the 2016 election cycle and then Cambridge Analytica revelations.
In addition, the current occupant of the White House has done a great deal to popularize the platform as his every tweet leads to massive amounts of coverage and discussion of the service. Is this a good thing? Well, a wise man once said there is no bad publicity…
Twitter's earnings have been decent lately, with last Quarter's results beating expectations handily. Back in April, the firm reported revenue of $655 million, beating the consensus estimate of $605 million. That was up 21% from the year-ago period. It was the best quarterly growth in two years. The all-important ad revenue rose 21% to $575 million.
Twitter reported adjusted earnings of 16 cents per share, above the consensus of 12 cents. The company ended the quarter with 336 million monthly active users. The consensus forecast was about 335 million The company will again report results in late July.
ValuEngine continues its STRONG BUY recommendation on TWITTER INC for 2018-06-12. Based on the information we have gathered and our resulting research, we feel that TWITTER INC has the probability to OUTPERFORM average market performance for the next year. The company exhibits ATTRACTIVE Momentum and Company Size.
You can download a free copy of detailed report on Twitter (TWTR) from the link below.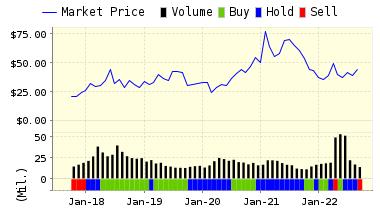 ValuEngine Forecast
Target
Price*
Expected
Return
1-Month
44.01
1.19%
3-Month
44.63
2.63%
6-Month
46.20
6.24%
1-Year
49.72
14.32%
2-Year
51.21
17.76%
3-Year
50.70
16.57%
Valuation & Rankings
Valuation
63.81% overvalued
Valuation Rank(?)
6
1-M Forecast Return
1.19%
1-M Forecast Return Rank
100
12-M Return
155.22%
Momentum Rank(?)
98
Sharpe Ratio
-0.08
Sharpe Ratio Rank(?)
40
5-Y Avg Annual Return
-4.01%
5-Y Avg Annual Rtn Rank
36
Volatility
50.25%
Volatility Rank(?)
33
Expected EPS Growth
50.67%
EPS Growth Rank(?)
74
Market Cap (billions)
27.59
Size Rank
95
Trailing P/E Ratio
173.96
Trailing P/E Rank(?)
31
Forward P/E Ratio
115.46
Forward P/E Ratio Rank
3
PEG Ratio
3.43
PEG Ratio Rank
9
Price/Sales
10.78
Price/Sales Rank(?)
12
Market/Book
6.94
Market/Book Rank(?)
22
Beta
0.90
Beta Rank
43
Alpha
0.54
Alpha Rank
94
DOWNLOAD A FREE SAMPLE OF OUR TWITTER (TWTR) REPORT BY CLICKING HERE
ValuEngine.com is an Independent Research Provider (IRP), producing buy/hold/sell recommendations, target price, and valuations on over 5,000 US and Canadian equities every trading day.
Contact ValuEngine at (800) 381-5576 or support@valuengine.com  
Visit www.ValuEngine.com for more information
ValuEngine Capital Management LLC is a Registered Investment Advisory (RIA) firm that trades client accounts using ValuEngine's award-winning stock research.
Contact ValuEngine Capital at info@valuenginecapital.com
Visit www.ValuEngineCapital.com for more information
Steve Hach
Senior Editor
ValuEngine.Com