For today's bulletin, we take a look at Microsoft $MSFT. We also provide a link to download a FREE STOCK REPORT on the company.
VALUATION WATCH: Overvalued stocks now make up 54.8% of our stocks assigned a valuation and 21.94% of those equities are calculated to be overvalued by 20% or more. Twelve sectors are calculated to be overvalued.
Microsoft (MSFT) is a technology company. Their products include operating systems for computing devices, servers, phones, and other intelligent devices; server applications for distributed computing environments; cross-device productivity applications; business solution applications; desktop and server management tools; software development tools; video games; and online advertising. They also design and sell hardware including PCs, tablets, gaming and entertainment consoles, phones, other intelligent devices, and related accessories. They offer cloud-based solutions that provide customers with software, services, platforms, and content. They also provide consulting and product and solution support services, and they train and certify computer system integrators and developers.
Want to learn more about ValuEngine? Our methods? Our history?
Check out our video presentation HERE
We discussed Apple last week in a bulletin, so it seems like a good time to take a look at that company's long-time arch-rival, Microsoft. Microsoft used to be the leader, now many consider it "stale" despite its massive business in staples of computing such as Windows, Office, etc. The company also has XBOX, and in an effort to provide more exclusive content for that system, has decided to buy four game design studios as well as launching its own.
Despite the fact that the company is no longer considered an innovative leader by many analysts, it continues to post big numbers for shareholders and decent quarterly results. When the firm reported Q3 2018 results at the end of April, they showed a 16% increase in revenue to $26.8 billion, a 23% increase in operating income to $8.3 billion, and a 35% increase in net income to $7.4 billion. Diluted earnings per share increased 36% to $0.95 share. The firm also returned $6.3 billion to shareholders in the form of dividends and share repurchases in Q3.
Numbers like those show that while Microsoft may not be considered as "sexy" as Apple, it continues to perform for shareholders.
ValuEngine continues its BUY recommendation on MICROSOFT CORP for 2018-06-08. Based on the information we have gathered and our resulting research, we feel that MICROSOFT CORP has the probability to OUTPERFORM average market performance for the next year. The company exhibits ATTRACTIVE Company Size and Sharpe Ratio.
You can download a free copy of detailed report on Microsoft (MSFT) from the link below.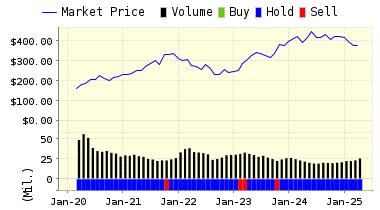 ValuEngine Forecast
Target
Price*
Expected
Return
1-Month
102.35
0.71%
3-Month
102.62
0.97%
6-Month
105.23
3.54%
1-Year
110.26
8.50%
2-Year
110.62
8.84%
3-Year
109.64
7.88%
Valuation & Rankings
Valuation
14.07% overvalued
Valuation Rank(?)
30
1-M Forecast Return
0.71%
1-M Forecast Return Rank
92
12-M Return
41.25%
Momentum Rank(?)
86
Sharpe Ratio
1.04
Sharpe Ratio Rank(?)
93
5-Y Avg Annual Return
20.82%
5-Y Avg Annual Rtn Rank
89
Volatility
20.11%
Volatility Rank(?)
69
Expected EPS Growth
4.57%
EPS Growth Rank(?)
25
Market Cap (billions)
833.75
Size Rank
100
Trailing P/E Ratio
26.77
Trailing P/E Rank(?)
49
Forward P/E Ratio
25.60
Forward P/E Ratio Rank
20
PEG Ratio
5.86
PEG Ratio Rank
5
Price/Sales
8.05
Price/Sales Rank(?)
14
Market/Book
29.51
Market/Book Rank(?)
6
Beta
1.01
Beta Rank
37
Alpha
0.23
Alpha Rank
84
DOWNLOAD A FREE SAMPLE OF OUR MICROSOFT (MSFT) REPORT BY CLICKING HERE
ValuEngine.com is an Independent Research Provider (IRP), producing buy/hold/sell recommendations, target price, and valuations on over 5,000 US and Canadian equities every trading day.
Contact ValuEngine at (800) 381-5576 or support@valuengine.com  
Visit www.ValuEngine.com for more information
ValuEngine Capital Management LLC is a Registered Investment Advisory (RIA) firm that trades client accounts using ValuEngine's award-winning stock research.
Contact ValuEngine Capital at info@valuenginecapital.com
Visit www.ValuEngineCapital.com for more information
Steve Hach
Senior Editor
ValuEngine.Com