For today's bulletin, we take a look at Starbucks $SBUX. We also provide a link to download a FREE STOCK REPORT on the company.
<company:symbol>NASDAQ:SBUX<company:symbol>
VALUATION WATCH: Overvalued stocks now make up 49.1% of our stocks assigned a valuation and 17.44% of those equities are calculated to be overvalued by 20% or more. Ten sectors are calculated to be overvalued.
Starbucks Corporation (SBUX) purchases and roasts high-quality whole bean coffees and sells them along with fresh, rich-brewed, Italian style espresso beverages, a variety of pastries and confections, and coffee-related equipments primarily through its company-operated retail stores. In addition to sales through its company-operated retail stores, Starbucks sells whole bean coffees through a specialty sales group and supermarkets. Additionally, Starbucks produces and sells bottled Frappuccino coffee drink and a line of premium ice creams through its joint venture partnerships and offers a line of innovative premium teas produced by its wholly owned subsidiary, Tazo Tea Company. The company's objective is to establish Starbucks as the most recognized and respected brand in the world.
Want to learn more about ValuEngine? Our methods? Our history?
Check out our video presentation HERE
Big news in the world of coffee today as it was announced that Nestle is buying the rights to Starbucks' retail marketing and sales business for $7 billion. This global coffee alliance will allow Nestle to obtain the rights to market, sell, and distribute Starbucks®, Seattle's Best Coffee®, Starbucks Reserve®, Teavana™, Starbucks VIA® and Torrefazione Italia® packaged coffee and tea in all global at-home and away-from-home channels.
Kevin Johnson, president and chief executive officer, Starbucks, said that
This global coffee alliance will bring the Starbucks experience to the homes of millions more around the world through the reach and reputation of Nestlé. This historic deal is part of our ongoing efforts to focus and evolve our business to meet changing consumer needs, and we are proud to work alongside a company that is committed to our shared values.
The sale will provide Starbucks with a big cash infusion, and that cash may help investors. Starbucks intends to use the after-tax proceeds from this up-front payment primarily to accelerate share buybacks and now expects to return approximately $20 billion in cash to shareholders in the form of share buybacks and dividends through fiscal year 2020. Additionally, the transaction is expected to be earnings per share (EPS) accretive by the end of fiscal year 2021 or sooner, with no change to the company's currently stated long-term financial targets.
Meanwhile, our models have been down on the stock of late, and we continue our SELL recommendation on Starbucks for 2018-05-04. Based on the information we have gathered and our resulting research, we feel that Starbucks has the probability to UNDERPERFORM average market performance for the next year. The company exhibits UNATTRACTIVE Book Market Ratio and Momentum.
Of course, this may change as analysts update their earnings estimates and the stock price changes if the firm follows through on their buyback plans.
You can download a free copy of detailed report on Starbucks (SBUX) from the link below.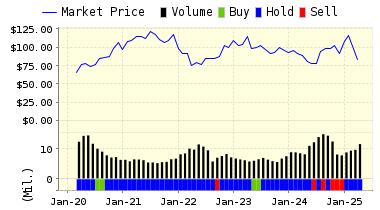 ValuEngine Forecast
Target
Price*
Expected
Return
1-Month
57.42
-0.45%
3-Month
57.61
-0.12%
6-Month
56.20
-2.56%
1-Year
54.59
-5.36%
2-Year
54.97
-4.70%
3-Year
55.06
-4.54%
Valuation & Rankings
Valuation
5.23% undervalued
Valuation Rank(?)
61
1-M Forecast Return
-0.45%
1-M Forecast Return Rank
20
12-M Return
-5.18%
Momentum Rank(?)
27
Sharpe Ratio
0.83
Sharpe Ratio Rank(?)
89
5-Y Avg Annual Return
12.76%
5-Y Avg Annual Rtn Rank
79
Volatility
15.44%
Volatility Rank(?)
78
Expected EPS Growth
12.25%
EPS Growth Rank(?)
37
Market Cap (billions)
43.27
Size Rank
97
Trailing P/E Ratio
24.93
Trailing P/E Rank(?)
50
Forward P/E Ratio
22.21
Forward P/E Ratio Rank
25
PEG Ratio
2.04
PEG Ratio Rank
16
Price/Sales
1.84
Price/Sales Rank(?)
51
Market/Book
51.64
Market/Book Rank(?)
4
Beta
0.61
Beta Rank
57
Alpha
-0.11
Alpha Rank
35
DOWNLOAD A FREE SAMPLE OF OUR STARBUCKS (SBUX) REPORT BY CLICKING HERE
ValuEngine.com is an Independent Research Provider (IRP), producing buy/hold/sell recommendations, target price, and valuations on over 5,000 US and Canadian equities every trading day.
Contact ValuEngine at (800) 381-5576 or support@valuengine.com  
Visit www.ValuEngine.com for more information
ValuEngine Capital Management LLC is a Registered Investment Advisory (RIA) firm that trades client accounts using ValuEngine's award-winning stock research.
Contact ValuEngine Capital at info@valuenginecapital.com
Visit www.ValuEngineCapital.com for more information
Steve Hach
Senior Editor
ValuEngine.Com