For today's bulletin, we take a look at Boeing $BA. We also provide a link to download a FREE STOCK REPORT on the company.
VALUATION WATCH: Overvalued stocks now make up 50.77% of our stocks assigned a valuation and 19.14% of those equities are calculated to be overvalued by 20% or more. Eleven sectors are calculated to be overvalued.
The Boeing Company (BA) is the world's largest aerospace company and leading manufacturer of commercial jetliners and defense, space and security systems. A top U.S. exporter, the company supports airlines and U.S. and allied government customers. Boeing products and tailored services include commercial and military aircraft, satellites, weapons, electronic and defense systems, launch systems, advanced information and communication systems, and performance-based logistics and training. Boeing has a long tradition of aerospace leadership and innovation. The company continues to expand its product line and services to meet emerging customer needs. Its broad range of capabilities includes creating new, more efficient members of its commercial airplane family; designing, building and integrating military platforms and defense systems; creating advanced technology solutions; and arranging innovative financing and service options for customers.
Want to learn more about ValuEngine? Our methods? Our history?
Check out our video presentation HERE
We have yet another controversial policy decision out of DC today, and once more–as we saw with the recent moves on tariffs, this decision may negatively impact key portions of the US industrial-manufacturing base.
The latest controversy concerns the suspended Iranian nuclear research program and the decision to unilaterally break the terms of the JCPOA (Joint Comprehensive Plan of Action) and pull out of the deal. Despite the fact that all inspectors, foreign allies, and US intelligence agencies argued that Iran was in compliance with the deal as negotiated, the White House decided to drop out and re-implement a variety of sanctions on Iran. The WH announced this much-anticipated –but not surprising–decision yesterday afternoon.
It is too soon to tell how this will effect key international partnerships like the relationship between the US and key allies such as Britain, France, and Germany. The leaders of those countries are protesting the decision and issued a statement noting that
It is with regret and concern that we, the leaders of France, Germany and the United Kingdom, take note of President Trump's decision to withdraw the United States of America from the Joint Comprehensive Plan of Action. Together, we emphasize our continuing commitment to the JCPOA. This agreement remains important for our shared security.
We recall that the JCPOA was unanimously endorsed by the UN Security Council in resolution 2231. This resolution remains the binding international legal framework for the resolution of the dispute about the Iranian nuclear program. We urge all sides to remain committed to its full implementation and to act in a spirit of responsibility.
In addition to the uncertainty for relations with key allies, we also do not know how the WH decision will effect the status of Iran's suspended nuclear-research program, the possibility of Iran engaging on a crash program to develop a nuclear weapon, and the trajectory of US nuclear disarmament negotiations with other "bad" actors–such as Kim Jong Un and the DPRK.
But, we already see fallout for economic activity and the bottom line of some important US companies whose stock is widely-held by investors.
One such company is Boeing. The aerospace giant had @ $20 billion in contracts with Iranian airlines. Iran has one of the oldest passenger jet fleets in the world and thanks to the JCPOA and the removal of sanctions, the country was finally in the process of upgrading its jet fleet.
Boeing jumped into the market in a big way, and now that business is in major jeopardy. If these deals are stopped due to the unilateral action from DC, the firm and its workers will have to cancel orders for 110 new planes.
The firm, so far, is pledging to abide by the US decision and Gordon Johndroe, VP of Boeing's Government Operations Communications has said that "[Boeing] will consult with the U.S. Government on next steps. As we have throughout this process, we'll continue to follow the U.S. Government's lead."
The bright spot here is that Boeing had been relatively cautious with the Iranian market since the opening up of trade in 2015. They are in a better position vis-a-vis Iran than international rival Airbus. Airbus had already delivered some planes to Iran and now they will also be cut off, as they also do business in the US and would be subject to US penalties if they continue fulfilling Iranian orders.
And of course, Boeing is a leading aerospace firm and defense contractor. It is possible that any shortfall caused by the cancellation of $20 in airline contracts with Iran will be made up right at home via defense contracts if the decision to pullout of the JCPOA ultimately leads to armed conflict with Iran.
So far, there has been a negligible impact on Boeing's stock price. As of this writing, the stock is actually up @2% for the day.
ValuEngine continues its BUY recommendation on the Boeing Company (BA) for 2018-05-08. Based on the information we have gathered and our resulting research, we feel that the Boeing Company has the probability to OUTPERFORM average market performance for the next year. The company exhibits ATTRACTIVE Company Size and Momentum.
You can download a free copy of detailed report on Boeing (BA) from the link below.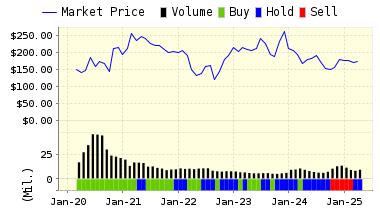 ValuEngine Forecast
Target
Price*
Expected
Return
1-Month
341.85
1.03%
3-Month
343.65
1.56%
6-Month
355.56
5.08%
1-Year
380.18
12.36%
2-Year
392.73
16.07%
3-Year
394.04
16.45%
Valuation & Rankings
Valuation
21.35% overvalued
Valuation Rank(?)
18
1-M Forecast Return
1.03%
1-M Forecast Return Rank
98
12-M Return
81.90%
Momentum Rank(?)
96
Sharpe Ratio
1.13
Sharpe Ratio Rank(?)
95
5-Y Avg Annual Return
25.89%
5-Y Avg Annual Rtn Rank
93
Volatility
22.81%
Volatility Rank(?)
63
Expected EPS Growth
9.07%
EPS Growth Rank(?)
31
Market Cap (billions)
241.23
Size Rank
100
Trailing P/E Ratio
24.16
Trailing P/E Rank(?)
52
Forward P/E Ratio
22.15
Forward P/E Ratio Rank
25
PEG Ratio
2.66
PEG Ratio Rank
11
Price/Sales
2.52
Price/Sales Rank(?)
42
Market/Book
185.85
Market/Book Rank(?)
2
Beta
1.39
Beta Rank
21
Alpha
0.44
Alpha Rank
93
DOWNLOAD A FREE SAMPLE OF OUR BOEING (BA) REPORT BY CLICKING HERE
ValuEngine.com is an Independent Research Provider (IRP), producing buy/hold/sell recommendations, target price, and valuations on over 5,000 US and Canadian equities every trading day.
Contact ValuEngine at (800) 381-5576 or support@valuengine.com  
Visit www.ValuEngine.com for more information
ValuEngine Capital Management LLC is a Registered Investment Advisory (RIA) firm that trades client accounts using ValuEngine's award-winning stock research.
Contact ValuEngine Capital at info@valuenginecapital.com
Visit www.ValuEngineCapital.com for more information
Steve Hach
Senior Editor
ValuEngine.Com