For today's bulletin, we take a look at LG Display $LPL. We also provide a link to download a FREE STOCK REPORT on the company.
VALUATION WATCH: Overvalued stocks now make up 51.24% of our stocks assigned a valuation and 18.71% of those equities are calculated to be overvalued by 20% or more. Twelve sectors are calculated to be overvalued.
LG Display Co., Ltd. (LPL), formerly known as LG Philips LCD Co., Ltd., primarily manufactures and sells thin film transistor liquid crystal display (TFT-LCD) panels. The Company supplies its products to original equipment manufacturers and multinational corporations. LG Display offers TFT-LCD panels in a range of sizes and specifications primarily for use in televisions, notebook computers, and desktop monitors, as well as for handheld application products, such as mobile phones; and medium and large size panels for industrial and other applications, including entertainment systems, portable navigation devices, e-paper, digital photo displays, and medical diagnostic equipment. LG Display Co., Ltd. is based in Seoul, the Republic of Korea.
We are focusing on LG Display today in honor of the Winter Olympics. The firm is based in South Korea and represents one of the high-tech firms upon which that nation has built its economy. LG Display is one of the largest–if not the largest–LCD panel display maker in the market today.
The firm is investing big in the latest technology, the Organic LED (OLED) screens that are the wave of the future. That should be good news for the future, as LG Display has lagged in the smaller OLED smart phone screen market. The larger OLED and LCD flat panel market is pretty saturated and has approached the commodity-pricing scenario where competition makes them cheaper so decent profits are hard to come by.
ValuEngine continues its BUY recommendation on LG Display for 2018-02-13. Based on the information we have gathered and our resulting research, we feel that LG Display has the probability to OUTPERFORM average market performance for the next year. The company exhibits ATTRACTIVE P/E Ratio and Company Size.
You can download a free copy of detailed report on LG Display (LPL) from the link below.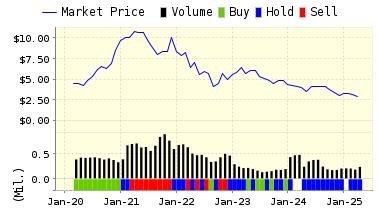 ValuEngine Forecast
Target
Price*
Expected
Return
1-Month
14.15
1.04%
3-Month
14.08
0.58%
6-Month
14.16
1.17%
1-Year
15.75
12.49%
2-Year
15.62
11.58%
3-Year
16.44
17.43%
Valuation & Rankings
Valuation
1.36% overvalued
Valuation Rank(?)
49
1-M Forecast Return
1.04%
1-M Forecast Return Rank
98
12-M Return
14.66%
Momentum Rank(?)
64
Sharpe Ratio
0.08
Sharpe Ratio Rank(?)
52
5-Y Avg Annual Return
2.20%
5-Y Avg Annual Rtn Rank
52
Volatility
28.51%
Volatility Rank(?)
54
Expected EPS Growth
-31.58%
EPS Growth Rank(?)
6
Market Cap (billions)
10.02
Size Rank
88
Trailing P/E Ratio
6.18
Trailing P/E Rank(?)
98
Forward P/E Ratio
9.03
Forward P/E Ratio Rank
87
PEG Ratio
n/a
PEG Ratio Rank
n/a
Price/Sales
0.40
Price/Sales Rank(?)
88
Market/Book
0.78
Market/Book Rank(?)
86
Beta
0.62
Beta Rank
57
Alpha
-0.03
Alpha Rank
50
DOWNLOAD A FREE SAMPLE OF OUR LG DISPLAY (LPL) REPORT BY CLICKING HERE
ValuEngine.com is an Independent Research Provider (IRP), producing buy/hold/sell recommendations, target price, and valuations on over 5,000 US and Canadian equities every trading day.
Contact ValuEngine at (800) 381-5576 or support@valuengine.com  
Visit www.ValuEngine.com for more information
ValuEngine Capital Management LLC is a Registered Investment Advisory (RIA) firm that trades client accounts using ValuEngine's award-winning stock research.
Contact ValuEngine Capital at info@valuenginecapital.com
Visit www.ValuEngineCapital.com for more information