For today's bulletin, we take a look at our latest STRONG BUY and BUY upgrades. We also provide a link to download a FREE STOCK REPORT on Affimed Therapeutics $AFMD, one of our top upgrades for the day.
VALUATION WATCH: Overvalued stocks now make up 50.75% of our stocks assigned a valuation and 21.28% of those equities are calculated to be overvalued by 20% or more. Thirteen sectors are calculated to be overvalued.
For today's edition of our upgrade list, we used our website's advanced screening functions to search for UPGRADES to BUY or STRONG BUY with complete forecast and valuation data. They are presented by one-month forecast return. Vivus and Affimed are rated STRONG BUY for today. The remaining upgrades are rated BUY. Medical stocks dominate our upgrade list for the day.
| | | | | | | | | |
| --- | --- | --- | --- | --- | --- | --- | --- | --- |
| Ticker | Company Name | Market Price | Valuation | Last 12-M Return | 1-M Forecast Return | 1-Yr Forecast Return | P/E Ratio | Sector Name |
| VVUS | VIVUS INC | 5.15 | 90.05% | 446.71% | 1.27% | 15.27% | N/A | Medical |
| AFMD | AFFIMED THERAP | 5 | 31.55% | 138.10% | 1.14% | 13.74% | N/A | Medical |
| PEN | PENUMBRA INC | 148.1 | 0.75% | 68.68% | 0.57% | 6.86% | 472.6596 | Medical |
| FCEL | FUELCELL ENERGY | 1.06 | 17.70% | N/A | 0.54% | 6.46% | N/A | Oils-Energy |
| OMAB | GRUPO AEROP-ADS | 53.46 | 19.39% | 15.64% | 0.54% | 6.45% | 19.77558 | Transportation |
Want to learn more about ValuEngine? Our methods? Our history?
Check out our video presentation HERE
For today's bulletin, we look at Affimed Therapeutics (AFMD). Affimed Therapeutics B.V. is a clinical-stage biopharmaceutical company. It is focused on discovering and developing cancer immunotherapies. Its product candidates are being developed in the field of immuno-oncology. The Company's T and Abs has the ability to bring NK-cells or T-cells into proximity and trigger a signal cascade that leads to the destruction of cancer cells. Its product pipeline includes AFM13, AFM11 and AFM21. Affimed Therapeutics B.V. is headquartered in Heidelberg, Germany.
This stock has provided a roller coaster ride lately. Last month shares vaulted up a whopping 246%, only to fall back to earth days later. The big jump occurred when news broke that Roche's Genentech subsidiary was interested in one of the firm's products. That news–and the potential future royalties (which could approach $5 billion) for the technology use, got investors excited. The company is also guaranteed almost $100 million up front under this deal. That is a significant amount for the firm.
At that time of their most recent results–also back in August, Dr. Adi Hoess, Affimed's CEO, noted that the company was
continuing to progress according to plan with all of our pipeline programs. For our most advanced program , AFM13, clinical development is on track and we are in ongoing discussions with clinical and regulatory experts to define future development paths. In addition, we are deepening our understanding of the cellular and molecular mechanisms underlying our engagers' activation of innate immune cells for tumor cell killing , which is important for advancement and expansion of our pipeline.
As always, we note that these pharma companies can be quite volatile. Often they are valued on "story" rather than results, and our models have a hard time placing a value/forecast on a "story."
ValuEngine updated its recommendation from BUY to STRONG BUY for Affimed Therapeutics on 2018-09-11. Based on the information we have gathered and our resulting research, we feel that Affimed Therapeutics has the probability to OUTPERFORM average market performance for the next year. The company exhibits ATTRACTIVE Momentum and Earnings Growth Rate.
You can download a free copy of detailed report on Affimed Therapeutics (AFMD) from the link below.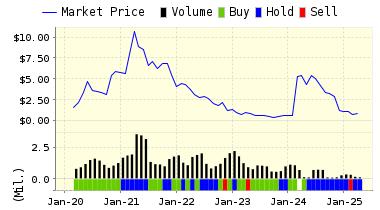 ValuEngine Forecast
Target
Price*
Expected
Return
1-Month
5.06
1.14%
3-Month
5.13
2.50%
6-Month
5.29
5.78%
1-Year
5.69
13.74%
2-Year
5.39
7.74%
3-Year
4.84
-3.23%
Valuation & Rankings
Valuation
31.55% overvalued
Valuation Rank(?)
14
1-M Forecast Return
1.14%
1-M Forecast Return Rank
99
12-M Return
138.10%
Momentum Rank(?)
98
Sharpe Ratio
-0.04
Sharpe Ratio Rank(?)
42
5-Y Avg Annual Return
-3.70%
5-Y Avg Annual Rtn Rank
36
Volatility
99.56%
Volatility Rank(?)
12
Expected EPS Growth
19.51%
EPS Growth Rank(?)
55
Market Cap (billions)
0.12
Size Rank
34
Trailing P/E Ratio
n/a
Trailing P/E Rank(?)
14
Forward P/E Ratio
n/a
Forward P/E Ratio Rank
n/a
PEG Ratio
0.38
PEG Ratio Rank
64
Price/Sales
56.56
Price/Sales Rank(?)
5
Market/Book
2.13
Market/Book Rank(?)
52
Beta
3.82
Beta Rank
2
Alpha
0.40
Alpha Rank
92
DOWNLOAD A FREE SAMPLE OF OUR AFFIMED THERAPEUTICS (AFMD) REPORT BY CLICKING HERE
ValuEngine.com is an Independent Research Provider (IRP), producing buy/hold/sell recommendations, target price, and valuations on over 5,000 US and Canadian equities every trading day.
Contact ValuEngine at (321) 325-0519 or support@valuengine.com  
Visit www.ValuEngine.com for more information
ValuEngine Capital Management LLC is a Registered Investment Advisory (RIA) firm that trades client accounts using ValuEngine's award-winning stock research.
Contact ValuEngine Capital at info@valuenginecapital.com
Visit www.ValuEngineCapital.com for more information
Steve Hach
Senior Editor
ValuEngine.Com