For today's bulletin, we take a look at our latest STRONG BUY and BUY upgrades and focus on one of our top upgrades for the day, American Movie Classics $AMCX. We also provide a link to download a FREE STOCK REPORT on the company.
VALUATION WATCH: Overvalued stocks now make up 58.72% of our stocks assigned a valuation and 22.46% of those equities are calculated to be overvalued by 20% or more. Because overvaluation has declined below 60%, we have rescinded our latest Valuation Watch. Thirteen sectors are calculated to be overvalued.
For today's edition of our upgrade list, we used our website's advanced screening functions to search for UPGRADES to BUY or STRONG BUY with complete forecast and valuation data. They are presented by one-month forecast return. We had no STRONG BUY upgrades today with full data, so all of the companies listed below are rated BUY.
| | | | | | | | | |
| --- | --- | --- | --- | --- | --- | --- | --- | --- |
| Ticker | Company Name | Market Price | Valuation | Last 12-M Return | 1-M Forecast Return | 1-Yr Forecast Return | P/E Ratio | Sector Name |
| CCK | CROWN HLDGS INC | 59.51 | 3.14% | 13.61% | 0.50% | 5.98% | 14.83 | Industrial Products |
| SBSI | SOUTHSIDE BANCS | 36.19 | 14.18% | -2.94% | 0.50% | 5.98% | 18.43 | Finance |
| FSP | FRANKLIN ST PPT | 10.78 | -12.79% | -12.99% | 0.50% | 5.97% | 10.27 | Finance |
| AMCX | AMC NETWORKS- A | 52.86 | -26.47% | -4.31% | 0.50% | 5.96% | 7.45 | Consumer Discretionary |
| GWB | GREAT WSTRN BCP | 41.07 | 7.62% | 1.99% | 0.50% | 5.95% | 16.70 | Finance |
For today's bulletin, we take a look at AMC Networks Inc. (AMCX). AMC Networks Inc. is engaged in producing programming and movie content. It owns and operates various cable televisions. Its programming networks include AMC, IFC, Sundance Channel, WE tv, and IFC films. The AMC is a television network which focuses on the original programming and movie-based entertainment. IFC creates long and short-form content inspired by music, web, gaming, animation, news, and culture. The Sundance Channel is the television destination for independent-minded viewers. The WE tv is the women's network specially devoted to the relationships during life's defining moments. The IFC films consist of multiple brands that bring specialty films to the largest possible audience. AMC Networks Inc. is headquartered in New York, New York.
When the company last reported results for Q3 2017 back in early November, the numbers looked good. Third quarter net revenues increased 2.1%, or $13 million, to $648 million over the third quarter of 2016.  The increase in net revenues reflected 3.0% growth at National Networks and a decrease of $1 million at International and Other.  Operating income was $153 million, an increase of 30.9%, or $36 million, versus the prior year period.
Third quarter net income was $87 million ($1.35 per diluted share), compared with $65 million ($0.91 per diluted share) in the third quarter of 2016.  Third quarter Adjusted EPS was $108 million ($1.68 per diluted share), compared with $86 million ($1.19 per diluted share) in the third quarter of 2016.
President and Chief Executive Officer Josh Sapan noted the following at that time:
We delivered strong financial performance in the third quarter, and we are on track to meet our 2017 full-year financial targets of total company revenue and adjusted operating income growth. Our results reflect the consistent execution of our long-term strategy of investing in high-quality, immersive content that is resulting in growing demand among traditional distributors, virtual MVPDs, advertisers and consumers; and, importantly, is giving us the ability to monetize the demand for our content through new revenue streams. In an evolving media and entertainment marketplace, AMC Networks is well positioned based on our size, our pricing and our content, which includes 4 of the highest-rated dramas on all of basic cable, giving us the ability to continue to further invest in our content, our brands and new businesses.
AMC has had some hot shows on TV, such as Breaking Bad, Mad Men, The Walking Dead, etc. However, the glory days for current offerings like Better Call Saul and The Walking Dead may be over. Ratings have declined recently as viewers no longer tune in religiously as they once did.
Below is our latest data for AMC Networks Inc. (AMCX):
ValuEngine updated its recommendation from HOLD to BUY for AMC Networks Inc. on 2017-12-04. Based on the information we have gathered and our resulting research, we feel that AMC Networks Inc. has the probability to OUTPERFORM average market performance for the next year. The company exhibits ATTRACTIVE P/E Ratio and Company Size.
You can download a free copy of detailed report on AMC Networks Inc. (AMCX) from the link below.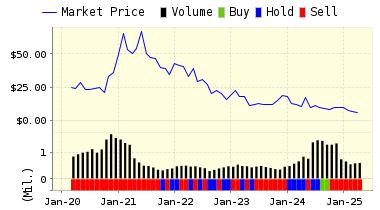 ValuEngine Forecast
Target
Price*
Expected
Return
1-Month
56.45
0.53%
3-Month
55.69
-0.82%
6-Month
54.45
-3.03%
1-Year
59.70
6.31%
2-Year
54.47
-2.99%
3-Year
54.82
-2.38%
Valuation & Rankings
Valuation
21.79% undervalued
Valuation Rank(?)
82
1-M Forecast Return
0.53%
1-M Forecast Return Rank
85
12-M Return
4.58%
Momentum Rank(?)
43
Sharpe Ratio
-0.02
Sharpe Ratio Rank(?)
41
5-Y Avg Annual Return
-0.47%
5-Y Avg Annual Rtn Rank
41
Volatility
25.14%
Volatility Rank(?)
59
Expected EPS Growth
-2.58%
EPS Growth Rank(?)
17
Market Cap (billions)
4.05
Size Rank
79
Trailing P/E Ratio
7.91
Trailing P/E Rank(?)
97
Forward P/E Ratio
8.12
Forward P/E Ratio Rank
92
PEG Ratio
n/a
PEG Ratio Rank
n/a
Price/Sales
1.44
Price/Sales Rank(?)
60
Market/Book
48.58
Market/Book Rank(?)
4
Beta
1.11
Beta Rank
33
Alpha
-0.28
Alpha Rank
21
DOWNLOAD A FREE SAMPLE OF OUR AMC NETWORKS (AMCX) REPORT BY CLICKING HERE
ValuEngine.com is an Independent Research Provider (IRP), producing buy/hold/sell recommendations, target price, and valuations on over 5,000 US and Canadian equities every trading day.
Contact ValuEngine at (800) 381-5576 or support@valuengine.com  
Visit www.ValuEngine.com for more information
ValuEngine Capital Management LLC is a Registered Investment Advisory (RIA) firm that trades client accounts using ValuEngine's award-winning stock research.
Contact ValuEngine Capital at info@valuenginecapital.com
Visit www.ValuEngineCapital.com for more information