For today's bulletin, we take a look at our latest upgrades and focus on grocery distributor and retailer SpartanNash $SPTN and provide a link to download a FREE STOCK REPORT on the company
VALUATION: Overvalued stocks now make up 59.72% of our stocks assigned a valuation and 23.74% of those equities are calculated to be overvalued by 20% or more. Thirteen sectors are calculated to be overvalued.
To subscribe to our bulletins and receive content whenever it is published, subscribe at our blog HERE
For today's edition of our upgrade list, we used our website's advanced screening functions to search for UPGRADES to BUY or STRONG BUY with complete forecast and valuation data. They are presented by one-month forecast return. Opiant Pharmaceuticals (OPNT) is our top-rated upgrade this week and it is a STRONG BUY. Banco Santander (SAN) is also a STRONG BUY. The other picks this week–Cheniere Energy (CQP) and Spartan Nash (SPTN) are BUY-rated stocks. These were the only upgrades to BUY or STRONG BUY for the day.
| | | | | | | | | |
| --- | --- | --- | --- | --- | --- | --- | --- | --- |
| Ticker | Company Name | Market Price | Valuation | Last 12-M Return | 1-M Forecast Return | 1-Yr Forecast Return | P/E Ratio | Sector Name |
| CQP | CHENIERE ENERGY | 31.27 | -9.22% | 9.34% | 0.53% | 6.36% | 16.37 | Oils-Energy |
| OPNT | OPIANT PHARMACT | 9 | -26.21% | 18.11% | 1.30% | 15.61% | 3.90 | Medical |
| SAN | BANCO SANTAN SA | 6.69 | -1.70% | 58.91% | 1.11% | 13.33% | 13.38 | Finance |
| SPTN | SPARTAN NASH CO | 26.53 | -20.12% | -13.72% | 0.51% | 6.11% | 12.00 | Retail-Wholesale |
For today's bulletin, we take a look at one of our newest BUY stocks, SpartanNash (SPTN). SpartanNash Co. is a food distributor serving military commissaries and exchanges in the United States. The company's core businesses include distributing food to military commissaries and exchanges and independent and corporate-owned retail stores located in 44 states and the District of Columbia, Europe, Cuba, Puerto Rico, the Azores, Bahrain and Egypt. It operates supermarkets, primarily under the banners of Family Fare Supermarkets, No Frills, Bag 'n Save and Econofoods. SpartanNash Co., formerly known as Spartan Stores, Inc., is headquartered in United States.
SpartanNash has faced a lot of ups and downs lately, as grocery store chains, like retailers in most categories, deal with the changing nature of their business. Like other retailers, grocers are under the gun from e-retailers such as Amazon.com as more and more consumers phase out trips to brick and mortar stores and do more of their sopping online.
News of the proposed Amazon/Whole Foods deal hit grocers hard, and SpartanNash was no exception. In the aftermath of that deal's announcement, shares fell almost 10%–but recovered slightly in the aftermath.
SpartanNash has been looking to the future and trying to adjust its business model so that remains agile in light of the Amazon threat. Like many competitors, they now have online ordering for easy pick up at stores. The company also inked a distribution deal with Amazon.com last year–if you cannot beat them, join them?
Below is our latest data for SpartanNash (SPTN):
ValuEngine updated its recommendation from HOLD to BUY for SpartanNash. Based on the information we have gathered and our resulting research, we feel that SpartanNash has the probability to OUTPERFORM average market performance for the next year. The company exhibits ATTRACTIVE Price Sales Ratio and P/E Ratio.
You can download a free copy of detailed report on SpartanNash (SPTN) from the link below.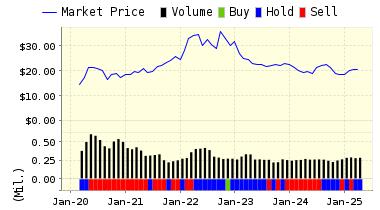 ValuEngine Forecast
Target
Price*
Expected
Return
1-Month
26.67
0.51%
3-Month
26.54
0.04%
6-Month
25.89
-2.40%
1-Year
28.15
6.11%
2-Year
25.56
-3.66%
3-Year
25.42
-4.20%
Valuation & Rankings
Valuation
20.12% undervalued
Valuation Rank(?)
83
1-M Forecast Return
0.51%
1-M Forecast Return Rank
85
12-M Return
-13.72%
Momentum Rank(?)
24
Sharpe Ratio
0.22
Sharpe Ratio Rank(?)
61
5-Y Avg Annual Return
7.18%
5-Y Avg Annual Rtn Rank
64
Volatility
33.38%
Volatility Rank(?)
48
Expected EPS Growth
7.69%
EPS Growth Rank(?)
35
Market Cap (billions)
0.99
Size Rank
62
Trailing P/E Ratio
12.00
Trailing P/E Rank(?)
88
Forward P/E Ratio
11.15
Forward P/E Ratio Rank
79
PEG Ratio
1.56
PEG Ratio Rank
31
Price/Sales
0.13
Price/Sales Rank(?)
97
Market/Book
2.90
Market/Book Rank(?)
42
Beta
1.02
Beta Rank
39
Alpha
-0.31
Alpha Rank
16
DOWNLOAD A FREE SAMPLE OF OUR SPARTANNASH (SPTN) REPORT BY CLICKING HERE
ValuEngine.com is an Independent Research Provider (IRP), producing buy/hold/sell recommendations, target price, and valuations on over 5,000 US and Canadian equities every trading day.
Contact ValuEngine at (800) 381-5576 or support@valuengine.com  
Visit www.ValuEngine.com for more information
ValuEngine Capital Management LLC is a Registered Investment Advisory (RIA) firm that trades client accounts using ValuEngine's award-winning stock research.
Contact ValuEngine Capital at info@valuenginecapital.com
Visit www.ValuEngineCapital.com for more information