For today's bulletin, we take a look at Weight Watchers $WTW. We also provide a link to download a FREE STOCK REPORT on the company.
VALUATION WATCH: Overvalued stocks now make up 55.27% of our stocks assigned a valuation and 23.01% of those equities are calculated to be overvalued by 20% or more. Twelve sectors are calculated to be overvalued.
Weight Watchers International, Inc. (WTW) is the largest provider of weight control programs in the world. The core of their business is weekly meetings, in which they present thier scientifically designed program, incorporating group support and education about healthy eating patterns, behavior modification and physical activity.
Want to learn more about ValuEngine? Our methods? Our history?
Check out our video presentation HERE
Weight Watchers has gained a lot of value lately, with the shares up more than 65% since the beginning of 2018. The company, despite the growth of apps, gyms, various work outs, and all sorts of new fitness devices, remains relevant with those seeking to lose weight.
The company has provided investors with happy surprises on earnings reports for the past four quarters, and their last results were quite strong. When they reported at the beginning of May, the company reported revenues of $408.2 million. On a constant currency basis, Q1 2018 revenues increased 19.5% versus the prior year period. Service Revenues in Q1 2018 were $328.7 million. On a constant currency basis, these revenues increased 21.3% versus the prior year period. Net Income in Q1 2018 was $39.1 million compared to $10.7 million in the prior year period. Earnings per fully diluted share (EPS) in Q1 2018 was $0.56 compared to $0.16 in the prior year period.
Company CEO Mary Grossman noted the following about the results:
Driven by the enthusiastic, global response to our new WW Freestyle™ program, we ended the first quarter with 4.6 million subscribers – the highest level in the history of Weight Watchers and an increase of 1 million compared to a year ago. Member engagement has been incredible with members staying longer than ever before.  Average retention is now well over 9 months. The world needs a leader in wellness, and a brand that can bring wellness to all.  We aim to be that leader. By delivering a technology experience with human impact, we have the opportunity to expand our purpose and reach allowing us to generate sustainable growth.
Our models have been impressed lately as well, and today we have upgraded the company to STRONG BUY. Based on the information we have gathered and our resulting research, we feel that Weight Watchers has the probability to OUTPERFORM average market performance for the next year. The company exhibits ATTRACTIVE Momentum and Company Size.
You can download a free copy of detailed report on Weight Watchers International, Inc. (WTW) from the link below.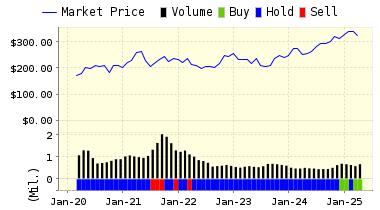 ValuEngine Forecast
Target
Price*
Expected
Return
1-Month
79.82
1.10%
3-Month
80.37
1.80%
6-Month
83.31
5.53%
1-Year
89.42
13.27%
2-Year
91.09
15.38%
3-Year
89.54
13.41%
Valuation & Rankings
Valuation
33.97% overvalued
Valuation Rank(?)
13
1-M Forecast Return
1.10%
1-M Forecast Return Rank
99
12-M Return
233.97%
Momentum Rank(?)
100
Sharpe Ratio
0.12
Sharpe Ratio Rank(?)
58
5-Y Avg Annual Return
10.15%
5-Y Avg Annual Rtn Rank
74
Volatility
82.91%
Volatility Rank(?)
17
Expected EPS Growth
52.99%
EPS Growth Rank(?)
74
Market Cap (billions)
4.48
Size Rank
80
Trailing P/E Ratio
38.26
Trailing P/E Rank(?)
40
Forward P/E Ratio
25.01
Forward P/E Ratio Rank
21
PEG Ratio
0.72
PEG Ratio Rank
48
Price/Sales
3.23
Price/Sales Rank(?)
34
Market/Book
n/a
Market/Book Rank(?)
n/a
Beta
2.74
Beta Rank
6
Alpha
0.92
Alpha Rank
98
DOWNLOAD A FREE SAMPLE OF OUR WEIGHT WATCHERS (WTW) REPORT BY CLICKING HERE
ValuEngine.com is an Independent Research Provider (IRP), producing buy/hold/sell recommendations, target price, and valuations on over 5,000 US and Canadian equities every trading day.
Contact ValuEngine at (800) 381-5576 or support@valuengine.com  
Visit www.ValuEngine.com for more information
ValuEngine Capital Management LLC is a Registered Investment Advisory (RIA) firm that trades client accounts using ValuEngine's award-winning stock research.
Contact ValuEngine Capital at info@valuenginecapital.com
Visit www.ValuEngineCapital.com for more information
Steve Hach
Senior Editor
ValuEngine.Com