For today's bulletin, We continue our focus on the auto industry with more big news today from foreign manufacturer VOLVO. We take a look at Volvo AB $VLVLY and provide a link to download a FREE STOCK REPORT on the company
VALUATION: Overvalued stocks now make up 58.72% of our stocks assigned a valuation and 22.22% of those equities are calculated to be overvalued by 20% or more. Thirteen sectors are calculated to be overvalued.
To subscribe to our bulletins and receive content whenever it is published, subscribe at our blog HERE
Volvo AB (VLVLY) is a manufacturer of trucks, buses, construction equipment and marine and industrial engines. It also develops, manufactures and markets equipment for construction and related industries, including wheel and backhoe loaders, hydraulic wheeled and crawler excavators, articulated and rigid haulers, compactors, pavers, pipe layers, road machinery under the brand names of Volvo, SDLG and Terex Trucks. The Company offers repair and maintenance, lease financing, insurance and financial services. It operates primarily in Europe, North America, South America, Asia, and internationally. Volvo AB is headquartered in Gothenburg, Sweden.
We continue our focus on the auto industry with more big news today from foreign manufacturer Volvo. While the Trump Administration continues to focus on coal, oil, and other fossil fuels, Volvo made a stunning announcement today. The company has said that all cars produced under the Volvo name will be partially or completely battery-powered by 2019.
Volvo thus becomes the first major auto manufacturer to announce the complete phase out of conventional internal combustion engines. Volvo CEO Harkan Samuelsson told the New York Times that "our customers are asking more and more about electric cars [and noted that while the new strategy posed risks,] a much bigger risk would be to stick with internal combustion engines."
These vehicles will be made in China, where Volvo owner Geely Holdings is based. They will thus be close to ownership's battery-manufacturing plant. The company expects to then shift some manufacturing of the hybrid and electric vehicles to European and US plants.
This news bolsters the idea that electric cars will soon be a mainstay of the market and follows on the recent revelations that Tesla is now larger than Ford or GM in terms of market cap. It remains to be seen if US companies can/will respond here with viable vehicles of their own. So far, Ford, GM, and Fiat Chrysler all lag the efforts of other major manufacturers across the globe.
Trump's stated policies–bring back coal, drill baby drill, etc.–do not provide much government support for manufacturers. In addition, low fuel costs and taxes in the US further support the market for larger, inefficient trucks, SUVs, and other vehicles.
Below is our latest data for Volvo AB (VLVLY):
ValuEngine continues its BUY recommendation on VOLVO AB-B for 2017-07-03. Based on the information we have gathered and our resulting research, we feel that VOLVO AB-B has the probability to OUTPERFORM average market performance for the next year. The company exhibits ATTRACTIVE Sharpe Ratio and Company Size.
You can download a free copy of detailed report on Volvo AB (VLVLY) from the link below.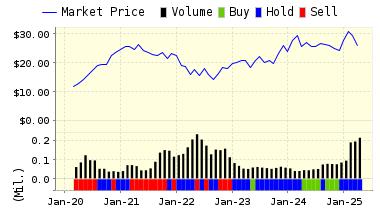 ValuEngine Forecast
Target
Price*
Expected
Return
1-Month
17.30
0.75%
3-Month
17.03
-0.83%
6-Month
17.45
1.63%
1-Year
18.71
8.97%
2-Year
17.35
1.07%
3-Year
16.87
-1.74%
Valuation & Rankings
Valuation
n/a
Valuation Rank(?)
n/a
1-M Forecast Return
0.75%
1-M Forecast Return Rank
93
12-M Return
71.87%
Momentum Rank(?)
91
Sharpe Ratio
1.60
Sharpe Ratio Rank(?)
98
5-Y Avg Annual Return
40.20%
5-Y Avg Annual Rtn Rank
97
Volatility
25.08%
Volatility Rank(?)
60
Expected EPS Growth
10.10%
EPS Growth Rank(?)
40
Market Cap (billions)
27.87
Size Rank
96
Trailing P/E Ratio
17.34
Trailing P/E Rank(?)
72
Forward P/E Ratio
15.75
Forward P/E Ratio Rank
57
PEG Ratio
1.72
PEG Ratio Rank
28
Price/Sales
0.79
Price/Sales Rank(?)
76
Market/Book
3.76
Market/Book Rank(?)
34
Beta
1.29
Beta Rank
26
Alpha
0.38
Alpha Rank
90
DOWNLOAD A FREE SAMPLE OF OUR VOLVO AB (VLVLY) REPORT BY CLICKING HERE
ValuEngine.com is an Independent Research Provider (IRP), producing buy/hold/sell recommendations, target price, and valuations on over 5,000 US and Canadian equities every trading day.
Contact ValuEngine at (800) 381-5576 or support@valuengine.com
Visit www.ValuEngine.com for more information
ValuEngine Capital Management LLC is a Registered Investment Advisory (RIA) firm that trades client accounts using ValuEngine's award-winning stock research.
Contact ValuEngine Capital at info@valuenginecapital.com
Visit www.ValuEngineCapital.com for more information