For today's bulletin, we take a look at some of the latest rumours about every investor's favorite tech behemoth, Apple Computer (AAPL).
VALUATION WARNING: Overvalued stocks now make up 67.49% of our stocks assigned a valuation and 32.06% of those equities are calculated to be overvalued by 20% or more. Sixteen sectors are calculated to be overvalued.
We can use our data to track individual stocks, industries, sectors, and indices. For today's bulletin, we take a look at some of the latest rumours about every investor's favorite tech behemoth, Apple Computer.
One rumour concerns the implementation of a new screen for the flagship iPhone. Anonymous sources told the Wall Street Journal that the company will use flexible organic LED screens (OLED) similar to those already deployed by arch-rival Samsung.
The flexible screen technology, which allows the phone screen to curve and wrap around the phone bezel, would seem to be right up Apple's alley given the firm's long-standing focus on form and cutting-edge design. This is especially important for the firm given the fact that the latest model iPhone–the iPhone7, did not deviate that much design-wise from its predecessor, the iPhone6 and thus impacted sales as users saw even less reason to upgrade.
Other news indicates that the company may finally ditch its reliance on a series of non-standard charging ports, which have been an ongoing hassle for users who need specialty connectors and accessories to charge their devices. Instead of the current "lightning port," the company will be switching to a more standard USB cable– Apple's many rivals utilize the far more standard USB-C jack for charging. This means that current Android users typically have an easier time when low on juice and lacking a charger–because it's easier to find the "regular" USB-style charging cord from a nearby co-worker, friend, etc.
And, Apple is also reported to be doing away with the home screen button on the front of the iPhone. This also brings the company's phones more in line with competitors who made that switch already.
This all provides a new illustration of the shifting sands at Apple. The company is no longer driving innovation in devices it invented or "perfected," it is merely adapting the changes and features of competitors.
Once more, we see evidence that the firm is no longer "Mac," but maybe more "PC"and thus reminiscent of longtime rival Microsoft in its current stage of development. And that is not necessarily a bad thing. Despite the warnings of analysts that the company simply cannot sustain huge growth, this has had little negative effect on share prices. The company has hit record highs over-and-over again lately.
In fact, analysts believe that if the company can hook "fan boys" and the usual devoted customers into buying the rumoured top-model iPhone8 with the new OLED screen, the bottom line will be further bolstered given the fact that the proposed retail price is hitting the $1000 level. As we saw with the iPhone6 vs iPhone7, Apple really gets a pop with the totally new iPhones rather than the incrementally-improved models.
In any case, the the rumors and gossip have lots of time to percolate. The unveiling of the new iPhone and other products will not occur until September.
Below is today's data on Apple Computer (AAPL):
Apple Inc. is engaged in designing, manufacturing and marketing mobile communication and media devices, personal computers, and portable digital music players. The Company's products and services include iPhone, iPad, Mac, iPod, Apple TV, a portfolio of consumer and professional software applications, the iOS and Mac OS X operating systems, iCloud, and a range of accessory, service and support offerings. It sells its products worldwide through its online stores, its retail stores, its direct sales force, third-party wholesalers, and resellers. Apple Inc. is headquartered in Cupertino, California.
VALUENGINE RECOMMENDATION: ValuEngine continues its BUY recommendation on Apple Computer for 2017-02-28. Based on the information we have gathered and our resulting research, we feel that Apple Computer has the probability to OUTPERFORM average market performance for the next year. The company exhibits ATTRACTIVE Company Size and Sharpe Ratio.
You can download a free copy of detailed report on Apple Computer (AAPL) from the link below.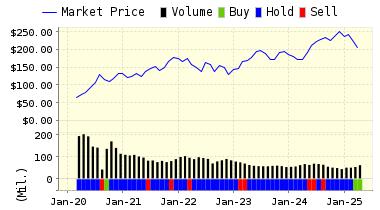 ValuEngine Forecast

Target
Price*

Expected
Return

1-Month

137.82
0.60%

3-Month

140.86
2.82%

6-Month

144.35
5.37%

1-Year

146.88
7.22%

2-Year

160.83
17.40%

3-Year

172.71
26.08%
Valuation & Rankings

Valuation

23.27% overvalued

27

1-M Forecast Return

0.60%

1-M Forecast Return Rank

89

12-M Return

41.68%

73

Sharpe Ratio

0.50

78

5-Y Avg Annual Return

12.42%

5-Y Avg Annual Rtn Rank

78

Volatility

25.04%

62

Expected EPS Growth

9.86%

41

Market Cap (billions)

797.93

Size Rank

100

Trailing P/E Ratio

16.33

76

Forward P/E Ratio

14.87

Forward P/E Ratio Rank

64

PEG Ratio

1.66

PEG Ratio Rank

32

Price/Sales

3.66

30

Market/Book

6.43

21

Beta

1.22

Beta Rank

29

Alpha

0.02

Alpha Rank

52
DOWNLOAD A FREE SAMPLE OF OUR REPORT ON APPLE COMPUTER (AAPL) BY CLICKING HERE

ValuEngine tracks more than 7000 US equities, ADRs, and foreign stock which trade on US exchanges as well as @1000 Canadian equities.  When EPS estimates are available for a given equity, our model calculates a level of mispricing or valuation percentage for that equity based on earnings estimates and what the stock should be worth if the market were totally rational and efficient–an academic exercise to be sure, but one which allows for useful comparisons between equities, sectors, and industries. Using our Valuation Model, we can currently assign a VE valuation calculation to more than 2800 stocks in our US Universe.
We also use trading data to provide forecast estimates for a variety of time horizons for almost ever equity in our database. Our Buy/Sell/Hold recommendations are based upon the 1-year forecast return figure. Using valuation and forecast figures, you can rank and rate our covered stocks against each other, to find out, in an objective and systematic way, the most attractive investment targets based on your own risk/reward parameters. We re-calculate the entire database every trading day, so you are assured that every proprietary valuation and forecast datapoint is as up-to-date as possible.
ValuEngine.com is an independent research provider, producing buy/hold/sell recommendations, target price, and valuations on over 7,000 US and Canadian equities every trading day.