For today's bulletin, we take a look at Caterpillar Inc $CAT and provide a link to download a copy of our latest stock report on the company.
VALUATION WATCH: Overvalued stocks now make up 22.58% of our stocks assigned a valuation and 8.24% of those equities are calculated to be overvalued by 20% or more. There are no sectors calculated to be overvalued.

Caterpillar Inc. (CAT) is a manufacturer of construction and mining equipment, diesel and natural gas engines, industrial gas turbines and diesel-electric locomotives. Caterpillar provides the solutions you need to build a successful construction contracting business. Cat Connect makes smart use of technology and services to improve your operational efficiency. Working with your Cat dealer, you can find the right combination of Cat Connect technologies and services for your sites. Cat Financial provides retail and wholesale financing solutions to Cat customers and dealers for the complete line of Cat machinery and engines, Solar gas turbines, other related equipment and marine vessels. As a captive finance company, no other financial institution knows Cat customers and dealers better than Cat Financial. They offer quality service throughout the life cycle of equipment including purchase, protect, manage and resell.
Want to learn more about ValuEngine? Our methods? Our history?
Check out our video presentation HERE.

Caterpillar announced results today and they reflect the ongoing concerns about China, tariffs, and the world economy. While the numbers were decent in terms of YoY performance, there are issues of concern noted in the guidance.
Caterpillar's sales and revenues in the fourth quarter of 2018 were $14.3 billion, compared with $12.9 billion in the fourth quarter of 2017, an 11 percent increase. Fourth-quarter 2018 profit was $1.78 per share, compared with a loss of $2.18 per share in the fourth quarter of 2017. Adjusted profit per share in the fourth quarter of 2018 was $2.55, compared with fourth-quarter 2017 adjusted profit per share of $2.16, up 18 percent.
While these numbers appear decent, they were below what analysts had expected and thus count as a "miss."
Full-year sales and revenues in 2018 were $54.7 billion, up 20 percent from $45.5 billion in 2017. Full-year profit was $10.26 per share in 2018, compared with profit of $1.26 per share in 2017. Adjusted profit per share in 2018 was $11.22, up 63 percent compared with 2017 adjusted profit per share of $6.88.
"In 2018, Caterpillar achieved record profit per share and returned significant levels of capital to shareholders," said Caterpillar Chairman and CEO Jim Umpleby. "Our global team remained focused on serving our customers, executing our strategy and investing for future profitable growth."
However, moving forward the firm notes that costs related to the Trump Administration's trade war with China cost a significant amount for 2018 and will cost even more in 2019. The company reported that tariffs on steel,aluminum, and other goods cost $100 million in 2018 and they expect them to cost more than $200 million for 2019.
In addition, they have forecast less profit moving forward in 2019 than many expected. They set a level below analyst expectations at @ $11.75 to $12.75/share in 2019.
VALUENGINE RECOMMENDATION: ValuEngine continues its HOLD recommendation on Caterpillar Inc. for 2019-01-25. Based on the information we have gathered and our resulting research, we feel that Caterpillar Inc. has the probability to ROUGHLY MATCH average market performance for the next year. The company exhibits ATTRACTIVE Company Size but UNATTRACTIVE Book Market Ratio.
You can download a free copy of our summary report on Caterpillar Inc. (CAT) from the link below.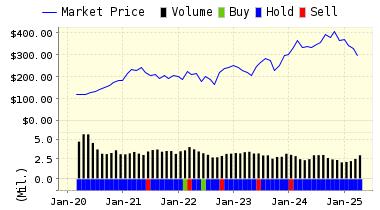 ValuEngine Forecast
Target
Price*
Expected
Return
1-Month
136.41
-0.33%
3-Month
136.81
-0.03%
6-Month
135.69
-0.85%
1-Year
131.47
-3.94%
2-Year
147.08
7.47%
3-Year
156.84
14.60%
Valuation & Rankings
Valuation
8.95% undervalued
Valuation Rank(?)
50
1-M Forecast Return
-0.33%
1-M Forecast Return Rank
26
12-M Return
-19.19%
Momentum Rank(?)
32
Sharpe Ratio
0.26
Sharpe Ratio Rank(?)
79
5-Y Avg Annual Return
6.72%
5-Y Avg Annual Rtn Rank
80
Volatility
26.15%
Volatility Rank(?)
58
Expected EPS Growth
10.32%
EPS Growth Rank(?)
43
Market Cap (billions)
82.86
Size Rank
99
Trailing P/E Ratio
11.77
Trailing P/E Rank(?)
80
Forward P/E Ratio
10.67
Forward P/E Ratio Rank
69
PEG Ratio
1.14
PEG Ratio Rank
37
Price/Sales
1.56
Price/Sales Rank(?)
53
Market/Book
10.79
Market/Book Rank(?)
13
Beta
1.48
Beta Rank
19
Alpha
-0.12
Alpha Rank
43
DOWNLOAD A FREE SAMPLE OF OUR CATERPILLAR INC. (CAT) REPORT BY CLICKING HERE


ValuEngine.com is an Independent Research Provider (IRP), producing buy/hold/sell recommendations, target price, and valuations on over 5,000 US and Canadian equities every trading day.
Contact ValuEngine at (321) 325-0519 or support@valuengine.com  
Visit www.ValuEngine.com for more information
ValuEngine Capital Management LLC is a Registered Investment Advisory (RIA) firm that trades client accounts using ValuEngine's award-winning stock research.
Contact ValuEngine Capital at info@valuenginecapital.com
Visit www.ValuEngineCapital.com for more information
Steve Hach
Senior Editor
ValuEngine.Com