For today's bulletin, we take a look at Boeing $BA and provide a link to download a copy of our latest stock report on the company.
VALUATION WATCH: Overvalued stocks now make up 31.9% of our stocks assigned a valuation and 11.39% of those equities are calculated to be overvalued by 20% or more. There are three sectors calculated to be overvalued.

The Boeing Company (BA) is the world's largest aerospace company and leading manufacturer of commercial jetliners and defense, space and security systems. A top U.S. exporter, the company supports airlines and U.S. and allied government customers. Boeing products and tailored services include commercial and military aircraft, satellites, weapons, electronic and defense systems, launch systems, advanced information and communication systems, and performance-based logistics and training. Boeing has a long tradition of aerospace leadership and innovation. The company continues to expand its product line and services to meet emerging customer needs. Its broad range of capabilities includes creating new, more efficient members of its commercial airplane family; designing, building and integrating military platforms and defense systems; creating advanced technology solutions; and arranging innovative financing and service options for customers.

Want to learn more about ValuEngine? Our methods? Our history?
Check out our video presentation HERE.

Earnings continue to come out and we have another company reporting today whose business is heavily dependent on world trade and the strength of the global economy, Boeing. Boeing reported Q4 2018 results this morning and the the numbers were impressive.
Boeing reported fourth-quarter revenue of $28.3 billion, GAAP earnings per share of $5.93 and core earnings per share (non-GAAP)* of $5.48, all company records. Revenue was a record $101.1 billion for the full year reflecting higher commercial deliveries and increased volume across the company.
During the quarter, Boeing delivered 238 airplanes, including the delivery of the 787th 787 Dreamliner and the first 737 MAX Boeing Business Jet. The 737 program delivered 111 MAX airplanes in the fourth quarter, including the first MAX delivery from the China Completion Center, and delivered 256 MAX airplanes in 2018. The first 777X flight test airplane completed final body join and power-on, and the program remains on track for flight testing this year and first delivery in 2020. Boeing booked 262 net orders during the quarter, valued at $16 billion. Backlog remains robust with nearly 5,900 airplanes valued at $412 billion.
Boeing Chairman, President and Chief Executive Officer Dennis Muilenburg noted that
across the enterprise our team delivered strong core operating performance and customer focus, driving record revenues, earnings and cash flow and further extending our global aerospace industry leadership in 2018, Our financial performance provided a firm platform to further invest in new growth businesses, innovation and future franchise programs, as well as in our people and enabling technologies. In the last 5 years, we have invested nearly $35 billion in key strategic areas of our business, all while increasing cash returns to shareholders.
Notable here is that Boeing reported strong demand from China, so that is a positive sign for those worried about tariffs and trade wars. Boeing is particularly sensitive to global trade due to its status as the biggest manufacturer of aircraft in the world.
VALUENGINE RECOMMENDATION: ValuEngine continues its BUY recommendation on Boeing for 2019-01-29. Based on the information we have gathered and our resulting research, we feel that Boeing has the probability to OUTPERFORM average market performance for the next year. The company exhibits ATTRACTIVE Company Size and Sharpe Ratio.
You can download a free copy of our summary report on the Boeing Company (BA) from the link below.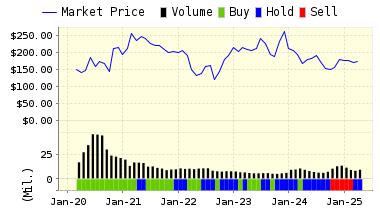 ValuEngine Forecast
Target
Price*
Expected
Return
1-Month
367.67
0.76%
3-Month
370.41
1.51%
6-Month
380.33
4.23%
1-Year
398.02
9.07%
2-Year
405.43
11.10%
3-Year
427.50
17.15%
Valuation & Rankings
Valuation
13.49% overvalued
Valuation Rank(?)
16
1-M Forecast Return
0.76%
1-M Forecast Return Rank
93
12-M Return
7.07%
Momentum Rank(?)
83
Sharpe Ratio
0.75
Sharpe Ratio Rank(?)
96
5-Y Avg Annual Return
17.20%
5-Y Avg Annual Rtn Rank
93
Volatility
23.04%
Volatility Rank(?)
63
Expected EPS Growth
20.17%
EPS Growth Rank(?)
59
Market Cap (billions)
260.15
Size Rank
100
Trailing P/E Ratio
24.21
Trailing P/E Rank(?)
47
Forward P/E Ratio
20.15
Forward P/E Ratio Rank
26
PEG Ratio
1.20
PEG Ratio Rank
36
Price/Sales
2.65
Price/Sales Rank(?)
36
Market/Book
n/a
Market/Book Rank(?)
n/a
Beta
1.22
Beta Rank
28
Alpha
0.17
Alpha Rank
87

DOWNLOAD A FREE SAMPLE OF OUR BOEING (BA) REPORT BY CLICKING HERE

ValuEngine.com is an Independent Research Provider (IRP), producing buy/hold/sell recommendations, target price, and valuations on over 5,000 US and Canadian equities every trading day.
Contact ValuEngine at (321) 325-0519 or support@valuengine.com  
Visit www.ValuEngine.com for more information
ValuEngine Capital Management LLC is a Registered Investment Advisory (RIA) firm that trades client accounts using ValuEngine's award-winning stock research.
Contact ValuEngine Capital at info@valuenginecapital.com
Visit www.ValuEngineCapital.com for more information
Steve Hach
Senior Editor
ValuEngine.Com