For today's bulletin, we take a look at our latest STRONG BUY and BUY upgrades and focus on one of our top upgrades for the day, Kohl's $KSS. We also provide a link to download a FREE STOCK REPORT on the company.
VALUATION WATCH: Overvalued stocks now make up 56.02% of our stocks assigned a valuation and 21.99% of those equities are calculated to be overvalued by 20% or more. Fifteen sectors are calculated to be overvalued.
For today's edition of our upgrade list, we used our website's advanced screening functions to search for UPGRADES to BUY or STRONG BUY with complete forecast and valuation data. They are presented by one-month forecast return. Kohl's, Century Community, Cooper-Standard, and Syntel are STRONG BUY stocks. Huntington-Ingalls is rated BUY.
| | | | | | | | | |
| --- | --- | --- | --- | --- | --- | --- | --- | --- |
| Ticker | Company Name | Market Price | Valuation | Last 12-M Return | 1-M Forecast Return | 1-Yr Forecast Return | P/E Ratio | Sector Name |
| KSS | KOHLS CORP | 65.15 | 22.06% | 52.04% | 1.06% | 12.69% | 15.89 | Retail-Wholesale |
| CCS | CENTURY COMMUNT | 31.9 | 3.81% | 36.91% | 1.01% | 12.08% | 11.18 | Construction |
| CPS | COOPER-STANDARD | 116.28 | 13.31% | 6.47% | 0.96% | 11.55% | 10.70 | Auto-Tires-Trucks |
| HII | HUNTINGTON INGL | 255.39 | 21.88% | 24.16% | 0.50% | 5.98% | 21.72 | Aerospace |
| SYNT | SYNTEL INC | 25.71 | 0.90% | 10.20% | 0.50% | 5.97% | 14.39 | Computer and Technology |
For today's bulletin, we take a look at Kohl's (KSS). Kohl's Corporation is become the most engaging retailer in America. Kohl's Corporation remains headquartered in Menomonee Falls, Wisconsin, a suburb of Milwaukee. Kohl's offers quality, national and exclusive brands for customers, their families and their homes. In addition to powerful portfolio of only-at-Kohl's brands, which includes well-known brands such as Simply Vera Vera Wang, Sonoma, APT 9, Croft & Barrow, Jennifer Lopez and Food Network, Kohl's are the #1 retailer in the U.S. of many national brands such as Levi's, Dockers and Columbia. Kohl's are committed to delivering an easy, connected omnichannel experience for customers. One of the cornerstones of this strategy is Kohls.com. This approach has expanded to the top-rated Kohl's mobile app, which features our easy-to-use digital wallet and Kohl's Pay mobile payment offering. Kohl's stores and website sell moderately-priced private label, exclusive and national brand apparel, footwear, accessories, beauty and home products.
We have focused a lot in the past on the struggling retail sector. Typically, these tales include discussions of internet giants like Amazon, Wal-Mart, and others and the inability of old-line brick-and-mortar retailers to meet the challenge of shoppers who prefer to spend money from their phones and desktop computers rather than travelling to a store for instant gratification.
Kohl's had a good holiday shopping season, and investors have reacted positively to that news. The company lifted its guidance for the year due to that performance, and that also attracted investors. In addition, the company is NOT typically based at mall locations. Malls are dying, and avoiding those locales in favor of stand-alone locales is an advantage that basket cases such as Sears and JCPenney don't often posses in this sector. Kohl's also has a variety of important relationships with manufacturers such as Amazon, Nike, and UnderArmour which give it an advantage over rivals.
Below is our latest data for Kohl's, our top STRONG BUY upgrade for the day.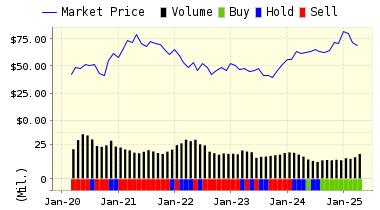 ValuEngine updated its recommendation from BUY to STRONG BUY for Kohl's on 2018-02-16. Based on the information we have gathered and our resulting research, we feel that Kohl's has the probability to OUTPERFORM average market performance for the next year. The company exhibits ATTRACTIVE Momentum and Company Size.
You can download a free copy of detailed report on Kohl's (KSS) from the link below.
ValuEngine Forecast
Target
Price*
Expected
Return
1-Month
74.48
1.09%
3-Month
74.88
1.63%
6-Month
77.11
4.66%
1-Year
83.28
13.03%
2-Year
89.32
21.23%
3-Year
93.07
26.31%
Valuation & Rankings
Valuation
13.68% overvalued
Valuation Rank(?)
24
1-M Forecast Return
1.09%
1-M Forecast Return Rank
99
12-M Return
28.68%
Momentum Rank(?)
80
Sharpe Ratio
0.56
Sharpe Ratio Rank(?)
75
5-Y Avg Annual Return
12.43%
5-Y Avg Annual Rtn Rank
74
Volatility
22.19%
Volatility Rank(?)
65
Expected EPS Growth
19.46%
EPS Growth Rank(?)
48
Market Cap (billions)
223.21
Size Rank
100
Trailing P/E Ratio
13.61
Trailing P/E Rank(?)
83
Forward P/E Ratio
11.39
Forward P/E Ratio Rank
74
PEG Ratio
0.70
PEG Ratio Rank
50
Price/Sales
2.54
Price/Sales Rank(?)
42
Market/Book
1.28
Market/Book Rank(?)
72
Beta
1.58
Beta Rank
17
Alpha
0.00
Alpha Rank
62
DOWNLOAD A FREE SAMPLE OF OUR KOHL'S (KSS) REPORT BY CLICKING HERE
ValuEngine.com is an Independent Research Provider (IRP), producing buy/hold/sell recommendations, target price, and valuations on over 5,000 US and Canadian equities every trading day.
Contact ValuEngine at (800) 381-5576 or support@valuengine.com  
Visit www.ValuEngine.com for more information
ValuEngine Capital Management LLC is a Registered Investment Advisory (RIA) firm that trades client accounts using ValuEngine's award-winning stock research.
Contact ValuEngine Capital at info@valuenginecapital.com
Visit www.ValuEngineCapital.com for more information