For today's bulletin, we take a look at Wal-Mart $WMT. We also provide a link to download a FREE STOCK REPORT on the company.
VALUATION WATCH: Overvalued stocks now make up 54.58% of our stocks assigned a valuation and 21.7% of those equities are calculated to be overvalued by 20% or more. Fourteen sectors are calculated to be overvalued.
Walmart Inc. (WMT) is a multinational retail corporation which operates a chain of hypermarkets, discount department stores and grocery stores. Walmart Inc., formerly known as Wal-Mart Stores, Inc., is headquartered in Bentonville, Arkansas.
Wal-Mart reported an earnings miss yesterday, and investors were not pleased. The shares took a hit of 10% once the news came out. The company reported earnings of $1.33/share vs analysts expectations of $1.37. In addition, the company also lowered overall guidance for the new fiscal year. They now expect earnings of @$4.75-5.00.
Of more concern for analysts was the company's slow growth for online sales. Wal-Mart posted an e-commerce growth rate of 23%. That figure caused concern because in the prior quarters of 2017 the figure was in excess of 50%.
As we have been hitting over-and-over, the key for retailers these days is both the real and perceived ability to keep up with the Amazon.com juggernaut. So, when Wal-Mart showed e-commerce figures which were less than expected, the stock got hit more than it might have just for the slight miss.
This bad news may have been more of a shock given the company's recent efforts to clean up its bad reputation for dirty, un-stocked stores, poor worker pay and conditions, and other factors that were turning off customers. Wal-Mart seemed to be on an upswing as the management addressed these negative factors.
And, the company has actually slowed real, brick-and-mortar outlet construction in order to focus on online sales. Currently, the company garners just 4% of annual revenue from e-commerce. When you are talking $500 billion in revenue, every boost there is key, and the overall potential is huge. If the company can make the right moves and return to the large percentage growth of the past few quarters, then all should be well. But, further stumbles should–rightly–cause real concern for investors.
ValuEngine continues its BUY recommendation on WALMART INC for 2018-02-20. Based on the information we have gathered and our resulting research, we feel that WALMART INC has the probability to OUTPERFORM average market performance for the next year. The company exhibits ATTRACTIVE Company Size and Momentum.
You can download a free copy of detailed report on Wal-Mart (WMT) from the link below.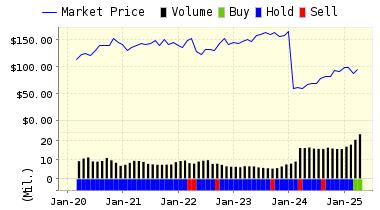 ValuEngine Forecast
Target
Price*
Expected
Return
1-Month
94.60
0.52%
3-Month
94.78
0.71%
6-Month
97.52
3.62%
1-Year
99.93
6.18%
2-Year
103.04
9.49%
3-Year
103.18
9.64%
Valuation & Rankings
Valuation
15.24% overvalued
Valuation Rank(?)
27
1-M Forecast Return
0.52%
1-M Forecast Return Rank
85
12-M Return
31.71%
Momentum Rank(?)
82
Sharpe Ratio
0.50
Sharpe Ratio Rank(?)
73
5-Y Avg Annual Return
8.43%
5-Y Avg Annual Rtn Rank
64
Volatility
16.74%
Volatility Rank(?)
77
Expected EPS Growth
13.29%
EPS Growth Rank(?)
37
Market Cap (billions)
303.33
Size Rank
100
Trailing P/E Ratio
21.20
Trailing P/E Rank(?)
60
Forward P/E Ratio
18.71
Forward P/E Ratio Rank
37
PEG Ratio
1.60
PEG Ratio Rank
23
Price/Sales
0.61
Price/Sales Rank(?)
81
Market/Book
5.00
Market/Book Rank(?)
29
Beta
0.43
Beta Rank
64
Alpha
0.38
Alpha Rank
91
DOWNLOAD A FREE SAMPLE OF OUR WAL-MART (WMT) REPORT BY CLICKING HERE
ValuEngine.com is an Independent Research Provider (IRP), producing buy/hold/sell recommendations, target price, and valuations on over 5,000 US and Canadian equities every trading day.
Contact ValuEngine at (800) 381-5576 or support@valuengine.com  
Visit www.ValuEngine.com for more information
ValuEngine Capital Management LLC is a Registered Investment Advisory (RIA) firm that trades client accounts using ValuEngine's award-winning stock research.
Contact ValuEngine Capital at info@valuenginecapital.com
Visit www.ValuEngineCapital.com for more information