For today's bulletin, we take a look at some of our top stocks in the defensive utilities sector. We also provide a link to download a FREE STOCK REPORT on Vonage Holdings $VG, one of our utility stocks.
VALUATION WATCH: Overvalued stocks now make up 47.92% of our stocks assigned a valuation and 18.71% of those equities are calculated to be overvalued by 20% or more. Eleven sectors are calculated to be overvalued.
Markets took a huge dive today as a variety of fears weighed on investor sentiment and triggered a big sell off. Tech stocks took a big beating as many high-fliers got severely cut down. NASDAQ is down almost 8% for the month–that is the worst it has performed during the fourth quarter since the Great Recession began back in 2008.
As the sell off spread today, companies heavily tied to the global economy were also battered. Investors are worried about global trade and the effects of the Trump Administration's tariff wars with China and other nations. They are also worried about the Fed's belt-tightening as the US Central Bank continues to clear its balance sheet of assets from the ZIRP days. In addition, the yield curve for bonds is sending a sell signal for equities as well.
So, is this a momentary glitch or something different? Do we have some momentary noise here or the beginning of the end for the Bull Market that started way back in March 2009? That's tough to say. But investors today looked to the Utilities Sector for shelter from the storm. Those "un-sexy" companies are traditionally the sort of stocks for those worried about the future and unable to force themselves to buy on the dip.
For today's edition of our bulletin, we used our website's advanced screening functions to search for top utilities stocks with complete forecast and valuation data. They are presented by one-month forecast return. Our top five stocks from the sector are listed below. Vonage is rated STRONG BUY. The rest of our top-five utilities stocks are rated BUY.
| | | | | | | | | |
| --- | --- | --- | --- | --- | --- | --- | --- | --- |
| Ticker | Company Name | Market Price | Valuation | Last 12-M Return | 1-M Forecast Return | 1-Yr Forecast Return | P/E Ratio | Industry Name |
| VG | VONAGE HOLDINGS | 13.93 | 80.64% | 66.63% | 1.11% | 13.33% | 38.69 | DIVERSIFIED COMM SERVICES |
| NWN | NORTHWEST NATRL | 70.71 | 39.54% | 9.20% | 0.80% | 9.55% | 31.85 | UTILITY-GAS DISTRIBUTION |
| SHEN | SHENANDOAH TELE | 39.08 | 67.22% | 0.59% | 0.79% | 9.51% | 71.05 | DIVERSIFIED COMM SERVICES |
| AWR | AMER STATES WTR | 61.48 | 19.12% | 18.34% | 0.77% | 9.24% | 36.38 | UTILITY-WATER SUPPLY |
| EE | EL PASO ELEC CO | 59.42 | 46.45% | 4.15% | 0.74% | 8.85% | 31.49 | UTILITY-ELECTRIC POWER |
Want to learn more about ValuEngine? Our methods? Our history?
Check out our video presentation HERE
Today, we take a look at Vonage Holdings (VG). Vonage is redefining communications by offering consumers and small businesses an affordable alternative to traditional telephone service. The fastest growing telephony company in North America, Vonage's service area encompasses more than 2000 active rate centers in over 130 global markets. Vonage is sold directly through their website and retail partners such as SAM's Club, Amazon.com, RadioShack, Best Buy, Circuit City, Staples, Fry's Electronics and Office Depot. Wholesale partners such as EarthLink, ARMSTRONG(R), Advanced Cable Communications and the Coldwater Board of Public Utilities resell the Vonage broadband phone service under their own unique brands. With more than 300,000 lines in service, Vonage continues to add more than 30,000 lines per month to its network. Over 10 million calls per week are made using Vonage, the easy-to-use, feature-rich, flat rate phone service.
ValuEngine continues its STRONG BUY recommendation on VONAGE HOLDINGS for 2018-10-09. Based on the information we have gathered and our resulting research, we feel that VONAGE HOLDINGS has the probability to OUTPERFORM average market performance for the next year. The company exhibits ATTRACTIVE Momentum and Sharpe Ratio.
You can download a free copy of detailed report on Vonage Holdings (VG) from the link below.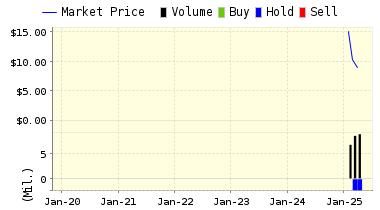 ValuEngine Forecast
Target
Price*
Expected
Return
1-Month
14.08
1.11%
3-Month
14.32
2.80%
6-Month
14.81
6.34%
1-Year
15.79
13.33%
2-Year
16.97
21.83%
3-Year
17.54
25.89%
Valuation & Rankings
Valuation
80.64% overvalued
Valuation Rank(?)
4
1-M Forecast Return
1.11%
1-M Forecast Return Rank
99
12-M Return
66.63%
Momentum Rank(?)
95
Sharpe Ratio
0.85
Sharpe Ratio Rank(?)
89
5-Y Avg Annual Return
30.12%
5-Y Avg Annual Rtn Rank
95
Volatility
35.62%
Volatility Rank(?)
44
Expected EPS Growth
-13.89%
EPS Growth Rank(?)
11
Market Cap (billions)
2.86
Size Rank
75
Trailing P/E Ratio
38.69
Trailing P/E Rank(?)
39
Forward P/E Ratio
44.94
Forward P/E Ratio Rank
8
PEG Ratio
n/a
PEG Ratio Rank
n/a
Price/Sales
2.80
Price/Sales Rank(?)
38
Market/Book
5.51
Market/Book Rank(?)
25
Beta
0.02
Beta Rank
77
Alpha
0.55
Alpha Rank
95
DOWNLOAD A FREE SAMPLE OF OUR VONAGE HOLDINGS (VG) REPORT BY CLICKING HERE
ValuEngine.com is an Independent Research Provider (IRP), producing buy/hold/sell recommendations, target price, and valuations on over 5,000 US and Canadian equities every trading day.
Contact ValuEngine at (321) 325-0519 or support@valuengine.com  
Visit www.ValuEngine.com for more information
ValuEngine Capital Management LLC is a Registered Investment Advisory (RIA) firm that trades client accounts using ValuEngine's award-winning stock research.
Contact ValuEngine Capital at info@valuenginecapital.com
Visit www.ValuEngineCapital.com for more information
Steve Hach
Senior Editor
ValuEngine.Com